California-based company XYZMaximizer is about to release their range of high-quality, open-source 3D printers through a Kickstarter campaign. The range includes two new IDEX printers of different sizes, and a CoreXZ single extruder variant.
Let's take a look at the company's offerings in some more detail.
XYZMaximizer
Founded in 2019 as a spinoff from the AL3DAN Research lab, XYZMaximizer was created to support and inspire everyone to follow their ideas and creativity, and they hope their new range of high-quality 3D printers does exactly that.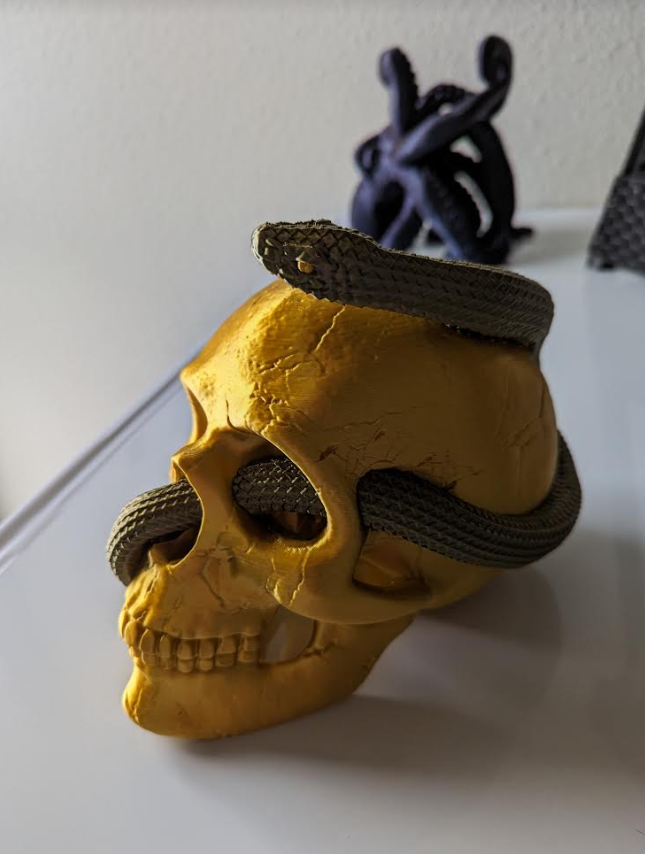 The company is offering three models of 3D printers: the CBR300iDEX, CBR600iDEX, and CBR300CoreXZ. All of their models share the same frame design and most of the electronic components. Additionally, the company has a fourth model currently under development, which they plan to present to the public in the near future.
Their range of printers are designed, manufactured, and assembled in Northridge, California, with the goal of offering unrivaled performance and durability, and the company promises that their customer service and product experience will be top notch.
XYZMaximizer states that their printers are the best-in-class machines that can be used in any environment, whether it's on your desk, in your printer farm, in the office, or in the garage.
So now we've seen a little overview of the company, let's take a peek at their range of printers.
CBR300iDEX 3D Printer
First up is the CBR300iDEX, which delivers high-speed, dual-color 3D printing thanks to its dual extruders.
With a build volume of 310 x 310 x 320mm (30 liters), it's perfect for moderate-sized projects, and it incorporates all the best features of modern 3D solutions. It's an open-source 3D printing workhorse with easy maintenance and advanced safety features.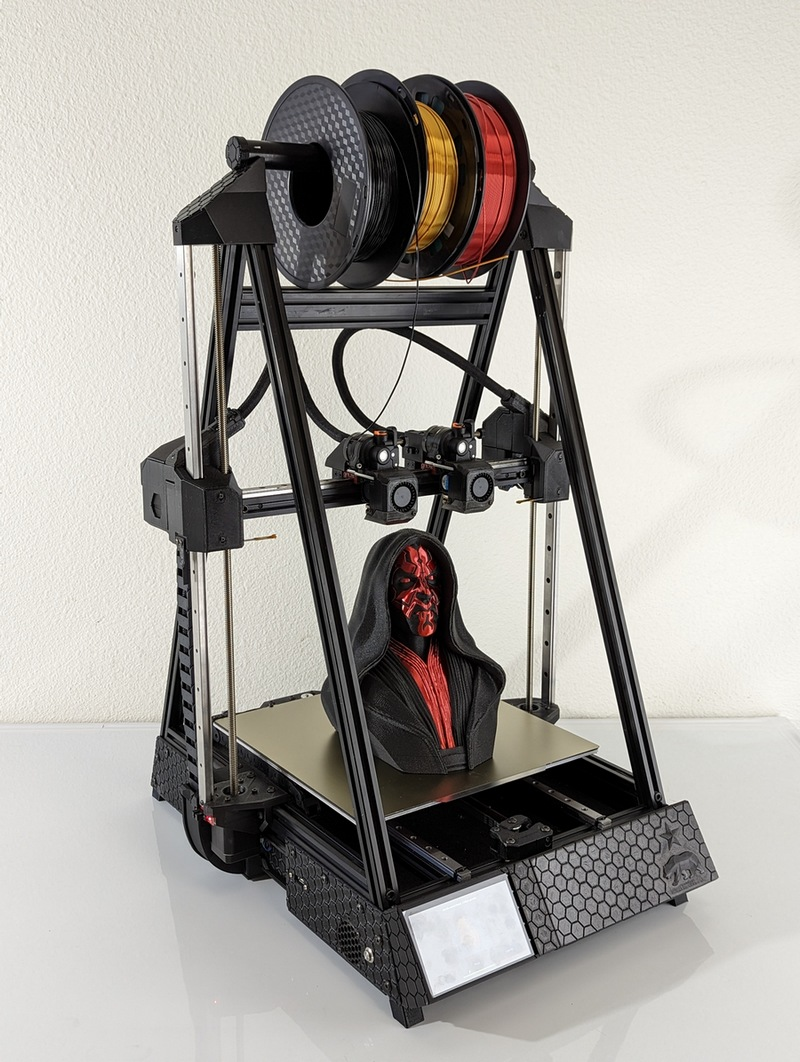 The CBR300 platform offers numerous quality-of-life improvements, such as remote printing, a user-friendly and customizable UI, and a one-click printing option. The flexible magnetic build plate ensures easy removal of prints without damage.
This printer is compatible with various filaments such as PLA, TPU, PETG, ASA, ABS, and Polycarbonate. It has a heated bed capable of reaching up to 110°C and hotends up to 300°C, featuring advanced Mosquito hotends and tungsten carbide nozzles.
You can see the CBR300iDEX in action in the video below.
The CBR300iDEX is pre-assembled and comes equipped with a 5″ touchscreen, WiFi, LAN support, and web/mobile interfaces. It can easily fit on a standard desk and integrate into any environment.
The CBR300iDEX is an open-source printer that utilizes off-the-shelf components, enabling collaboration and innovation. It employs high-quality linear rails for precise movement, ensuring accurate prints. Additionally, it offers a user-friendly calibration procedure and optional filament sensors to prevent failed prints and wasted material.
CBR600iDEX 3D Printer
Next up in the company's IDEX offerings is the CBR600iDEX, which is the bigger variant, featuring a build volume of 620mm x 310mm x 320mm/ 24″ x 12″ x 12.1″ (61 liters or 16 gallons, making it perfect for larger projects. And naturally, its IDEX functionality with independent dual extruders enable multi-material or multi-color printing, duplication, and mirror modes.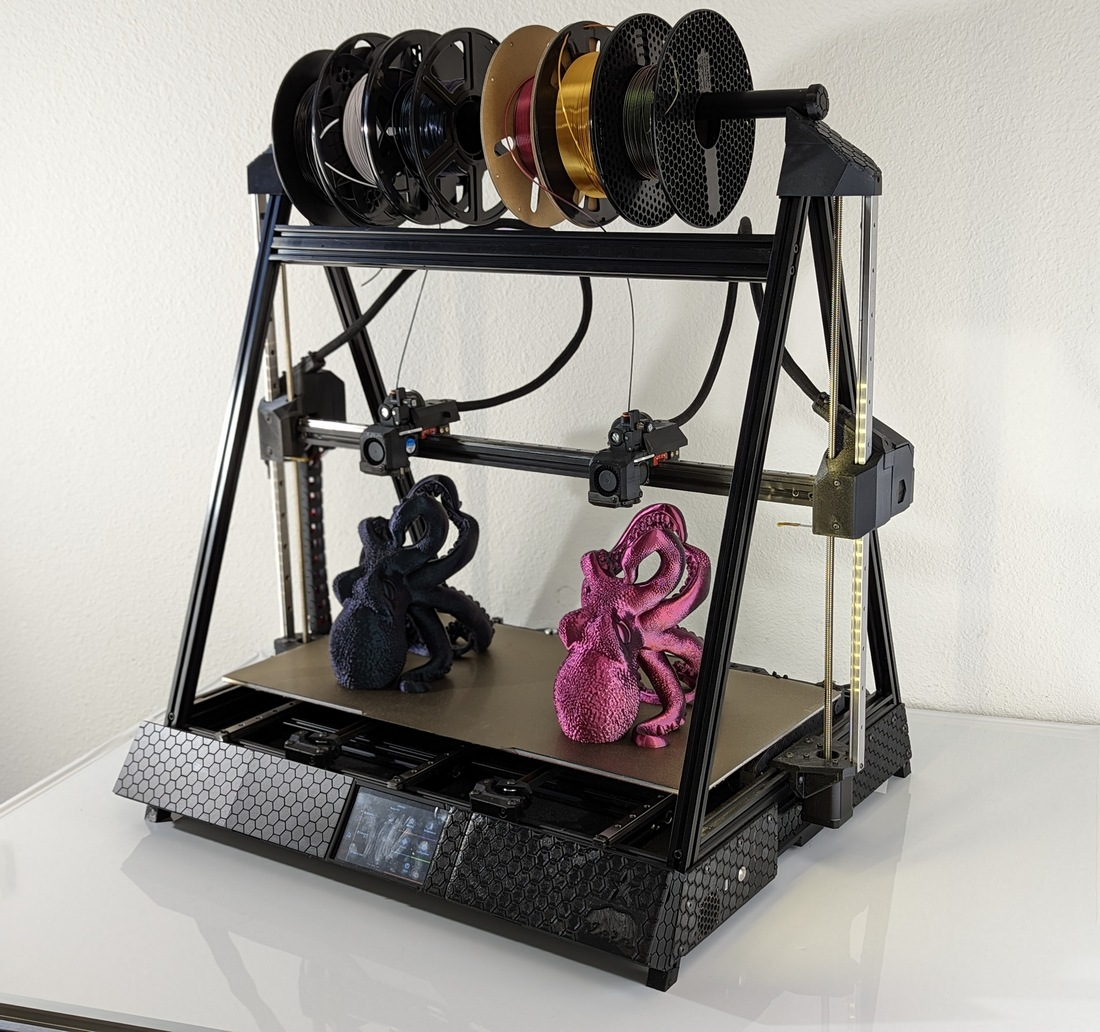 Like its smaller sibling, the CBR600iDEX comes equipped with high quality Mosquito hotends from Slice Engineering and tungsten carbide nozzles for printing a range of filaments.
The CBR600iDEX also arrives pre-assembled, complete with a 5″ touchscreen, WiFi and LAN support, and web and mobile interfaces – so no messing around with allen keys and whatnot – it's also ready to print straight out of the box, and also has the option for filament sensors if needed.
It is also powered by Raspberry Pi and running on Klipper, bringing together the best of both hardware and software.
CBR300CoreXZ
And last, but by no means least, is the CBR300CoreXZ, which is a high-speed, single extruder 3D printer designed to provide an excellent user experience and top-quality prints.
The printer offers remote printing, a user-friendly interface, and a one-click printing option. It comes pre-assembled with a 5″ touchscreen, WiFi and LAN support, and web and mobile interfaces.
The CBR300CoreXZ is compatible with various filaments and features a heated bed and hotends with high temperature capabilities. It is open-source, using off-the-shelf components and the Raspberry Pi-powered Klipper firmware. With a large build volume and precise movement, it is suitable for moderate and large projects. Optional filament sensors enhance print reliability and quality.
All XYZMaximizer printers come with automatic bed leveling (ABL), ensuring proper print adhesion to the build plate. Built-in LED lights make it easy to monitor your printing process and ensure perfect results.
To follow the Kickstarter campaign when it launches you can head on over to this link, and to check out XYZMaxmizer's offerings in full, you can visit their company website right here.