Hands-On Review
Anycubic Photon D2
Resin printers are all the rage right now and Anycubic isn't going to miss out. We recently reviewed their newly released Photon M3, which performed very well, and we now have their soon-to-be released Photon D2 to review for you.
The D2 is a more standard size for resin printers, meaning it's not intended for large prints but instead for smaller highly-detailed pieces such as jewelry and miniatures. And its 2K DLP projector provides ample resolution for achieving the finest of details. At least, in theory. Let's put it to the test!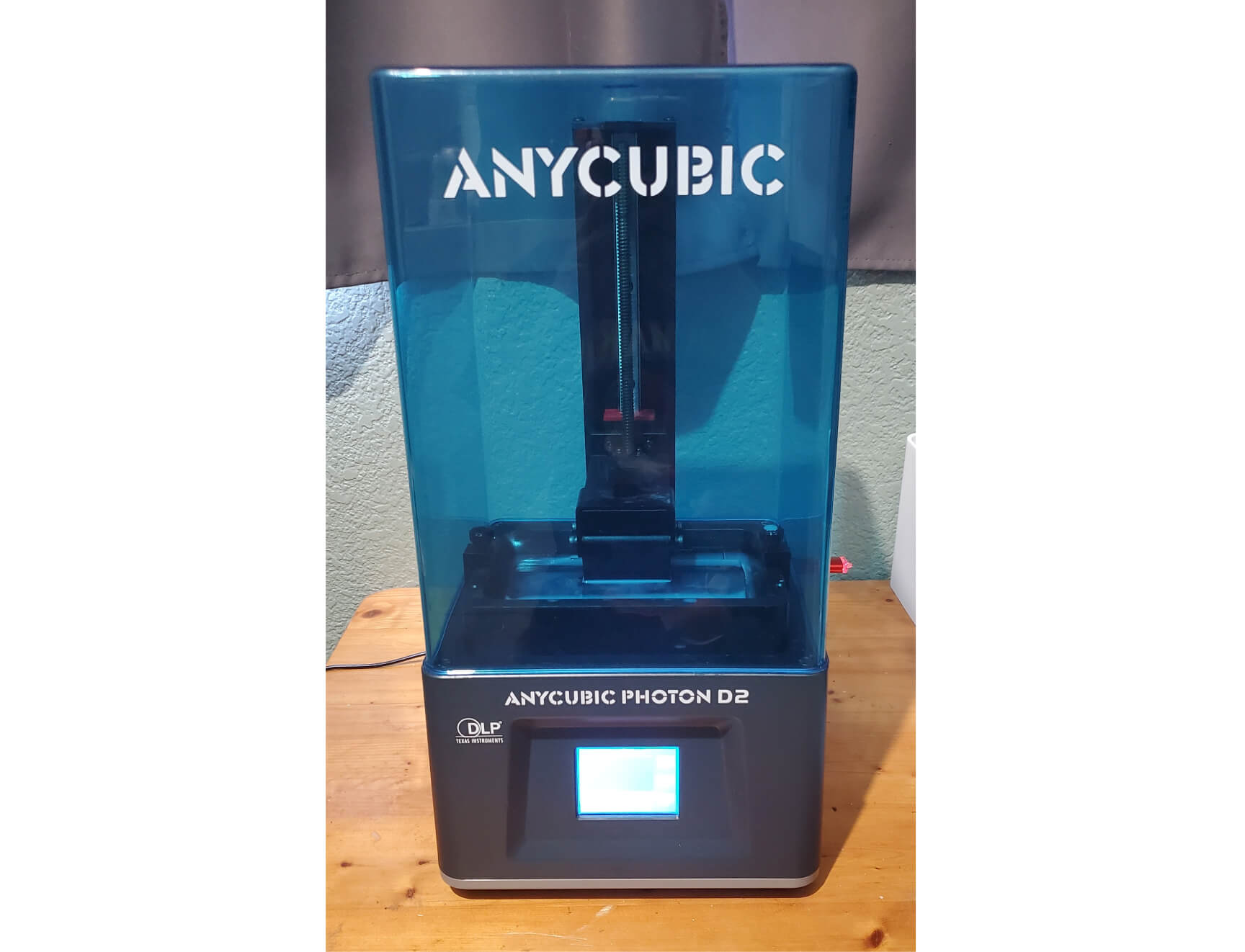 It's an attractive and compact little printer, and its gray and blue color scheme will match most office and garage spaces quite well. That does, oddly enough, come with a downside that we'll get to later. The setup is as easy with the D2 as it is with any other current resin printer available: attach the build plate, lower it to the glass plate, apply some gentle downward pressure and tighten the four screws, then add the vat and resin, and you're ready to print. It takes about five minutes. For the first print, everyone's favorite: Benchy!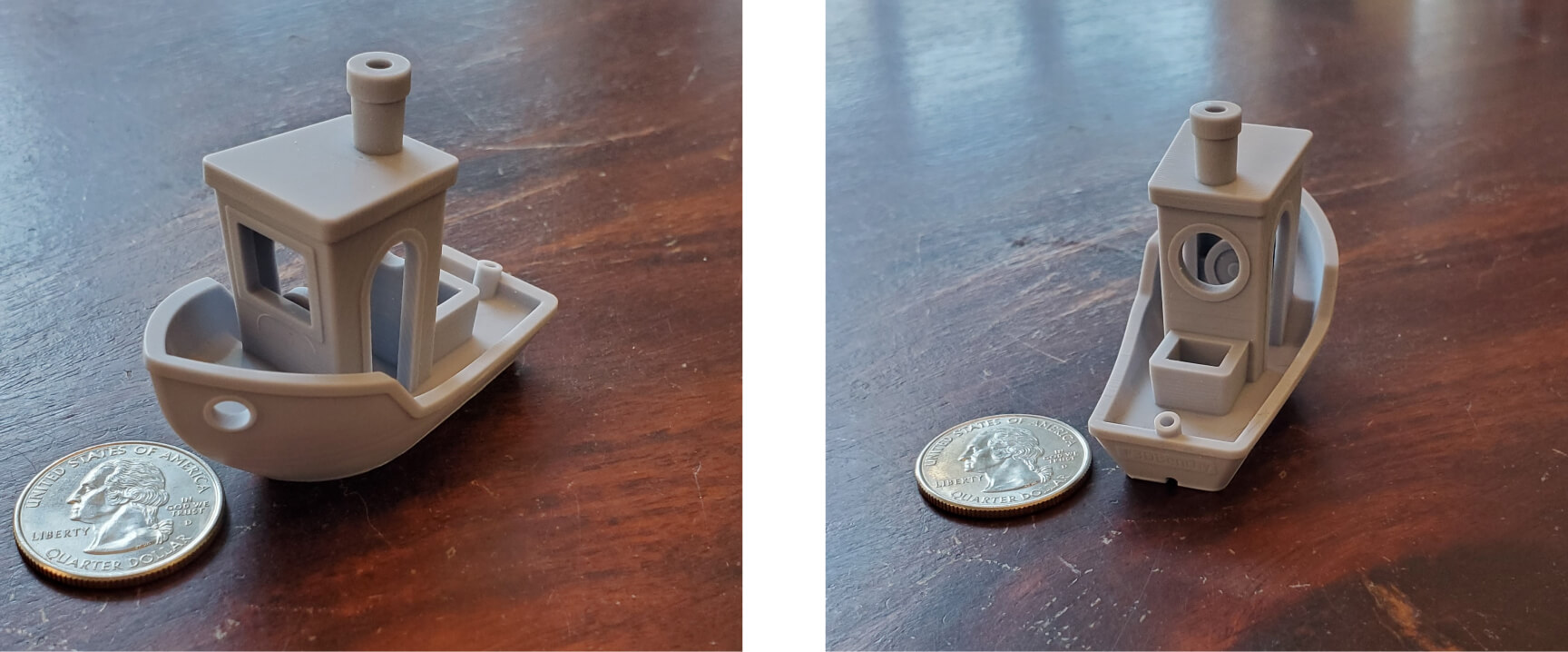 That's a perfect Benchy. The surfaces are completely smooth, the arches and bow show no stepping, the steering wheel is crisp, and for the first time the "3DBenchy" on the back is legible. This was printed with the default settings of 0.05mm layers and 2.3 second cure times, which is incredibly fast.
That speed is thanks to the DLP illumination in the D2, as compared to an LCD screen in most consumer resin printers. Because it uses a DLP projector rather than an LCD screen for illumination, the print quality of the D2 theoretically rivals that of 8K LCD printers, even though it technically only has a 2K resolution. That's due to the way that LCD screens rely on "masks" to turn pixels on and off, but the masks aren't perfect so small amounts of light bleed out around the edges of the mask, effectively lowering the definition of print quality. With digital light processing (DLP), hundreds of thousands of tiny mirrors are used to illuminate only the areas of the screen intended; these crisp light projections result in more accurate surface finishes, especially when they're highly detailed. With a build volume of 130.56 x 73.44 x 165 mm and a resolution of 2,560 x 1,440, that calculates to a minuscule pixel size of 0.051mm and a ppi (pixels per inch) of 498. On top of all that, DLP projectors last up to 20,000 hours, compared to 2,000 for LCD screens, all while using about a fifth of the power.
My favorite all around test for resin printers is the AmeraLabs Town Calibration Part.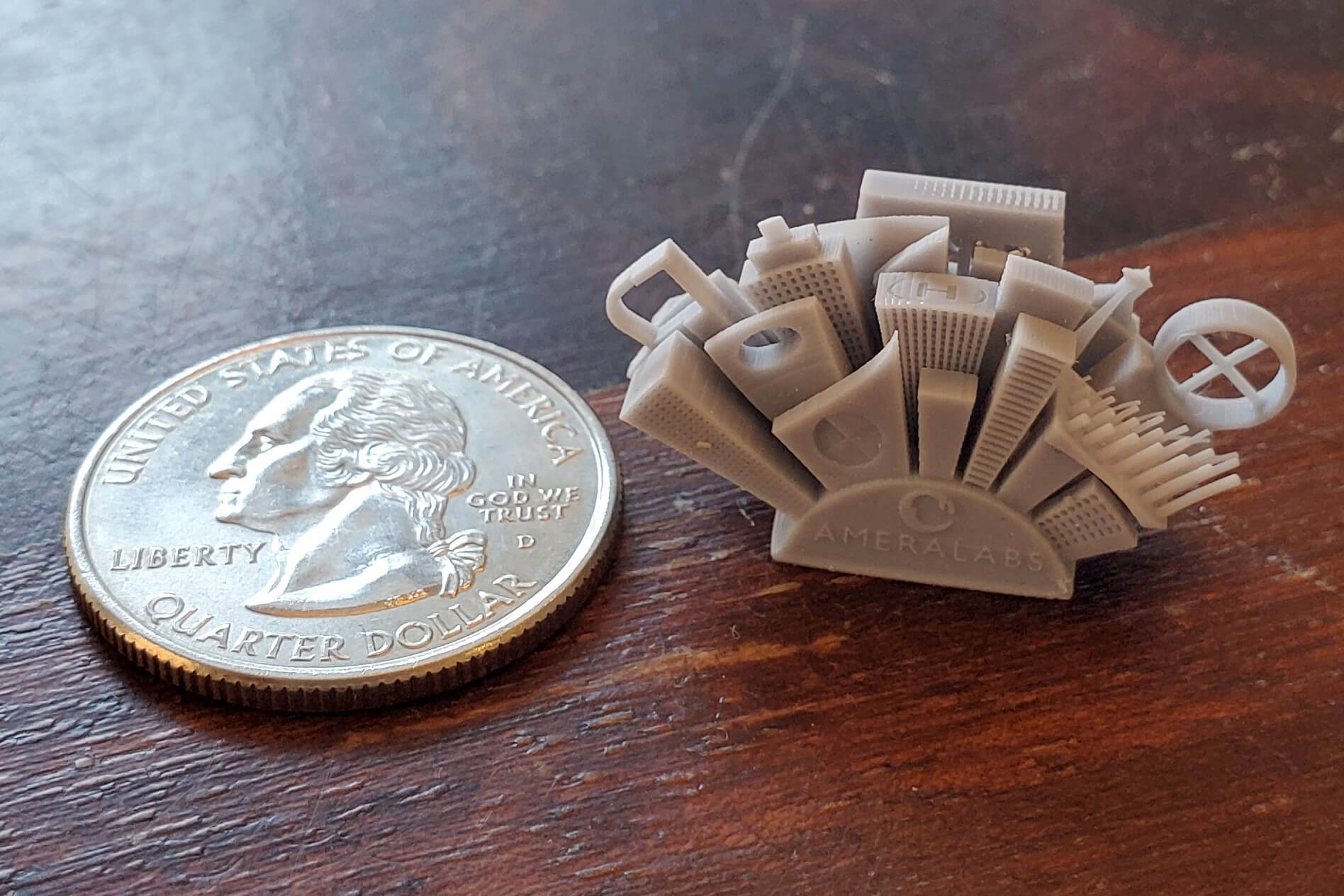 This stress test is specifically designed to push the limits of resin printers, with incredibly small gaps, bridges, pillars, overhangs, and a number of other features that are difficult to print. The D2 performed very well. The only gap that isn't open is the 0.1mm, and it looks like it may have actually printed correctly but the resin didn't get fully cleared out during the wash step so it got solidified during the final cure step (all parts are run through the Anycubic Wash and Cure Machine). A couple of the thinnest pillars also bent a bit, likely either from the forces put on them during the lift/retract steps during printing or from the swirl of the solution during the wash stage. Reducing the lift and retract speeds or using an ultrasonic wash system rather than a swirling one would probably fix those minor issues. For an organic shape, I chose this adorable stretching Cat.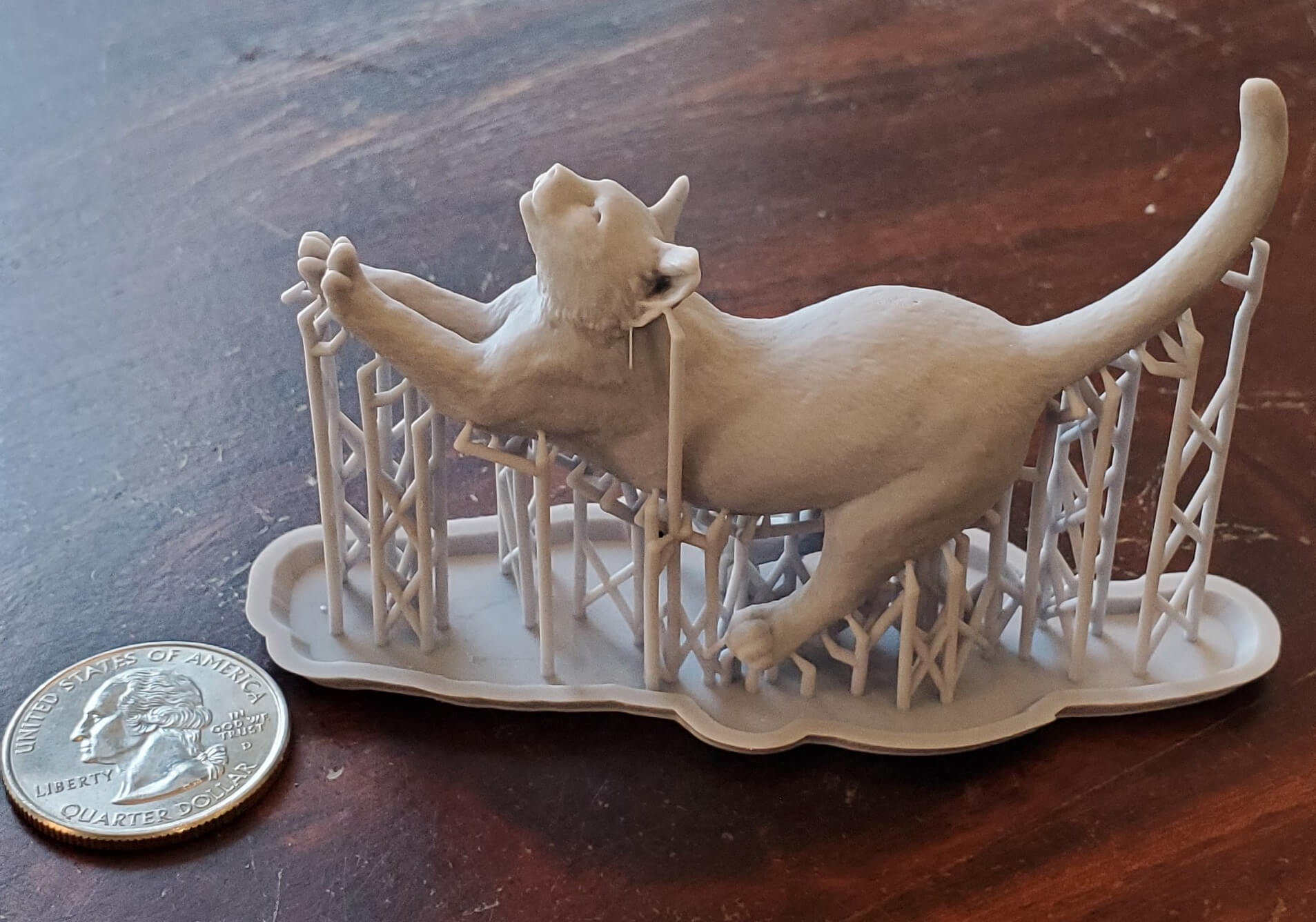 The DLP Craftsman Gray Resin does a fantastic job of capturing details, such as these fur patterns. Supports do much of the work when it comes to printing irregular geometries and Anycubic's Photon Workshop does a decent job of automatically adding them where they're needed, though I did have to manually add a couple support pillars for this model. Organic shapes are obviously no problem for the D2 so let's try something taller, like the PolyPearl Tower.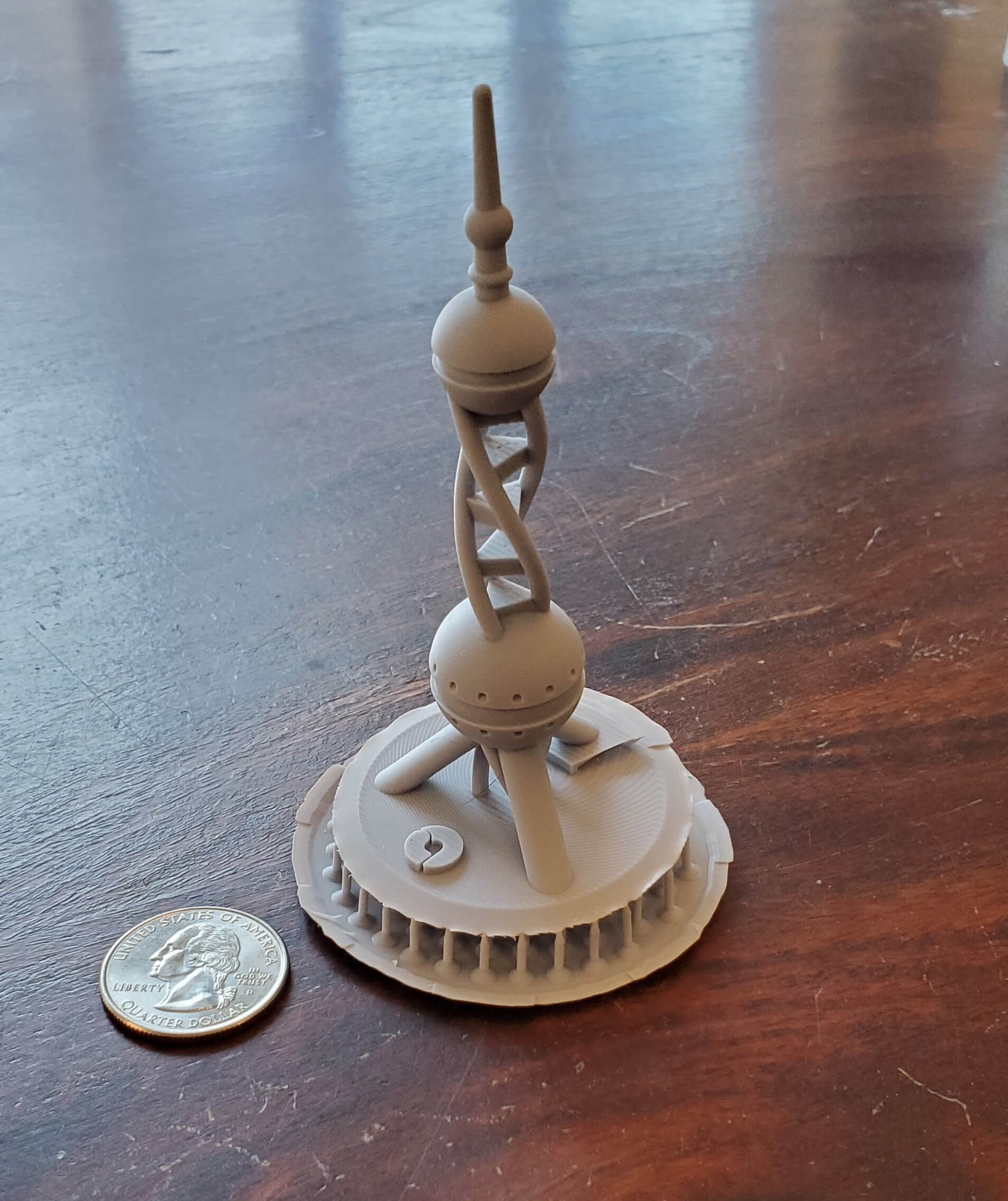 This was also easy for the D2. There's a bit of rippling around the bottom edge but that's because I didn't angle the part enough, so the surface tension of the resulting large flat surface was a bit too high for the amount of supports used. It's an easy fix and not a fault of the printer at all, just a classic case of user error. Let's try something with a bit more detail, like the Notre Dame Cathedral.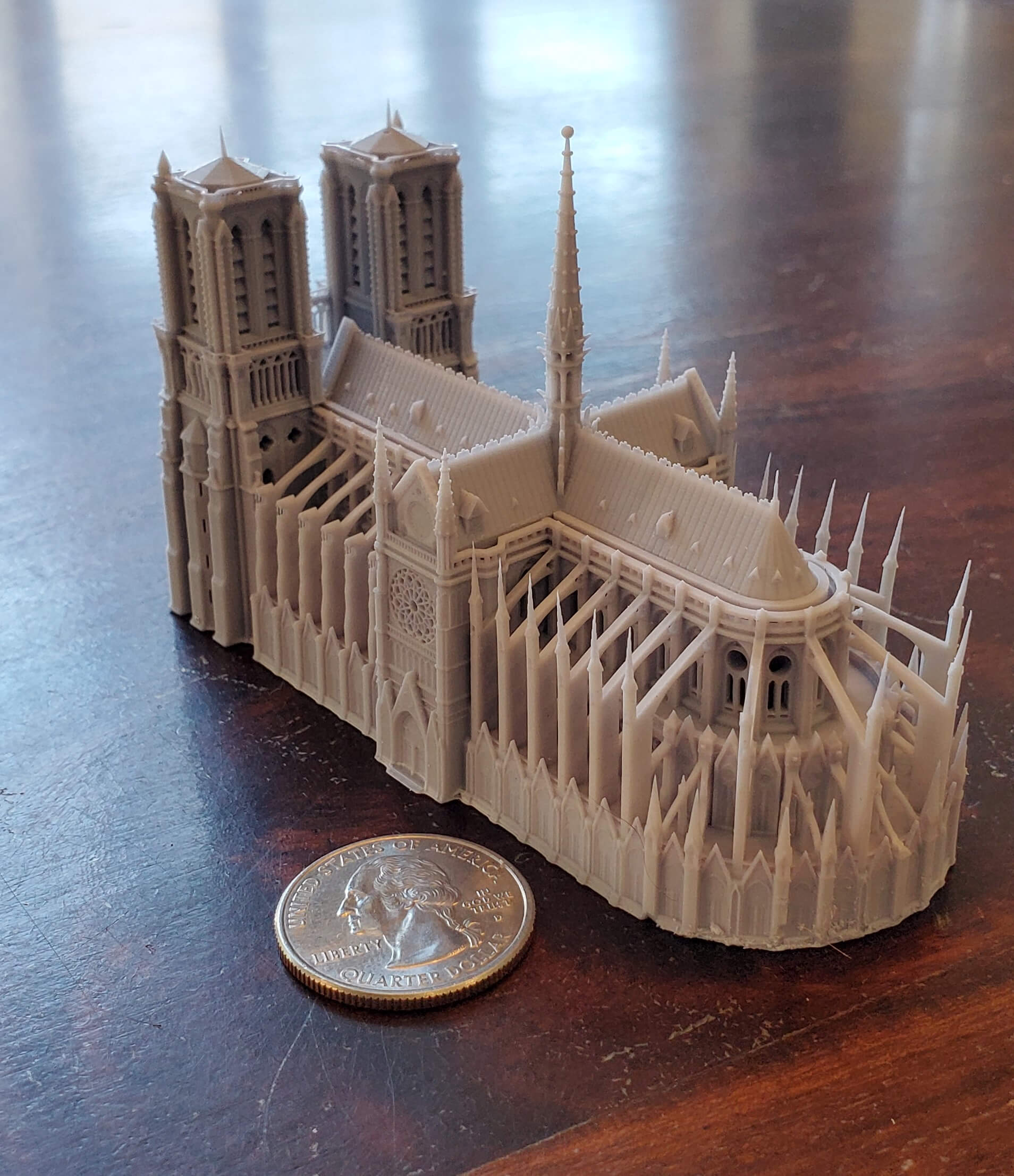 Glorious. There's a reason this is one of my favorite objects to print on resin printers. This model so wonderfully displays what high-def printers like the D2 can achieve while also showing off the beautiful architecture of the building itself. The spires, banisters, windows, roof tiles, they're all accurately captured here. I'll never cease to be amazed that consumer 3D printers can now make this in just a few hours. But the D2 is less intended for architecture and more designed for small objects with lots of detail, like minis, or this Winged Victory of Samothrace.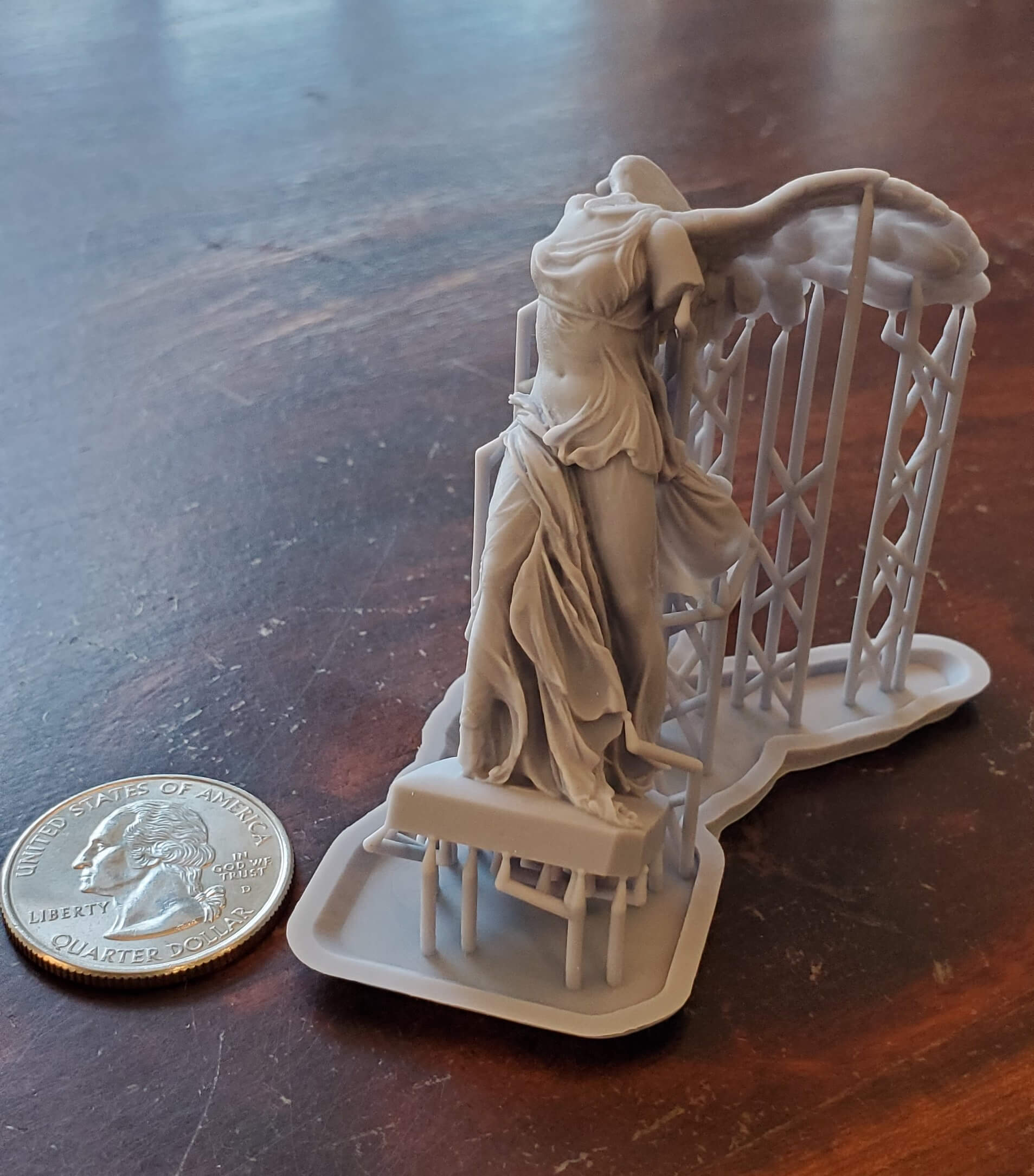 What a beautiful sculpture, and being able to see all the flowing folds in the fabric really shows the capabilities of the D2, especially considering how small this print is (which is clear because I had the sense to include an object for scale this time). And this was printed only at 0.03mm so there's plenty of room to go even finer. When I checked this print in the morning after starting it the night before, I thought it had failed because there were solids floating in the resin vat, but when I looked at the part and saw that it was complete, it was obvious what had happened. I had opened the window and curtain of my office to let cool air in during the night, and the morning sunbeams hit the printer and cured the top few millimeters of resin. So while the blue cover is pretty, it does not do a great job of stopping UV light from entering the chamber. Their yellow covers block UV rays just fine so this was surprising to learn.
Besides that, I don't have any other complaints with the D2. I had very few failed prints, and they were all related to part orientation or print settings. It's super quiet, easy to use, reliable, and the print speed and print quality are both unmatched. As a successor to the first consumer-level DLP printer, the very successful Photon Ultra, I expect the Photon D2 to be even more popular since it sports a higher resolution and larger build volume.