Of all the materials from BigRep that we're reviewing, I was probably the most anxious about TPU, a highly flexible material. I've used several brands of TPU in the past and had a lot of success printing flexible parts. I've also had many failed and blobby prints with TPU, as well as clogged nozzles and filament that's wound around the drive gear. It can be a frustrating material.
Flexible 3D printing materials have really expanded the breadth of desktop and professional 3D printers, allowing small firms to fabricate prototypes and functional parts that would typically be made from rubber through the costly process of injection molding. So is BigRep's TPU a material for professionals to make gaskets, sound and vibration dampeners, seals, molds, shock absorbers, and more, or is it a headache on a spool that delivers ugly parts and clogged nozzles? We'll find out today!
The BigRep TPU filament is spooled as well as all of the other materials we've reviewed from BigRep, which is to say, perfectly. It's incredibly flexible and seemingly impossible to tear; it's somewhat elastic, too. The packaging indicates that the material is sensitive to moisture and should be stored in a dry place.
Standard TPU settings in Cura were used to load and print the material on an Ultimaker S5. The first two prints were printed with 0.15mm layers and the rest were printed at 0.2mm. It prints well at 225°C on a 60°C bed; the biggest differences in print settings for TPU are slower print speeds (25mm/s) and increased retraction distance due to the compressive characteristics mentioned earlier. On to Benchy!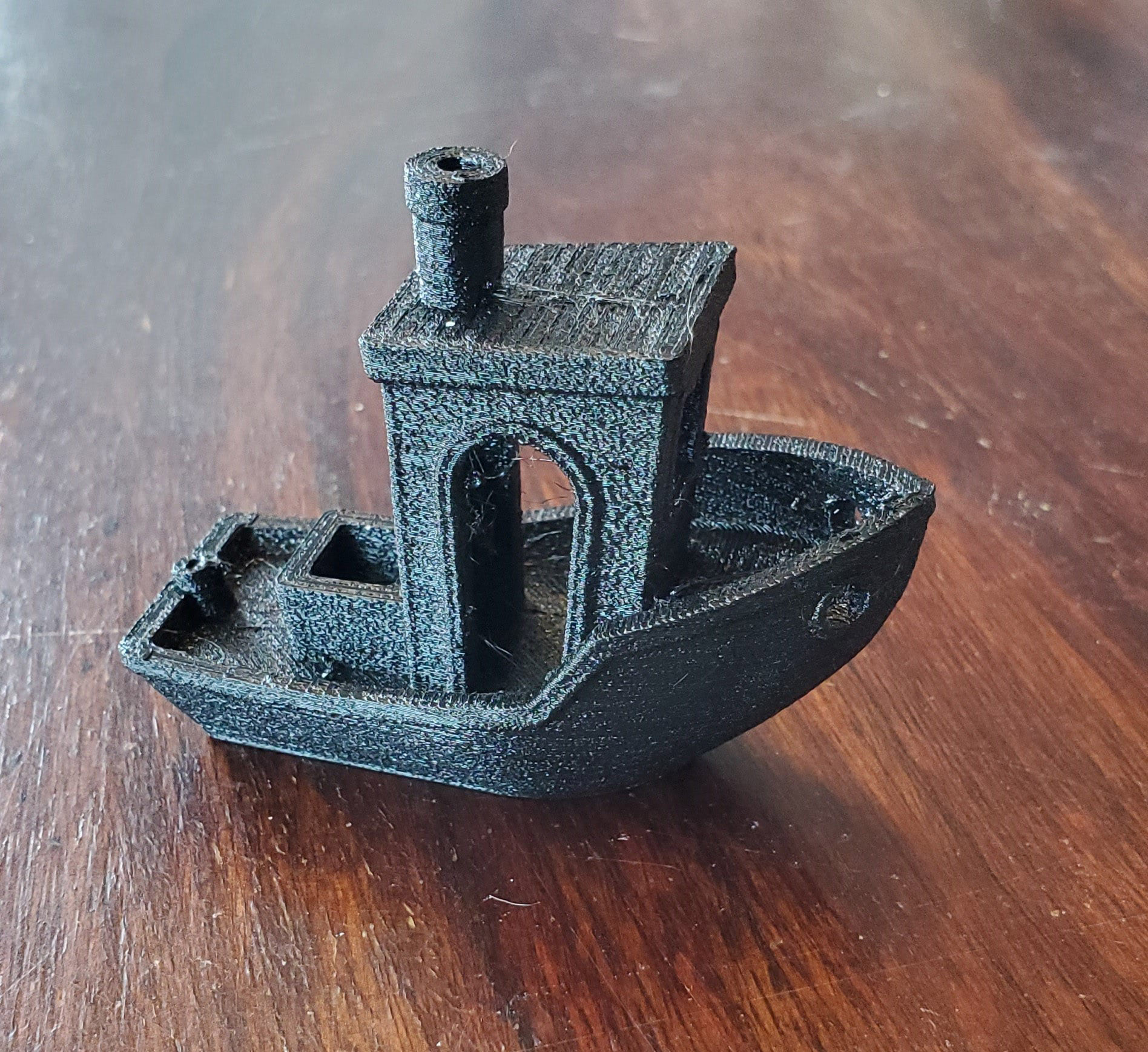 Color me shocked. This is, by leaps and bounds, the prettiest TPU print I've produced to date. I know we've set the quality bar very high with other materials so this might not look as good as rigid materials but that's mostly a texture/lighting issue. By looking at the front of the bow, the smoothness of the walls is apparent. Similarly, the corners of the pillars are straight and the small details are present. There are some wispy strings but nothing that can't be easily removed.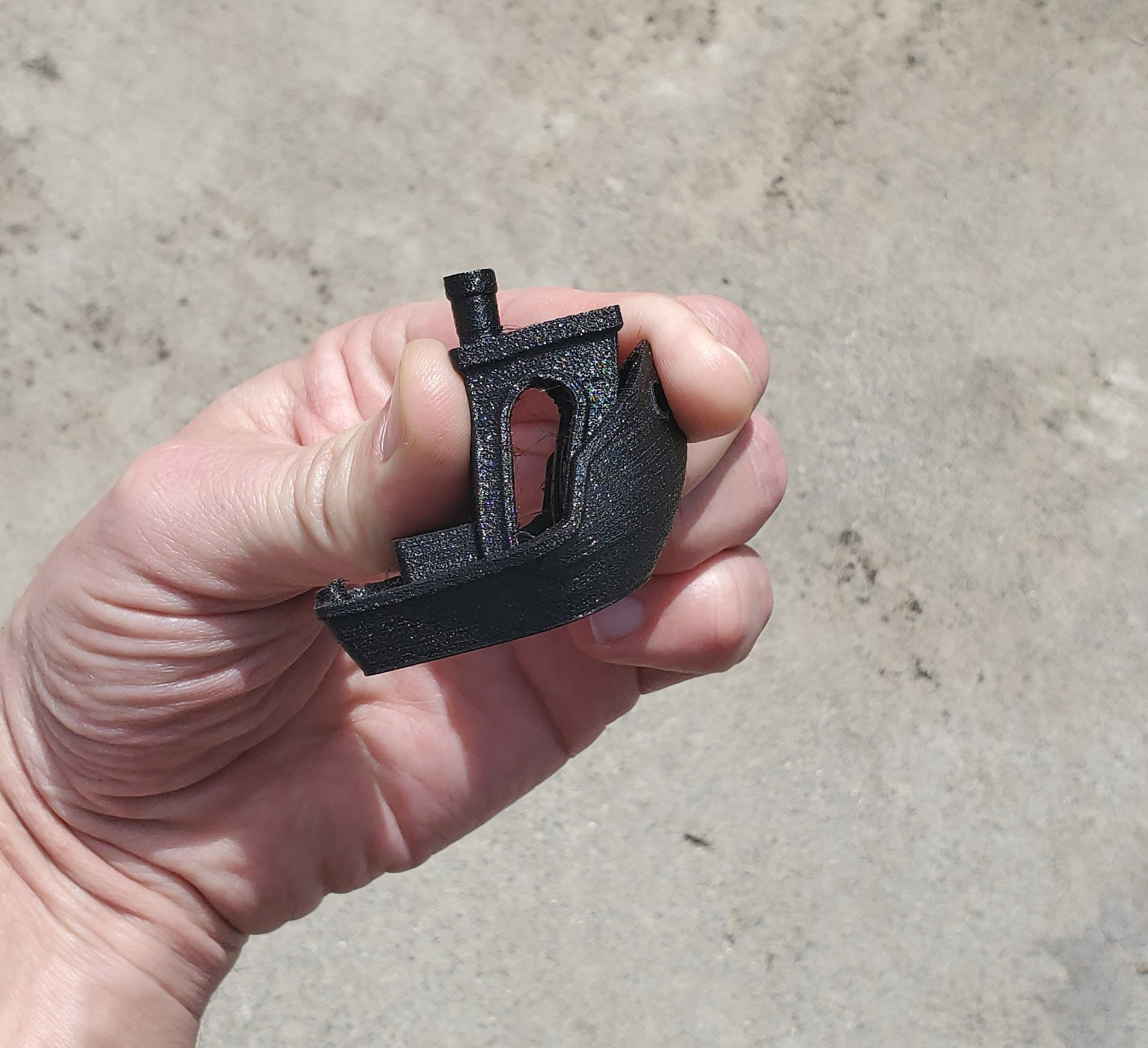 And none of the other Benchies can do that! It never gets old. It always goes back to its shape. I opted for the smaller Torture Test for this material as it better reflects its capabilities.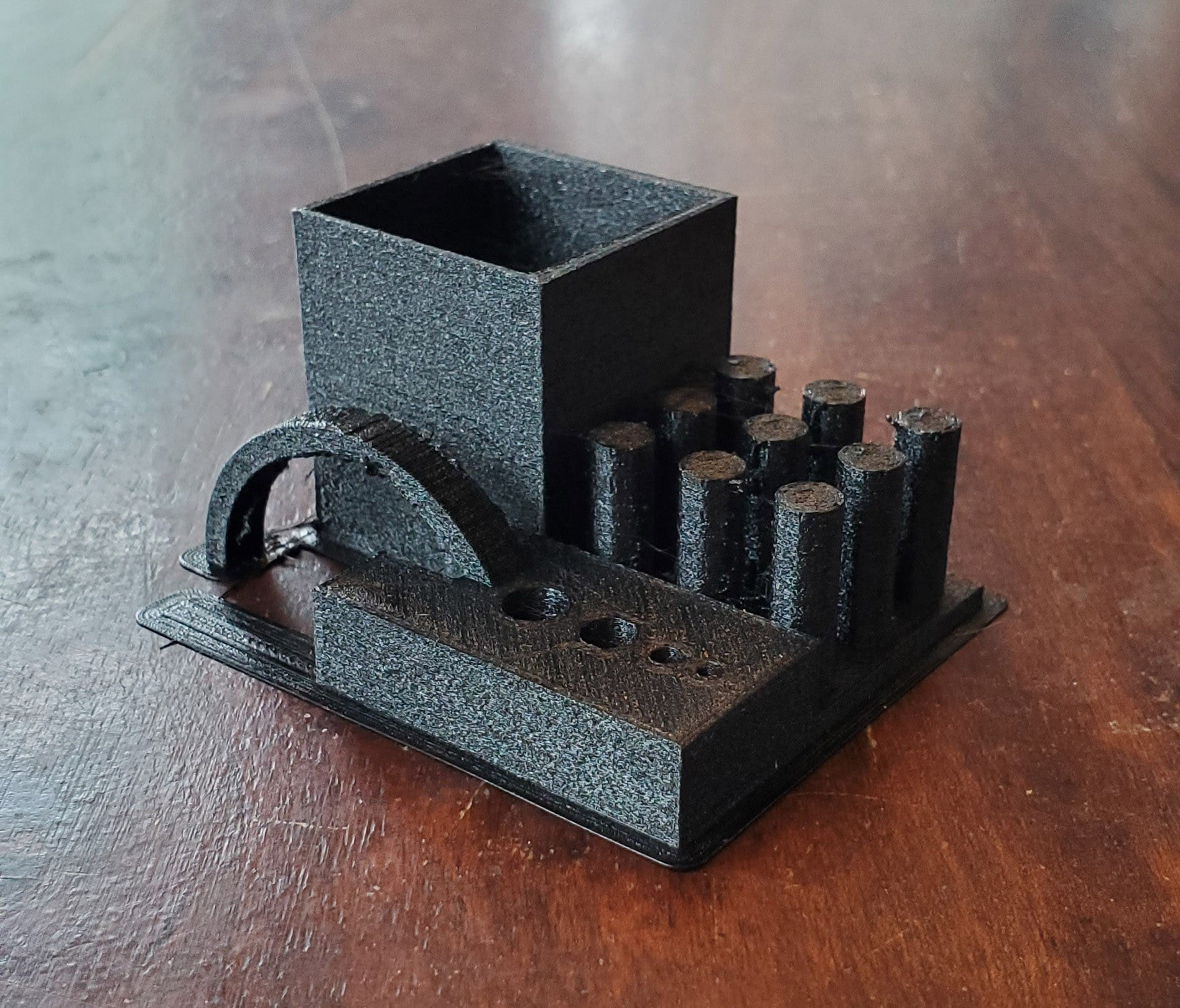 This print does a great job of showing off the distinct finish of the material, which I personally enjoy. It has a professional feel to it. Corners on the square are incredibly sharp and the pillars held up to some extreme bending without breaking or deforming. The hexagonal and circular holes came out well and the arch is very good up until the very top where it struggled slightly on the underside of the bridging. The only other issue is some slight stringing between the pillars, something that's nearly impossible to avoid with flexible materials. That's not to say that stringing couldn't be reduced by increasing retraction in the print parameters. Default settings were used for consistency and to produce results that typical users can expect. The problem under the arch had me worried for the Bridging Test, and for good reason.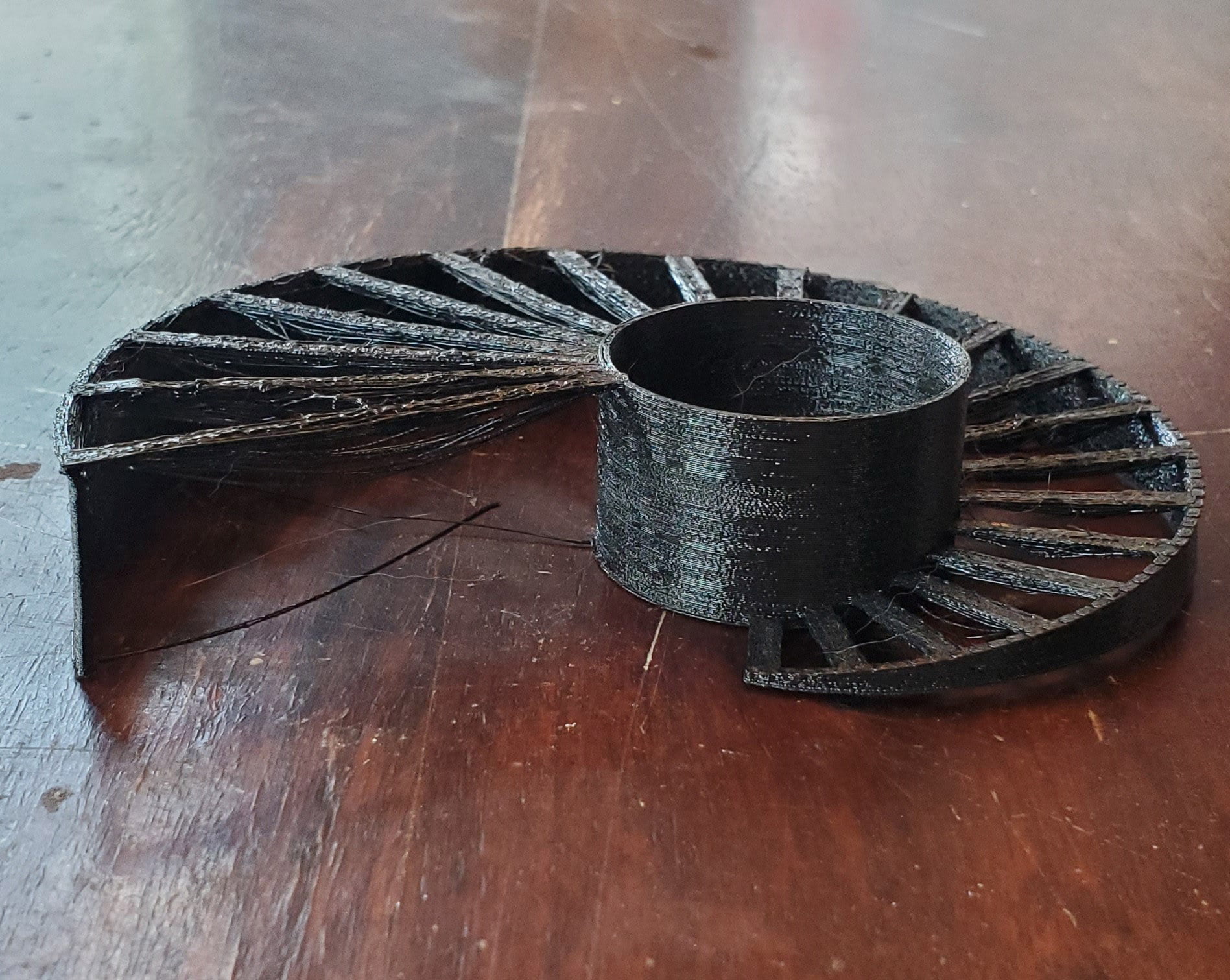 Bridging is a tricky thing. If you watch a 3D printer when it's bridging with a rigid material like PLA, you'll see something fascinating happen. When the stream of molten plastic is extruded into the air from the first side of the bridge, it's initially sagging quite a bit. After the nozzle connects the line to the other side of the bridge, the line cools and contracts, tightening up to a straight line with little to no sag. It only works well if the printer is printing fast enough to outpace the cooling time of the material. With TPU, slow print speeds are used specifically to allow for adequate cooling because it's a softer material and each layer still needs to be firm enough to support the next layer. It handled the 6mm bridges of Benchy pretty well but crossing anything over 12mm will be difficult using standard print settings. Still, the print didn't fail and the quality of the rest of the print wasn't affected by the poor bridging, so that's a win.
I performed layer adhesion tests by breaking three Vertical Tensile Bars on a hanging scale. They broke at 25lbs, 30lbs, and 30lbs, for an average of 28.3lbs, lower than I expected for such a tough material.
The heat deflection test of a rectangular bar was more promising. Plus, let's see the other test bars do this: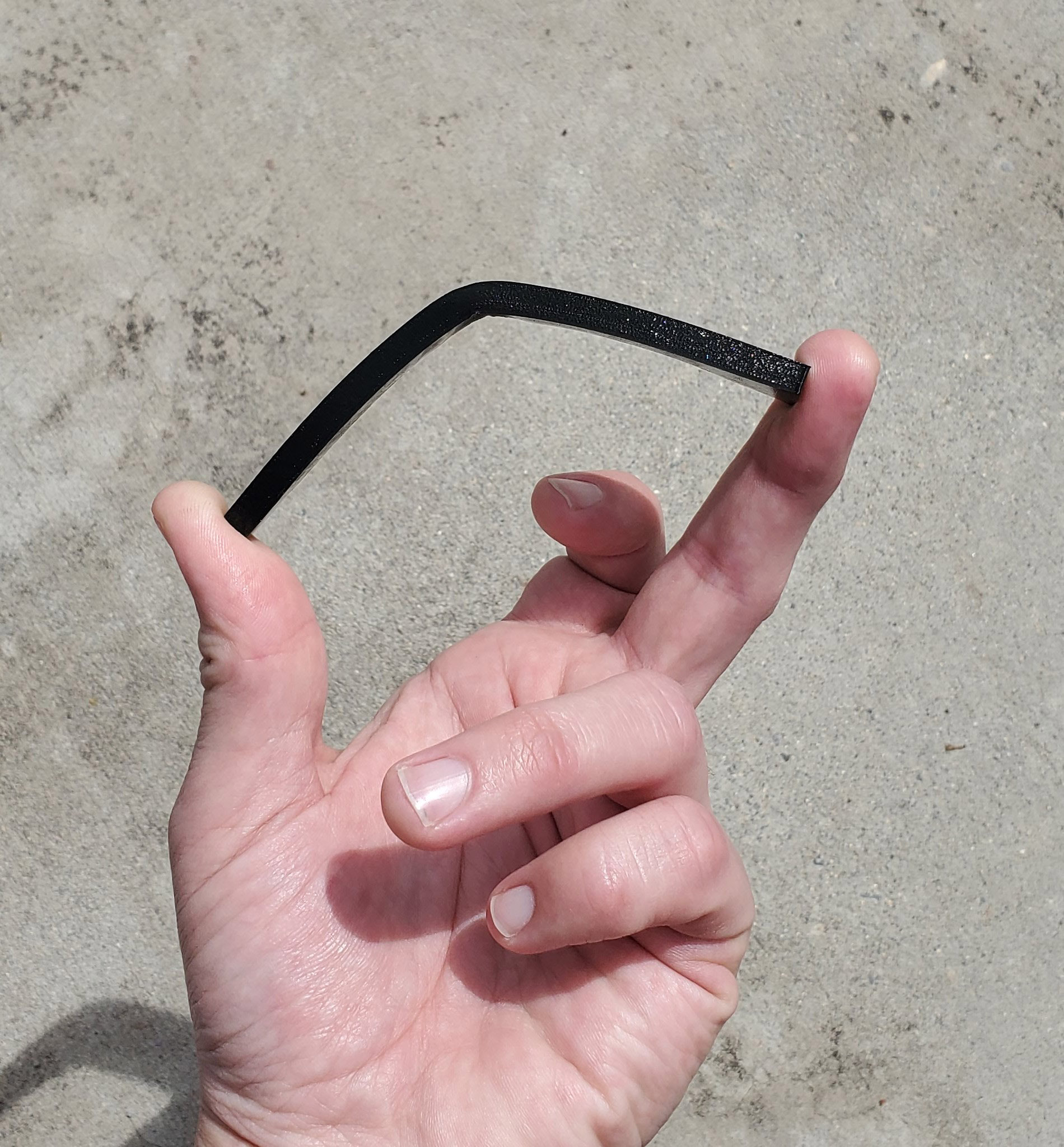 Original dimensions: 20.15mm x 119.9mm x 5.74mm
Post-annealing dimensions: 20.1mm x 119.5mm x 5.74mm
That's virtually no change after being exposed to 170°F / 76.6°C, meaning the material should hold up in hot applications just fine.
To really demonstrate what can be done with this TPU, I looked to another material: epoxy resin. I've recently been experimenting with 3D printed and resin mixed-media pieces, and when printing with rigid materials like PLA, the resin and the PLA become permanently joined as the resin cures into a solid. Using PLA to make molds for resin is possible but the PLA must be broken to get the resin part out. I hoped that TPU might allow me to print reusable molds for resin. I couldn't find anyone on the whole of the internet printing TPU molds for resin. Not a good sign.

But lo' and behold it actually worked! I didn't even spray it with mold release (cooking spray) before pouring the resin in because I totally forgot. But after allowing the resin to cure for a day, I bent one of the edges down and out it popped. The resin piece will need some sanding and polishing to really shine but the printed mold is ready for round two. An important lesson to learn here is to not let a lack of results on Google stop you from trying something interesting. It might just work, and there's nothing quite like discovering something through good ol' fashioned experimentation. I will definitely be adding this to my toolkit, and I'll be writing a tutorial on printing TPU molds in the near future so keep your eyes peeled for that.
Conclusion
This material is delightful. Sure, it's not great at bridging and it strings a little. Those are not deal breakers when it checks all the other boxes and creates boxes that most other materials have never heard of. It's easy to print with as I had no peeling on parts and there were no extrusion issues. It's aesthetically pleasing. It's tough and impact resistant (I dropped all the prints on tile and none of them suffered any damage). It can take the heat. Best of all, it bends, smooshes, stretches, flexes, and twists! That opens the door to use cases that rigid materials just can't handle, especially with consistent and repeatable printing like I experienced when using the material. Professional engineers and designers can certainly benefit from having access to a 3D printable rubber-like material in BigRep's TPU.