When it comes to 3D printing filament, PETG is probably the third most popular material behind PLA and ABS. It's generally easier to print than ABS but has a higher heat deflection temperature than PLA, making it very appealing for a range of applications. I've worked with several brands of the material and I'm excited to review BigRep's PETG so let's get to it!
PETG has good transparency and is used heavily in lighting fixtures so I chose to work with their Clear offering. The filament itself is very clear and spooled nicely. It loaded easily with CPE settings on the Ultimaker S5 (Ultimaker is one of the few brands that refers to PETG as CPE). All objects were printed with an extruder temperature of 240°C and a bed temperature of 75°C. A normal bed glue is necessary when printing PETG on a glass bed because PETG can become so adhered to glass that it will break the bed when trying to remove parts; the glue serves as a part release interface that protects the bed. For the same reason, it's important to allow parts to fully cool before removing them from the build plate. Let's see how Benchy turned out.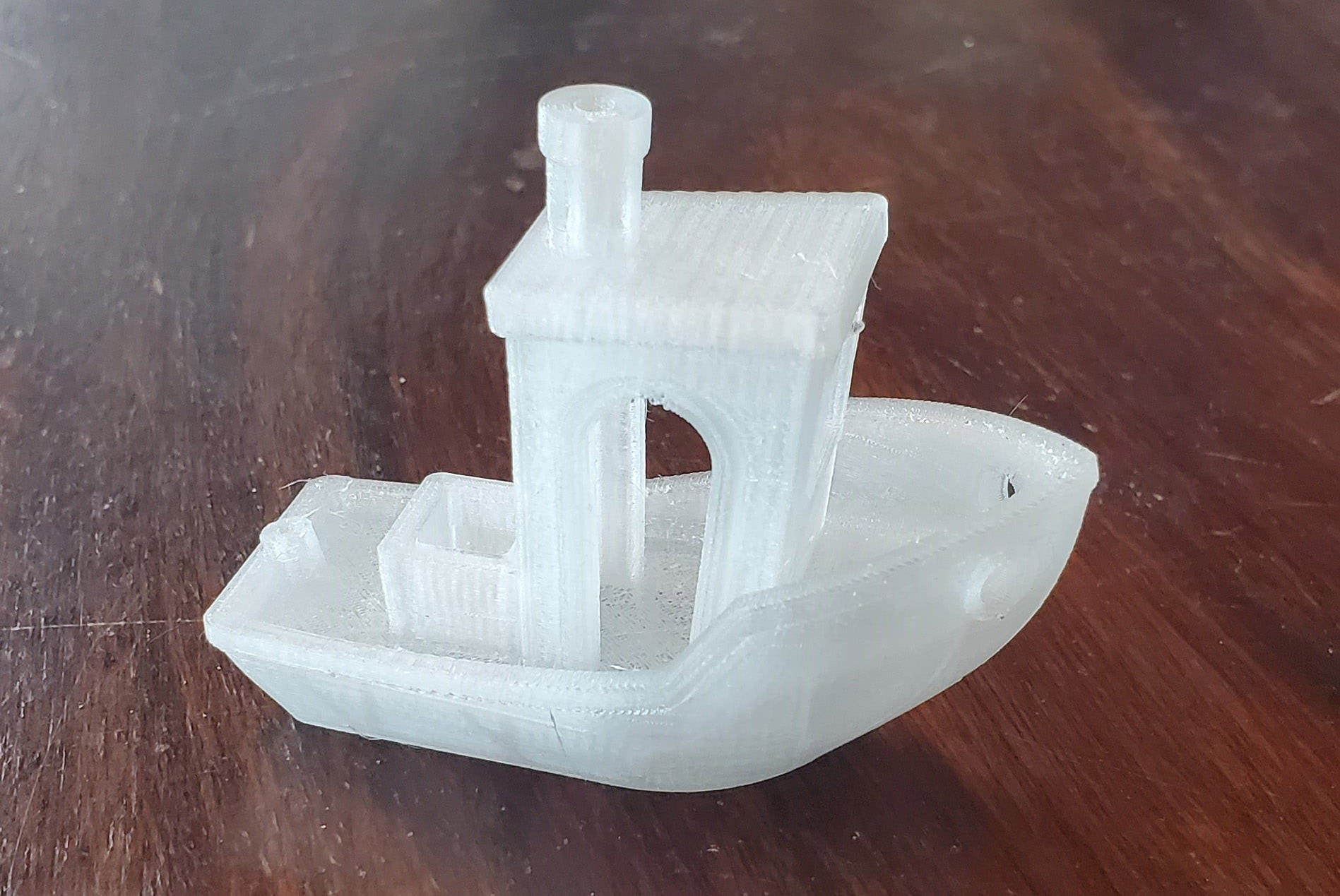 This was printed with 0.15mm layers and it looks great. The transparency hides some of the details but they are definitely there, and it's easy to see that the walls are incredibly smooth. The pillars have sharp corners and the smokestack is clean. I like the crystal-like appearance but that's just my opinion. The All In One 3D Printer Test is up next, also printed at 0.15mm.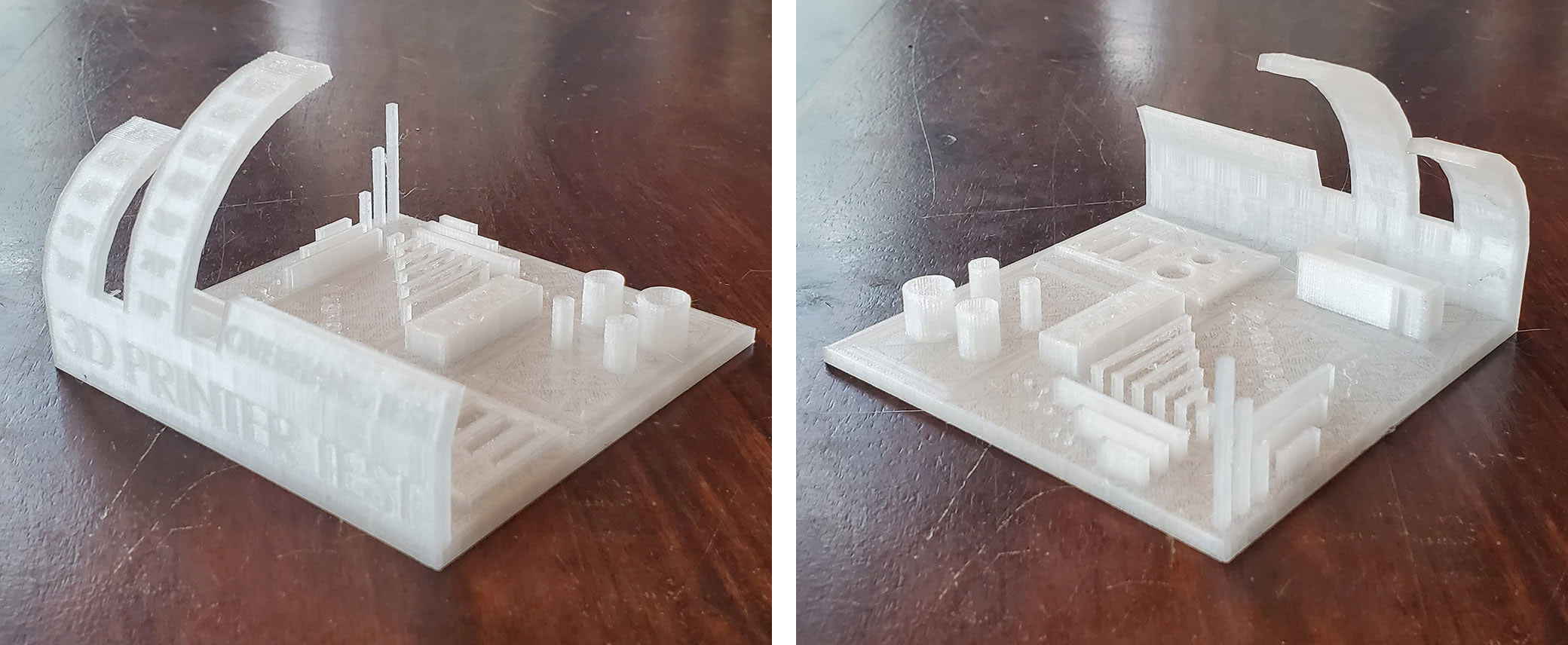 I knew PETG was good for overhangs but I didn't know it was this good. If you look very closely, you can see the distinct stair-step effect on the underside of the arch all the way up to 80° of overhang. Most materials start to lose definition at around 65° so this is an amazing performance. The rest of the print is also very good. The pillars are straight, top surfaces are solid, and corners are crisp. There's a small amount of stringing between the pillars, and the bridges do have some sagging so let's investigate that further with the Bridging Test.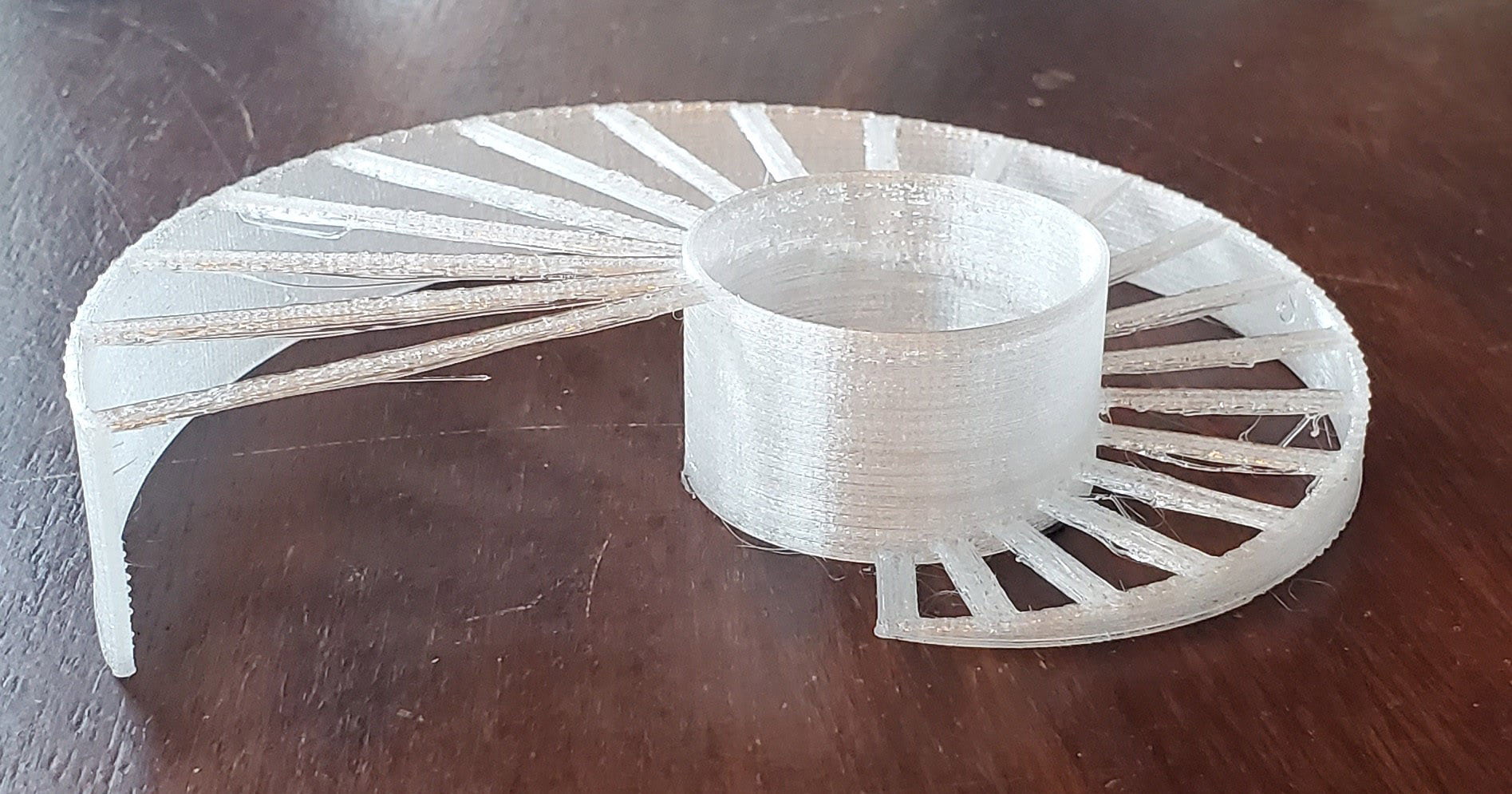 That's actually pretty good bridging at 50mm considering there was sagging on the 15mm bridges of the previous test. That tells me that bridging results with this material can be improved by adjusting some print parameters. Remember, default settings are used in these reviews for consistency.
To see how this material holds up to the heat, a rectangular bar was printed, measured, run through an annealing process in an oven, and then re-measured to see if it shrinks or expands.
Original dimensions: 20.5mm x 120.45mm x 5.88mm
Post-annealing dimensions: 20.49mm x 120.42mm x 5.88mm
There's basically no change so parts printed in this material should function outside and in hot environments just fine. That's good to know given PETG's use in light fixtures that generate heat.
Layer adhesion was tested by printing three Vertical Tensile Bars and putting each one under load until they broke. They broke at 132lbs, 124lbs, and 112lbs, for an average of 122.6lbs. Woah! That's the highest number I've seen for this test by a healthy margin. The Z axis is usually the weak point of FDM prints but the phenomenal layer bonding of this PETG really strengths that typical shortcoming.
When trying to show off a material that has superior optics, there's really only one choice. A lightsaber.

In order to get that signature glow effect with a 3D printed lightsaber, print the blade in a clear material and shine a colored LED through it. Not only will the glow be brighter than what you'd get by printing a colored blade and shining a white light through it, but it let's you make the blade any color you want. PETG is an ideal choice for this because it diffuses light brilliantly. And because I already knew that it has good layer adhesion, I was able to print the telescoping blade with single-perimeter walls to allow the maximum amount of light to pass through without having to worry about the strength of the blade. It's plenty strong enough to sling open and push closed. The hilt was printed in PLX.
Conclusion
BigRep's PETG is a high-quality offering of the versatile material. Even though it prints at a higher temperature, it's quite easy to print with. I experienced no warping or peeling on printed parts and every object came out looking good, though some had slight stringing that was wiped off with minimal effort; adjusting retraction a bit would likely resolve the issue completely. When it comes to overhangs, this is as good as it gets. Being able to print steep overhangs allows users to print more complex geometries and forego the use of support material, saving time and resources. The high heat deflection temperature opens the door to many functional applications, and the strong layer adhesion extends its functionality even further. And it makes a fantastic lightsaber. What else do you need?