American, family-owned company Filament Innovations just released an exciting new line of 3D printer kits. The BFP475 and BFP310 are the first printers to use Carbon Fiber build and bearing plates and come in pre-assembled form. Filament Innovations is targeting advanced users and businesses looking to produce industrial-grade parts.
According to the company, they intended the BFP series to fill a very particular market gap: industrial, robust, and affordable large-scale 3D Printer kits. They also tout their printer's ability to work with any filament users can throw at them.
The Filament Innovations BFP Series
The major difference between the two BFP printers is build volume and physical size. The BFP475 has a build area of 18"x16"x27" (475x415x700mm) while the BFP310 operates with 12"x12"18" (310 x 310 x 457.2mm). Both machines are, otherwise, identical. The kits come pre-assembled and only require the user to bolt a few pieces and affix the wiring. Filament Innovations has made the assembly process extremely easy through detailed instructions with lots of visual aid.
Both devices come standard with a MKS TouchScreen for printing and a LCD2004 screen for tuning. They use thick Aluminum 20×60 extrusions for frame reinforcements and solid Carbon Fiber plates for printing. The BFP475 uses 5mm plates whereas the 310 uses 3mm plates. These plates ride on CNC grade Linear Rails and Bearings while being pulled by specialty made NEMA23 motors on custom made 15mm wide GT2 timing belts. Extrusion is handled via a modified Bulldog 5:1 Geared Extruder and a Prometheus V2 hotend, shipping with a stainless steel 0.6mm nozzle diameter standard – reaching 300C. The heated bed is 110VAC.
The company has priced the printers at $3,499.99 (BFP475) and $2,499.99 (BFP310). Michael Gorski, founder of Filament Innovations, told us "since we are self-funded, we can afford to offer these higher grade components (i.e. the Carbon Fiber plates) at a lower cost because we have reduced a large amount of overhead."
Specs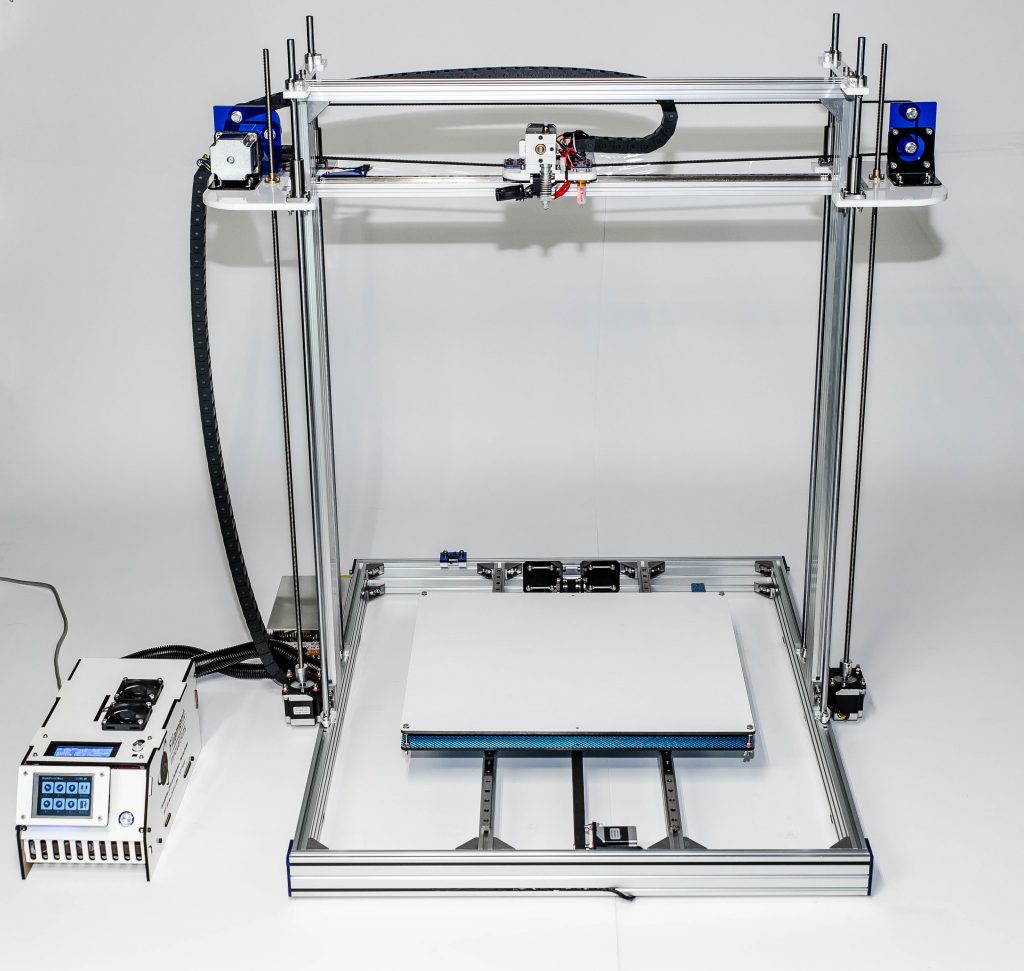 Specs
Description
 Build Volume
 BFP475: 18"x16"x27" (475x415x700 mm)

BFP310: 12"x12"18" (310 x 310 x 457.2 mm)

 Print Technology
 FDM/FFF
 Nozzle Diameter
 0.6 mm
 Max Temperature
 300 °C (Prometheus V2 Hot-end)
 Realistic Print Speed
 100 mm/sec
 Minimum Resolution
 100 microns
 Filament Size
 1.75 mm
 Bed Levelling
 BL-touch bed leveling sensor
 Display
 Touchscreen LCD
 Bed
 110 VAC heated bed