Israel based Modix is planning on releasing its new X120 extra large 3D printer and is already collecting pre-orders. The company specialises in DIY kits and their newest one looks to be quite a showstopper. The printer also comes with a whole host of upgradeable elements in its arsenal, including additional printheads.
The 3D printer has an astonishing build size of 120 x 60 x 60 cm, especially considering the price its going for. The Extra Large X120 is available on pre-orders for $6000. Customers can also purchase the modular upgrade to X120's predecessor the Big-60 for $2500.
Modix founder and CEO, Shachar Gafni, said, "the Extra Large 120X advances our strategy of building large, high quality modular 3D printers […] This latest release confirms Modix's dedication to building affordable, innovative, and heavy duty 3D printing solutions for designers, artists and engineers."
X120 Kit Specs
Modix BIG-120X
- DIY self-assembly kit
- XL print volume of 1200 x 600 x 660 mm
- Duet 2 Wifi, 32Bit controller developed by Duet3D
- Reprap Firmware developed and supported by Duet3D
- 7 inch touchscreen made by Duet3D
- E3D Titan Aero extruder with E3D Volcano hotend
- Closed loop motion system (optional)
Specifications »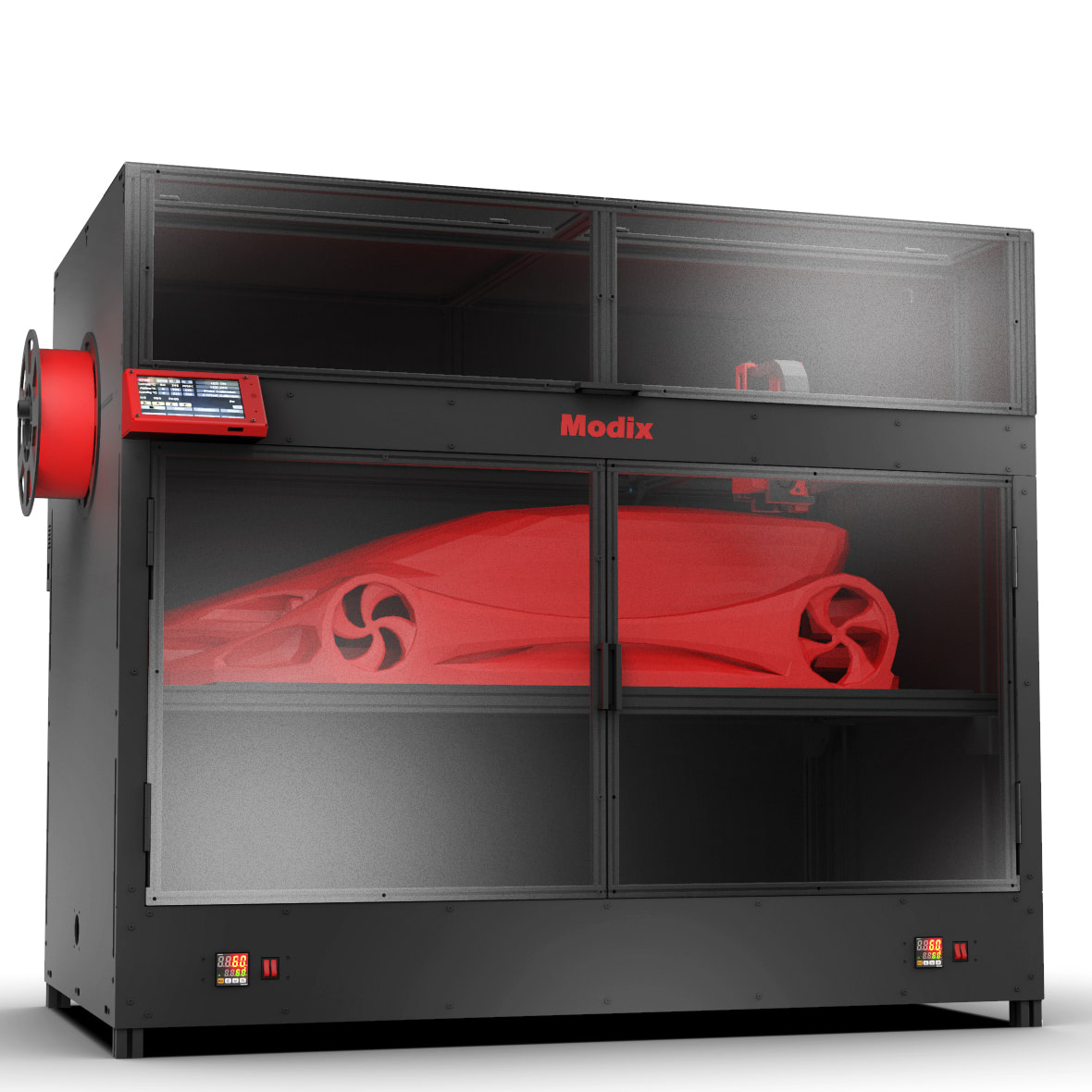 With a build size of 120 x 60 x 60 cm, it has some massive capabilities. On top of that, it features a E3D Titan extruder with the choice of single or dual systems. It has a Alcoa Mic6 heated bed and an AC powered bed heater 1600W with two distinct heating zones. It has an acrylic enclosure for easy monitoring along with powder coated laser cut aluminum brackets and joints. While the printer is large and requires quite a bit of space, it's an assembly kit, so users can put it together where they see fit while keeping in mind how big it is once they assemble it fully. It's certainly bigger than most doors making it hard to transport afterwards.
Supported filaments include a range of materials. There are, of course, the usual suspects (PLA, ABS, PLA composites). It then ups the ante with Carbon fiber, Wood, Copper, Brass, Magnetic, PHA, PVA , Hips, Nylon, TPE & TPU (FleX) Co-Polyester, PETG.
It also features open source Marlin firmware software along with installed Firmware on an Arduino based controller from Makerbase, MKS Gen 1.4. Modix has put up videos detailing the exact assembly instructions for users to see.
The new Modix Extra Large 120X will be on display at TCT 2018 on September 25-27 at booth E21.
You can find all product specifications here.
Featured image courtesy of Modix.