It takes a large 3D printer to print furniture. If a printer is large enough to handle furniture then it can also accommodate vehicle parts and architectural components. Users are constantly finding more applications for these gigantic machines so the XL 3D printing space is getting bigger and bigger. Just like all 3D printing technologies, XL printing has its own strengths and tradeoffs. Let's have a look.
When To Consider Large Scale 3D Printing
Obviously, size is the driving factor in choosing to use large-format printing but there's more to it than that. Here's a breakdown of some of the less-obvious considerations:
Unibody Parts – Often, producers are already able to fabricate their large objects through traditional methods of assembly but those objects would perform better if they were produced as one solid piece, something only a large 3D printer can do efficiently. Having a part made from one material has many benefits that affect other aspects of production, which we'll touch on below.
Weight Reduction – Large objects are usually made of wood, metal, or injection molded plastics. Printing the same objects in plastic will make them much lighter, especially when factoring that users can easily adjust the density infill of 3D printed objects. Consolidating large assemblies into single components also reduces weight by eliminating the need for fasteners like nuts and bolts.
Faster Development Times – The larger an object, the longer it takes to create and setup the tooling to fabricate it through traditional means. With 3D printing, there are essentially no setup steps so large prototypes are significantly faster to print than to make them any other way. A large object may take a while to print, but by cutting out the time-consuming tooling step, it may also be faster to do production runs of large objects, depending upon the specifics.
Reduced Cost – 3D printed large parts can be cost competitive with conventionally-made parts almost entirely because of the tooling costs of the latter. Consolidated assemblies usually cost less as well because fewer materials have to be sourced from different places.
Design Freedom – Using conventional manufacturing methods, many geometries are just not possible, such as internal channels and complex lattice structures. Many large objects, like furniture, benefit from such features and XL printers are the only way to realize those designs.
Large Scale 3D Printing Examples
Signage and lettering – XL 3D printers with dual extrusion are perfect for making high-quality, modern signage. A great lighting effect is achieved by using black material for the front of the letters and fading to a translucent material towards the back of the letters.
Restoration and architecture – XL 3D printing enables you to produce molds for architectural ornaments. You're able to empower historic restorations as well as bespoke designs by lowering the cost of fabricating custom façades.
Billet manufacturing – XL 3D printers with pellet extrusion are perfect for manufacturing billets in virtually any shape and out of virtually any thermoplastic. 3D printed billets can be significantly cheaper than extruded billets.
Pellet Extrusion
One of the differences between desktop 3D printers and XL printers is the tendency to find pellet extrusion systems on the large printers. Pellet extrusion doesn't use spooled filament as feedstock but instead uses the same virgin plastic pellets that are used for injection molding, which are much cheaper than spooled filament. This makes it easy to mix different plastics to make custom polymer blends and colors. These systems can also take shredded plastics as feedstock, which enables users to directly recycle water bottles, milk jugs, and failed and unneeded prints into new objects. Such a degree of a circular ecosystem can not be achieved with any other form of manufacturing.
That's all great but what compels most users to opt for pellet extrusion is its blazing speed as the technology enables output of several kilograms per hour. Printing times scale exponentially with part size so having a high extrusion rate is pretty important for large-format 3D printing. One drawback of pellet extrusion systems is that they struggle with retraction, a feature that filament extruders employ to improve surface finish by pulling back on the filament during non-extrusion travel moves; retraction reduces or eliminates blobs, dots, and stringing on prints. Some XL printers can operate with both filament and pellet extrusion systems, allowing users to choose the best toolhead for their specific application.
Large Scale 3D Printers
Either the x, y or the z axis should at least be 1 meter / 39.37 inches to be included in this list.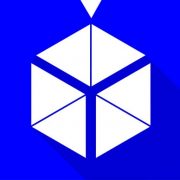 Heads up: our content may contain affiliate links. If you buy something through one of those links, you won't pay a penny more, but we'll get a small commission. Read more here.
Modix BIG Meter
- Print Volume: 1010 x 1010 x 1010 mm
- Printer Dimensions: 1300 x 1470 x 1830 mm
- Shipping Weight: 200kg
- Included: Dual print head, E3D Aero & Volcano 1.75mm
- Reprap Firmware developed and supported by Duet3D
- 7 inch touchscreen made by Duet3D
- E3D Titan Aero extruder with E3D Volcano hotend
- Automatic bed tilt calibration
- Power Requirements: 32A, single phase, 208-240V
Specifications »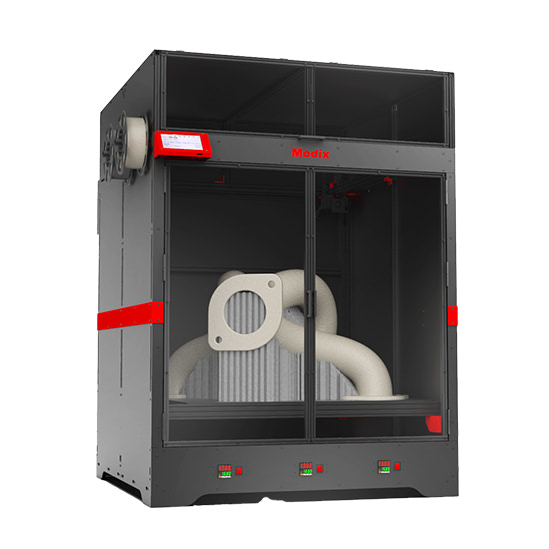 Tractus3D T2000
- Large scale delta filament 3D printer
- Extremely fast printing with the F033L print head
- Huge print area: 680 mm (D) 1000 mm (H)
- Can print a wide range of specialty materials
- Complementary Simplify3D software licence
- XL 3D printer that is designed to be used in the office space
Specifications »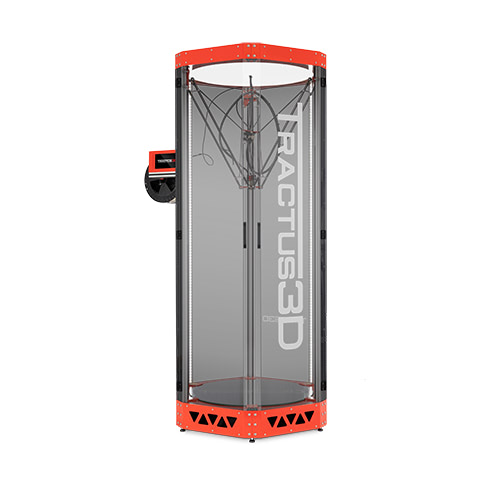 Cosine Additive AM1
- Large scale material extrusion 3D printer
- Print size: 1100 x 850 x 850 mm
- High speed printing: up to 1000 mm/s
- Improved humidity controlled filament spool chamber
- Closed and temperature controlled print chamber
- ACS High Performance Multi-Axis EtherCAT motion control system
Specifications »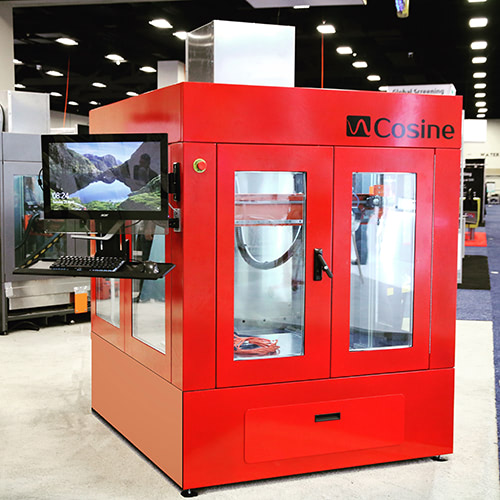 BLB Industries The BOX SMALL
- Large scale pellet 3D printer
- XL build size: 1500 x 1000 x 1000 mm
- Granular extruder, which reduces material costs
- Fast build rate: up to 14 kg per hour
- 15" touch screen
- High quality linear motion modules from Rexroth
Specifications »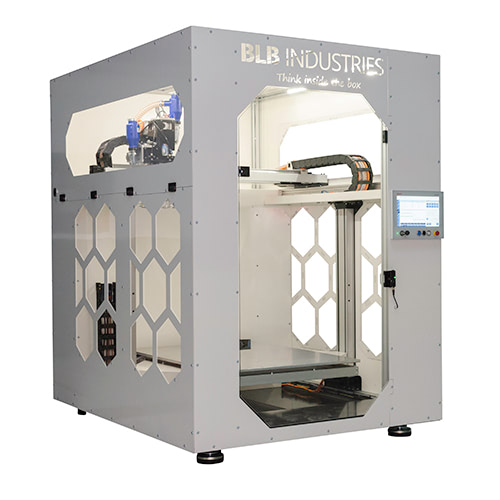 Modix BIG-180X
- Print Volume: 1800 x 600 x 600 mm
- Printer Dimensions: 2170 x 1060 x 1430 mm
- Shipping Weight: ~240kg
- Included: Dual print head, E3D Aero & E3D Volcano 1.75mm
- Reprap Firmware developed and supported by Duet3D
- 7 inch touchscreen made by Duet3D
- E3D Titan Aero extruder with E3D Volcano hotend
- 4 X Z axis motors are controlled individually providing automatic bed tilt calibration.
- Minimal Electricity requirements: 32A, single phase, 208-240V
Specifications »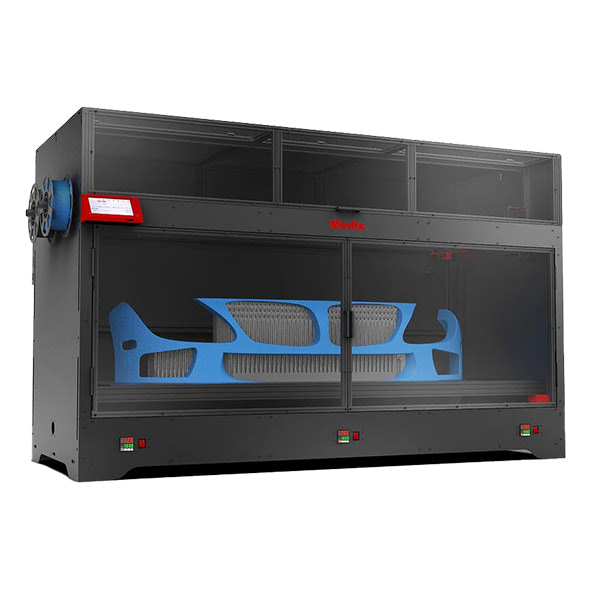 Modix BIG-120Z
- XL print volume of 600 x 600 x 1200 mm
- Z axis guides, HIWIN MGW Linear Rails
- Duet 2 Wifi, 32Bit controller developed by Duet3D
- Reprap Firmware developed and supported by Duet3D
- 7 inch touchscreen made by Duet3D
- Dual print head
- E3D Titan Aero extruder with E3D Volcano hotend
Specifications »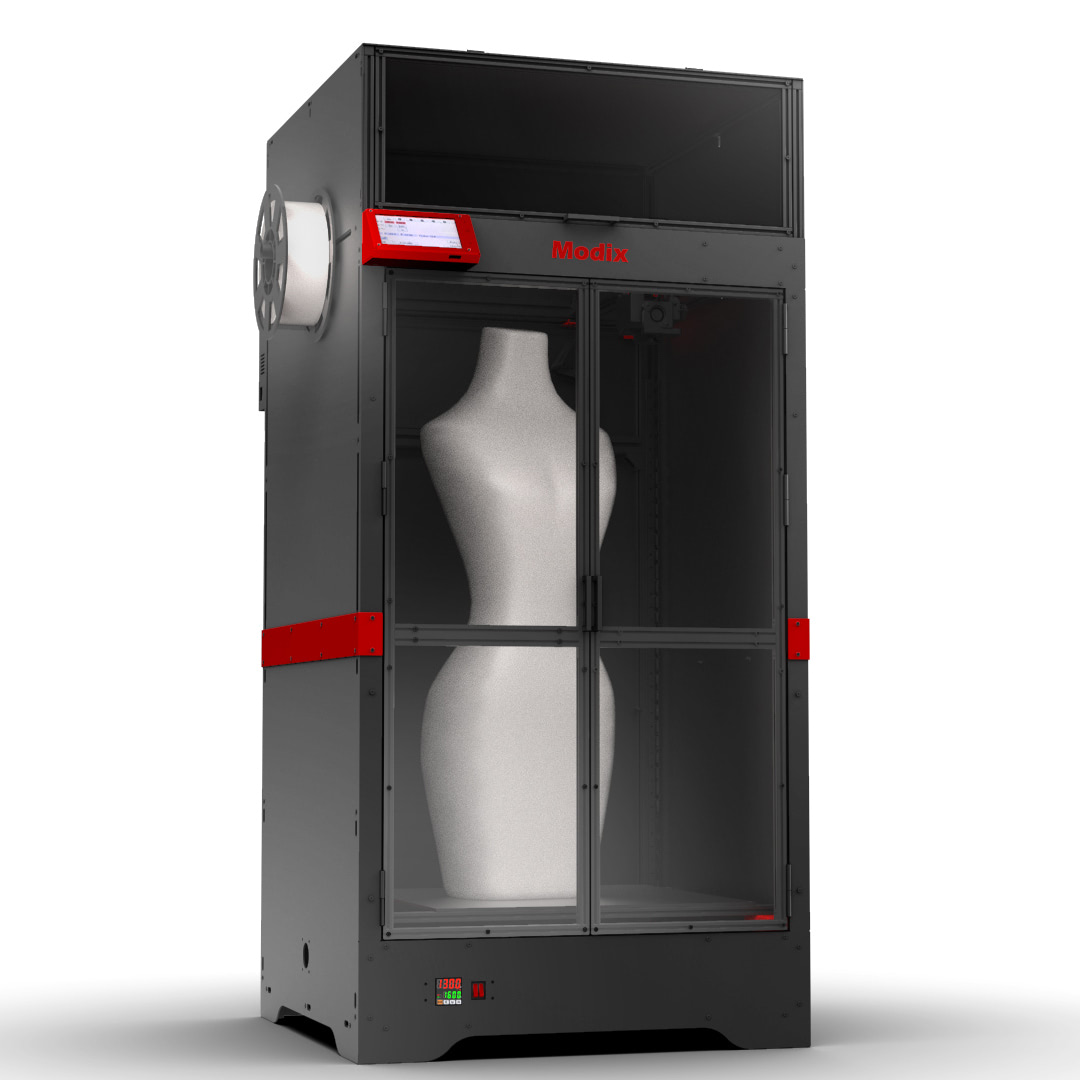 Modix BIG-120X
– XL print volume of 1200 x 600 x 660 mm
- Duet 2 Wifi, 32Bit controller developed by Duet3D
- Reprap Firmware developed and supported by Duet3D
- 7 inch touchscreen made by Duet3D
- E3D Titan Aero extruder with E3D Volcano hotend
- Closed loop motion system (optional)
Specifications »