As a multi-billion dollar industry, film and TV production crews are often tasked with the heavy burden of bringing artistic visions to life – fast. Luckily, 3D printing can help designers quickly manifest their wildest imaginations into the physical reality, and Hollywood has taken notice. Here are the 3 biggest ways 3D printing is hitting the big screen.
3D Printed Props and Costumes
Practical effects specialists, prop makers, and costume designers are responsible for most of the double-edged battle axes, sweeping dresses, and exploding cars in movies and TV. I say "most of" because many of those things are now created digitally. Digital effects have progressed to a very convincing level of detail, but many directors (and audiences) still prefer the realness of practical effects for a variety of reasons that we won't discuss here. Up until recently, nearly all practical effects were made by hand using clay, plaster, foam, chicken wire, fabric, wood, and bits of consumer goods combined in creative ways. Nowadays, those same designers are adopting 3D printing to produce many of their props and makeup effects. There are clear benefits to using 3D printing in the film and TV industries:
More affordable – A handmade prop could require the use of several different materials, creating waste in each material, and the labor to make props is expensive. The same prop could be 3D printed with just one material without producing any (or very little) waste.
Faster – Making props by hand can take days or weeks while 3D printing them takes only a few hours.
Repeatability – It's often necessary to have multiple copies of props; traditionally, a high-quality version is made for close-ups and lower-quality versions are made for background scenes and stunt work. With 3D printing, every copy can be high-quality without them costing more time and money to produce.
Durability – Hand-made props are sometimes rather fragile. 3D printing props in nylon and TPU makes them tough enough to survive filming. And when they do break, it's easy to just print another copy.
Licensed replicas – Production studios have to commission toys and action figures to be redesigned for mass production as replicas for resale, but 3D printing gives them the option of selling exact copies of the props in movies. 'As Seen in the Movie' replicas can be 3D printed on-demand as orders come in. Even props that are hand-crafted can be 3D scanned and then printed for the same purpose.
Fantasy and sci-fi props are among the most printed objects in Hollywood right now. The makers of 'Game of Thrones' utilized 3D printing with most of their armor, masks, jewelry, and weapons. Their forte was in developing lightweight and realistic props that pop on-screen and are more cost-effective than teams of digital effects artists. In fact, in some scenes the creators entirely eschewed the digital route and used an enormous 3D printed dragon.
The 'Jurassic World' films did something similar by printing dinosaur remains. Archaeologists and designers worked together to bring the various species' skeletons to fruition, giving them realistic textures and even including details that indicate their gender and age. They 3D scanned real fossils to help them recreate the printed props.
3D printed costumes were a major part of the afro-futurist sci-fi aesthetic in Marvel's 'Black Panther.' Costume designers added crowns and collars that would have been difficult and time-intensive to stitch or mold. The filmmakers worked with 3D printed fashion specialist Julia Koerner; her contributions helped Ruth E. Carter, the costume designer for the film, win an Oscar. Koerner was able to use actress Angela Bassett's exact dimensions to model the headdress that Queen Ramonda wears in the movie.
This wasn't the only time Marvel used 3D printing. The 'Iron Man' armor in multiple movies was 3D printed. To achieve an ideal fit, designers of the model 3D scanned the body of Robert Downey Jr. 3D printing within the MCU has only increased over time, other examples are 'Captain America' and 'Thor.' In the video below, Jose Fernandez from Ironhead Studio explains how he and his team made Hela's jaw-dropping costume from Thor: Ragnarok. He shares how the helmet's pieces were 3D printed (selective laser sintering + carbon fiber reinforced material) and what goes into its brilliant finish.
Stop Motion 3D Printed Miniatures
Stop motion is inherently dependent on physical effects, specifically poseable and customizable dolls. It requires meticulously placed objects to move incrementally with each frame, so 3D printing helps create as many variations of facial expressions, props, and characters as possible to make the animation as smooth as possible.
Animation studio LAIKA has become famous for their use of 3D printing in their stop motion animated features, most notably 'Caroline' and 'Kubo and the Two Strings,' both of which employ replacement animation where the head or face of a doll is replaced with a slightly different version between frames to create the illusion of facial motion. For 'Caroline,' LAIKA 3D printed 20,000 different heads to create the wide range of facial expressions throughout the film. For 'ParaNorman,' they bumped it up to 40,000 heads to expand the emotional range of the characters. They cranked it up to 56,000 printed faces for 'The Boxtrolls.' and 64,000 for 'Kubo.'
Their 2019 film 'Missing Link' currently holds the record at 106,000 as they increased the head replacement rate up to 24 per second for some scenes. Sculpting that many faces by hand would be prohibitively costly and time consuming, which is why the number of heads in stop motion films that don't use 3D printing is usually closer to 800.
Filmmaker Gilles Deschaud spent two years designing and 3D printing every piece of the 2,500 piece set for his stop-motion short 'Chase Me.' This demonstrates how much one person can accomplish with a 3D printer.
Set Design
Production designers are tasked with creating the rooms and backgrounds for scenes. In the past 3D printed set pieces were mostly small intricate components, but with the introduction of large scale 3D printers, designers can now produce enormous set pieces – overnight.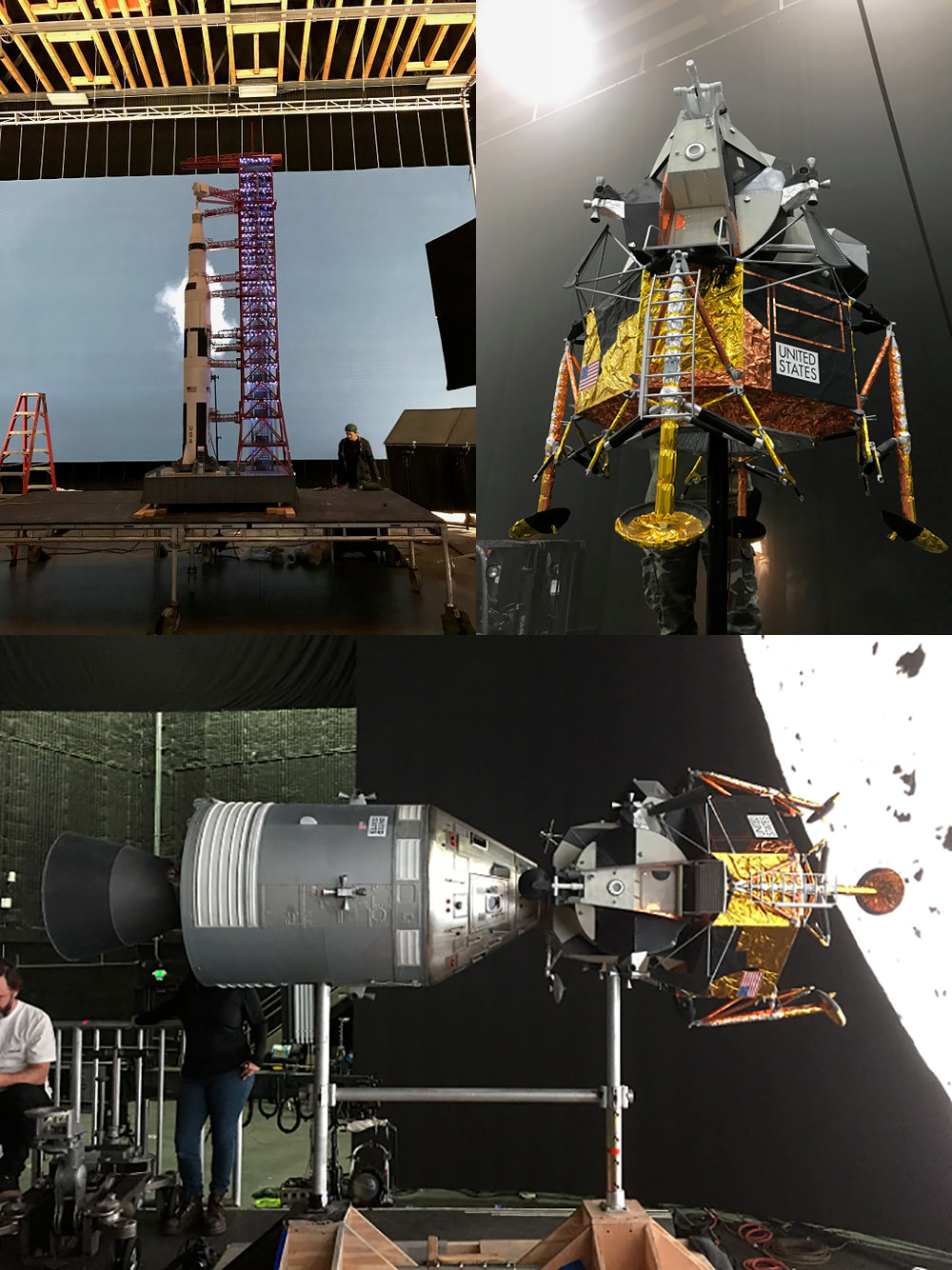 An example of how large scale 3D printing can be utilized in set design is seen in the space travel biopic 'First Man'. Production designer Nathan Crowley's work for the film involved creating a scale replica of the legendary Apollo 11 using a huge filament deposition 3D printer.
In an interview conducted by All3dp.com, Crowley explained:
"We put the BigRep ONE in the construction shop where we build the sets, and then we had to build a room around it to keep it clean and keep the temperature stable. To have a print bed that size, that we can have a lunar module at one-sixth of its true height which is 23 feet. We're talking about at least a decent size model. And really, the BigRep could print it all in one go.".
Nowadays CGI is commonly used for movie productions like 'First Man', but Crowley prefers creating replicas and miniatures in the physical realm. This is because they allow for a more realistic and artistic look, especially when they're shooting physical objects with light and smoke.
While Crowley had previously utilized 3D printing on sets like 'Dunkirk' and 'Interstellar', his experience was primarily restricted to desktop 3D printers.
With two enormous 3D printers, the 'First Man' production team was able to manufacture large scale replicas of the Apollo 11 capsule and Saturn 5 rocket in a single print job.
In the past, they would have had to split the model into different parts, print them on multiple smaller 3D printers, and then assemble them piece by piece, which was a time-consuming and tedious task.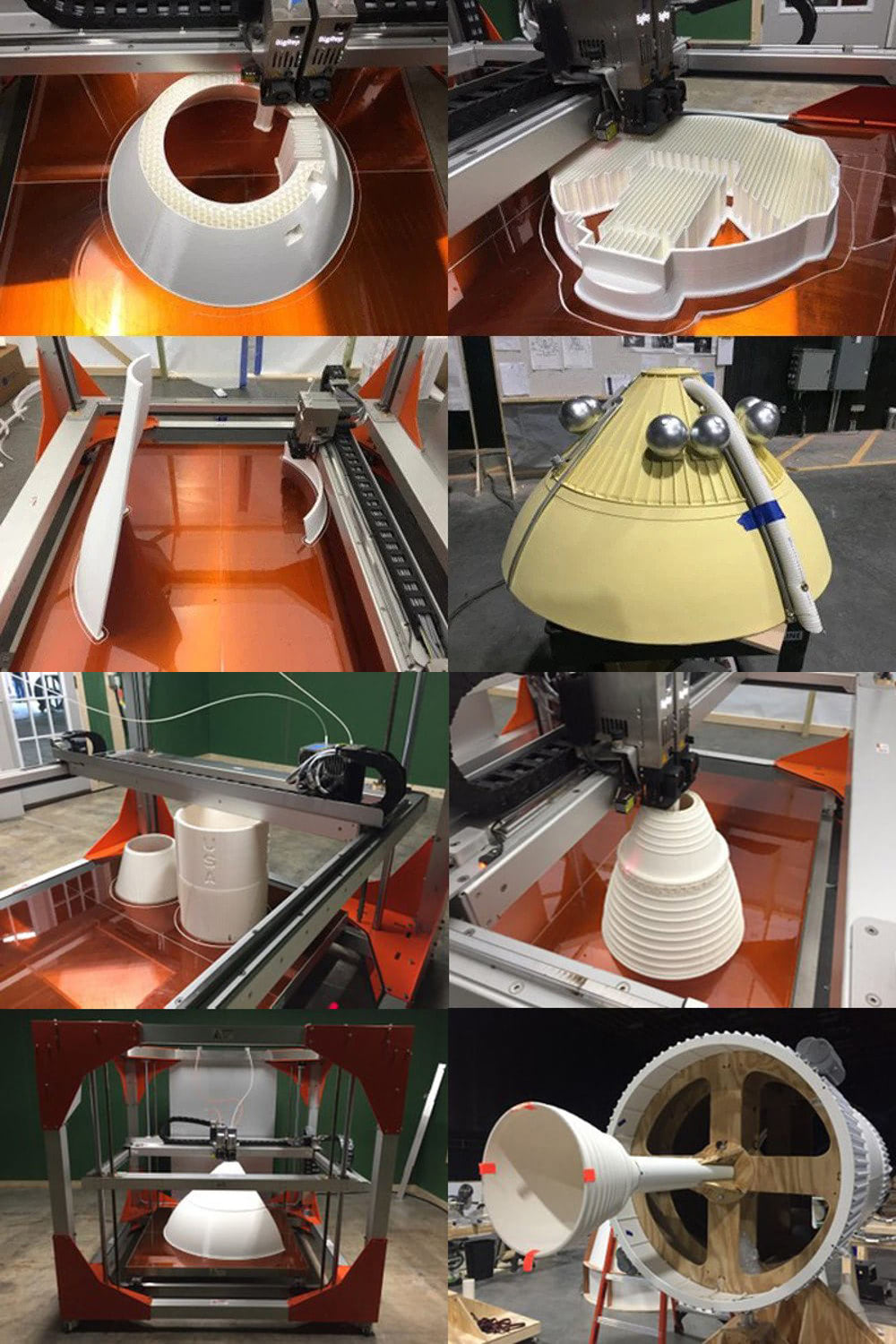 "Printing that on smaller desktop printers, we would have had to split that into parts, and then threw them all together and then refinished them. We would have to put those puzzle pieces together and that's assuming that one of those printers don't break down and we're not missing a part. So to print it one go, it was a game changer for us," Crowley explained.
Featured image courtesy of All3dp.com. For further reading you can find the full interview with Nathan Crowley here.