Indian state-owned aerospace company Hindustan Aeronautics Limited (HAL) has partnered with Intech Additive Solutions to produce the country's first metal AM component for jet engines.
The part in question is a Gas Generator – Nozzle Guide Vane (GG-NGV) and it has been printed in CM 247LC superalloy. This alloy in question is a nickel-based alloy used largely for turbine blades and vanes, due to its superior fatigue resistance, heat resistance, and strength. In the past, components manufactured with this alloy have been done so by use of investment casting processes.
As we have discussed in previous articles, investment casting is a labour intensive process and use of AM can drastically reduce the process steps needed for forming parts. And this is exactly what the team at HAL and Intech have achieved, as you can see in the image below.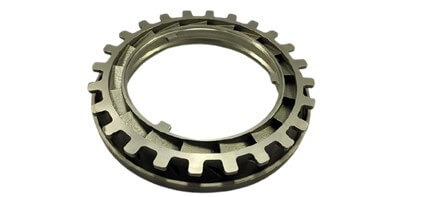 To this partnership, HAL has brought their wealth of aerospace engineering experience and Intech, who were the first company in India to offer metal AM printing as a service, have brought their own AM research experience as well as their own metal printers to the mix. Intech Additive Solutions are known for being the manufacturer of India's first homegrown metal printer, the iFusion SF1, which was launched back in 2020.
This year, the company launched a larger printer named the iFusion LF. The 350mm diameter GG-NGV itself was printed on the larger machine, taking advantage of its 450 x 450 mm build area. Both of their iFusion machines are of the Laser powder bed fusion (LPBF) variety and are capable of manufacturing parts from a range of metals including Aluminium, Inconel, Stainless Steel, Maraging Steel, Cobalt Chrome, Titanium, and now nickel superalloys as well.
Nozzle Guide Vanes are typically static within a turbine engine core and guide the heated airflow from the combustion chamber onto the turbine blades, where the rotational energy is extracted and used for other aircraft systems such as driving compressors, or generating electrical power in the aircraft. By definition they are sitting in an extreme environment and are subjected to brutal thermal and fatigue cycling hence why this particular superalloy was selected.
This printed part marks the first time that a working aerospace component has successfully been printed with the CM 247LC alloy. There has been prior research into the use of the alloy with 3D printing, but in many cases the attempts have resulted in part defects.
By using their own in-house developed software, named AMOptoMet, the engineers from Intech were able to determine the best parameters to print the material. According to the company website, the AMOptoMet software focuses on optimizing print parameters and can help accelerate the DoE process when developing new materials.
We do not know if this component will be installed on a commercial aircraft, or if it is exclusively a research project, but either way, the demonstration of the printability of this superalloy no doubt opens up new avenues for manufacturing engineers in the aerospace domain.
If it all proves to be of equal quality to traditionally manufactured parts, and offers greater economic benefits, expect to see more hot engine components printed with this material in future.