Most of our aviation-related 3D printed stories focus on internal components hidden deep inside aircraft machinery, and most of those stories focus on metal printed components.
Swedish aircraft manufacturer Saab has given us something different to write about this week with the announcement that they have been testing plastic parts as on-the-fly repairs of battle damaged airframes.
You can see the 3D printed part attached to the Saab Gripen fighter in the picture below.
The AM part is the conspicuous white square panel that has been fitted to the aircraft skin.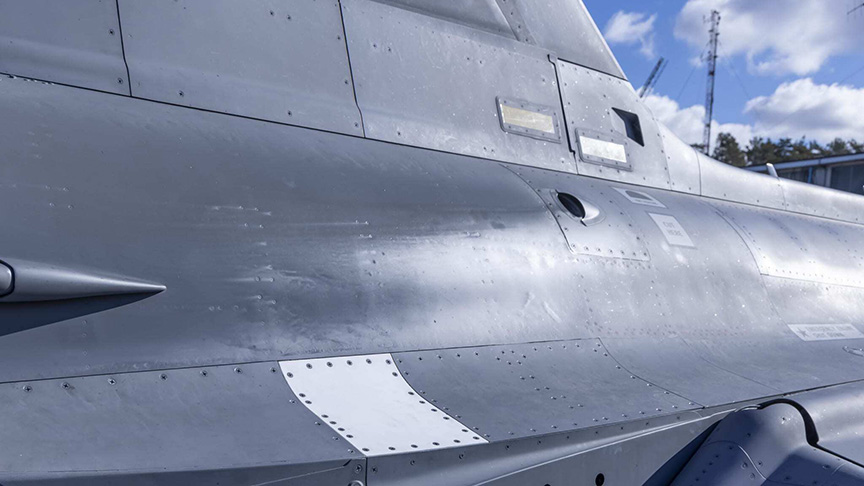 Engineers wanted to fabricate a replacement panel for the Gripen, but were unable to obtain a 3D model of the component, so they removed the panel and scanned it with a 3D scanner before printing the part with PA2200 Nylon.
With the panel fitted, the test flight was performed on March 19th in the Swedish sky.
"Post-flight initial inspection of the hatch was very positive and showed no visual structural changes had occurred from the flight," said Håkan Stake manager of the development project at Saab.
"The potential of this approach means that maintenance personnel in the field can get access to individually fitted spare parts and you no longer have to resort to emergency fixes nor cannibalise other broken-down aircraft for their parts, while also further reducing the small number of parts brought on a deployment. This also reduces the operational time lost in repairs".
Yes, cannibalisation is a thing, especially when dealing with aircraft operating out of forward operating bases, where the supply chain may not be as efficient as when back home. Now thanks to polymer printing, scrounging parts from other aircraft could be a thing of the past.
"This test flight of a component with operational impact is an important step as an aircraft, including all its parts, always has to meet the tough requirements of an airworthiness process," said says Ellen Molin, senior vice president and head of Saab's business area Support and Services.
"In terms of increasing operational availability in the field, additive manufacturing will be a game changer."
Indeed, and to help scale up their additive manufacturing capabilities on the field, Saab are also working on a container-based 3D printing system which can be deployed to combat zones with minimal effort.
Of course, there is more to 3D printing aircraft parts than simply printing it and sticking it to the airframe. As mentioned, airworthiness standards are pretty tough, and the processes and materials will need to be tested over and over to ensure that they are ultimately fit for purpose.
Now that Saab are happy with the workflow, the next stage for Saab is to find a plastic that is able to withstand cold temperatures at high altitudes.