You'd be forgiven for thinking that Porsche are new to the electric vehicle game. In fact, the first cars designed by Ferdinand Porsche himself actually had electric drives, albeit for a different company (Vereinigte Elektrizitäts-AG Béla Egger).
You could say that the history of Porsche began with electric vehicles, and you wouldn't be wrong for saying that. Naturally, today's Porsche EVs have come a long way since their founder's dabbling with EVs over a century ago, as the picture below can confirm.
Realistically speaking, the automobile hasn't evolved that much in 100+ years. Sure, they look different, they are safer to drive, and are more efficient. But most of the advances in automotive technology have come in the form of ancillary items such as electric windows, windscreen wipers, fuel injection systems…and even brakes.
Perhaps the biggest evolutions have come in the form of production, beginning with Henry Ford's automated production line, and culminating in modern techniques such as 3D printing. And as you can guess from the article title, current-day Porsche have embraced AM in the development of their modern day EVs.
Take the latest development from the German marque for example: a fully 3D printed drive housing, pictured below.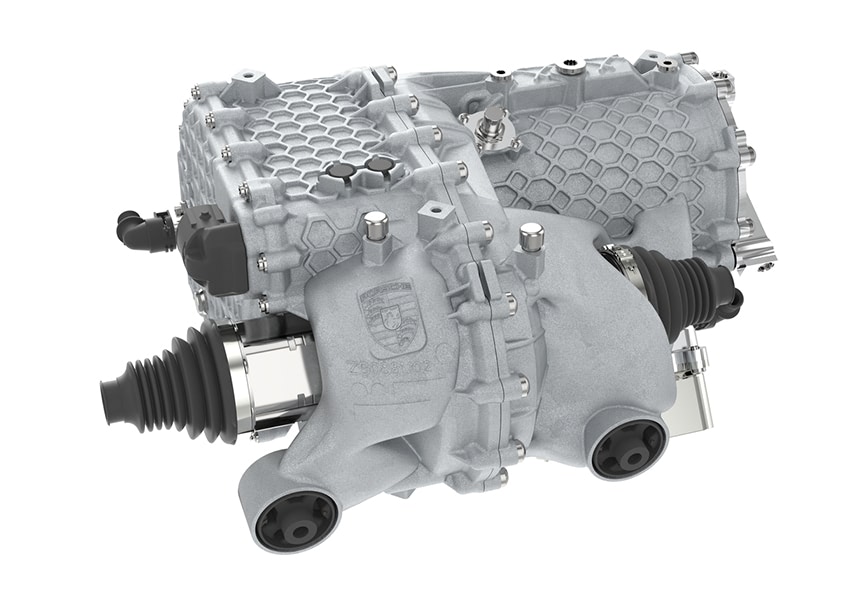 The housing is a manufacturing prototype, which is intended for small-scale production, and will presumably end up on the company's race variant vehicles. The item, printed with some form of unspecified laser powder bed fusion process, is 10% lighter than a traditionally manufactured (cast) part, and is 100% stiffer, which is ideal for the lightweight but gruelling needs of the track.
The part contains a gearing system and also a heat exchanger, which enables the item to keep cool while thrashing it around a racetrack. You may notice the honeycomb pattern on the body of the part too. While not confirmed, it is likely that this pattern was constructed using some form of topology optimisation / generative design. Because it's 2021, we are slap-bang in the middle of Industry 4.0 and frankly, why wouldn't they use these modern design tools for the task?
I know I would.
This isn't the first time Porsche has utilized AM in their vehicles, although most of their previous efforts have been focussed on their fossil-fuel burning vehicles.
We have previously covered some of these examples right here on the site.
Here is a link to an article about their 3D printed aluminium pistons (which, as the article title states, are superior to traditionally made parts). And here is another story about how Porsche have been making obsolete parts for their classic vehicles with AM.
Yes, Porsche are definitely enjoying dipping their toes into the AM pool.
And like many components first demonstrated on these high-end German rides (especially the Mercedes S-Class, which is seen as a testbed for innovation), once their value has been demonstrated and the bugs have been ironed out, it's only a matter of time before these innovations begin to appear in vehicles a little more affordable to us mere mortals.