Researchers at Rice, the University of Texas Health Science Center at Houston (UTHealth) and Baylor College of Medicine have developed a 3D printed bioreactor that can produce new craniofacial structures within the ribs. The research is part of a decade-long program, funded by the Armed Forces Institute of Regenerative Medicine. While the research focuses on battlefield injuries currently, it has the potential to make the leap into civilian-centric medicine soon.
The technique also has the potential to replace current bone grafting technologies. Researchers proposed the technology as a means of using the body's natural restorative powers to grow cells and tissues. With this technique, stem cells and blood vessels from the rib infiltrate a scaffold material in the printed mold and replace it with natural bone custom-fit to the patient. This study builds on research that previously did the groundwork on creating bone grafts with or without their own blood supply from real bone implanted into the chest cavity and develops the idea into a proper bioreactor.
"A major innovation of this work is leveraging a 3D-printed bioreactor to form bone grown in another part of the body while we prime the defect to accept the newly generated tissue," says Antonios Mikos, Louis Calder Professor of Bioengineering and Chemical and Biomolecular Engineering at Rice and a member of the National Academy of Engineering and National Academy of Medicine.
Advantages of the Bioreactor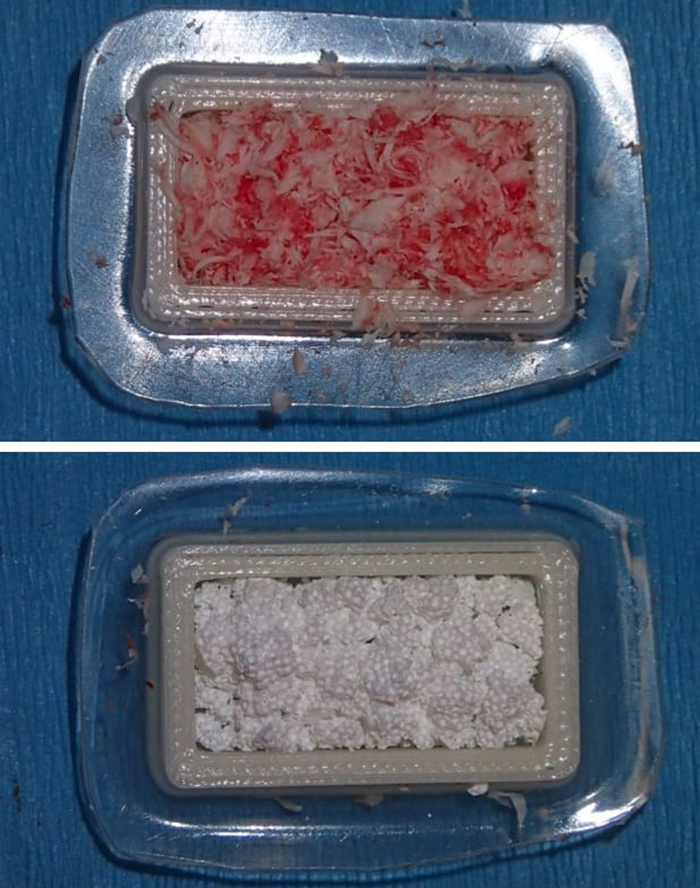 The 3D printed bioreactors are filled with autologous bone or a synthetic graft. These form major components of this technique, growing custom-fit bone implants to repair jawbone injuries from a patient's own rib. The most significant advantage of the method is that it no longer requires bone harvesting to create a graft.
As proof of concept, the researchers created a rectangular defect in the mandibles of sheep. Then, they printed an implantable mold and a spacer from PMMA or "bone cement". The spacer promotes healing and also prevents scar tissue from filling the defect site. By excavating enough bone to expose the periosteum, they made it a source of stem cells and vasculature. This cultivates the scaffold material inside the mold aiding bone growth in the printed bioreactor. Test groups included either crushed rib bone or synthetic calcium phosphate materials to make the biocompatible scaffold.
The researchers use ribs because they are easy to access and serve as a rich source of stem cells and vessels. Another advantage of growing parts within the body is that there is no chance of bodily rejection. The printed bioreactors can also possibly grow new bones on multiple ribs simultaneously. While the research is still young, it has the potential to radically change a whole host of medical treatments.
Featured image courtesy Mikos Research Group/Rice University