Overview
3D Systems' DMP Line
3D Systems has their own range of metal printers, referred to by the proprietary name of DMP (Direct Metal Printing).
DMP is a form of laser powder bed fusion, using lasers to fuse metal particles together, layer by layer, producing a finished metal part from a selection of their available alloys. They are notable for their highly repeatable parts and also their best-in-class vacuum chambers which allow high purity, low contaminant printing.
In this article, we will look at the line of DMP printers, as well as those aforementioned alloys. The line includes stand alone printers and also modular production systems for autonomous industrial, serial printing. Let's dive in.
First up in the lineup is the DMP Flex 350, which is a standalone printer capable of printing a variety of alloys on its 275 x 275 x 420 mm build area.
It is aimed at both industrial and research-focused customers, with its range of customizable features being an attractive proposition to those into a little more hardcore tweaking and experimentation.
The metal powders are fused with the Flex 350's 500 W / Fiber laser, creating prints with a layer height of 5-90 microns at an accuracy of ± 0.1-0.2% with ± 50 Microns minimum. The inert vacuum chamber enables the production of exceptionally strong parts of high chemical purity due to its economical argon gas system, which maintains oxygen levels at incredibly low levels (<25 ppm).
The machine runs with the 3D Systems 3DXpert software (as do all the other examples in this article) which allows preparation and optimisation of data permitting rapid design for metal additive manufacturing to shorten production times and increase part precision.
Fast bidirectional material deposition and short changeover times both further contribute to the high throughput of the machine and makes it more than suitable for serial manufacturing.
The end result of these innovations is a machine designed for the high throughput, high repeatability manufacture of metal parts.
This system is capable of printing a variety of the proprietary LaserForm alloys including titanium, aluminium, nickel, cobalt-chromium, and various steels including maraging steel. In addition, powders from 3rd party manufacturers of LBPF materials can also be used.
With a few additions, the DMP Flex 350 is upgradable to the DMP Factory 350, with integrated powder management for higher levels of productivity and serial production.
3D Systems DMP Flex 350
DMP Flex 350 is designed for R&D projects, application development or serial production. Yet it is easily scalable for volume part production. Quick-swap build modules and fast powder recycling speed up production. A central server manages print jobs, materials, settings and maintenance for 24/7 productivity.
View Details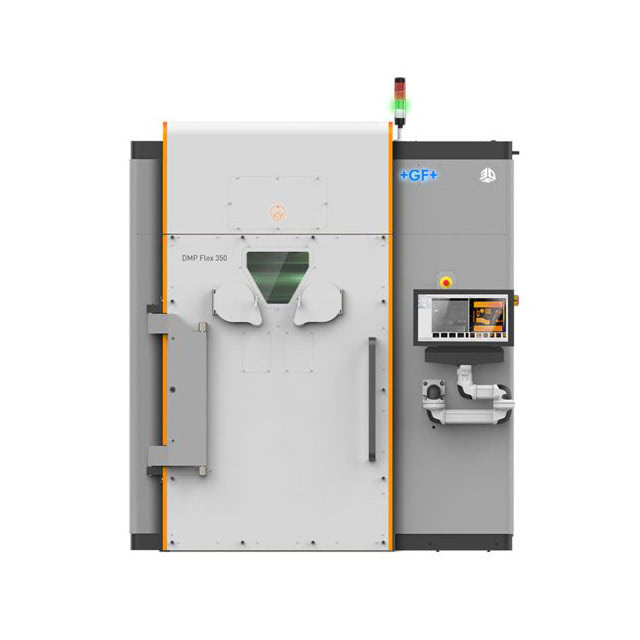 - Reduced weight/light-weight design
- Orthopedic and spinal implants
- Simplified assemblies
- Reduced number of parts
- Conformal cooling
- Enhanced fluid flow
- Conformal latticework
- Topology optimization
- Mass customization
Production, Research and Development
Next up is the DMP Factory 350. In terms of upgrades, the most significant item differentiates this from the Flex 350 is the addition of an integrated powder management system with high-performance sieving which drastically limits operator exposure to powder. A viewing panel allows users to visually inspect the sieve to ensure continuous usage without exposure to operator or powder, and while enhancing productivity.
In addition, the DMP Factory 350 also includes real-time process monitoring. The so-called DMP Monitoring system functions for both in-build real-time data collection and visualization and also post-build process analysis.
By monitoring the process with DMP Monitoring, users can generate a wealth of process data for non-destructive analysis and understanding of part build quality, accelerated process parameter optimization and enhanced understanding of process results. The DMP Monitoring is optional on the Flex 350 and comes as standard as part of the Factory 350.
This system is capable of printing a similar variety of LaserForm metal alloys with existing developed print parameters, with more materials in development.
3D Systems DMP Factory 350
The DMP Factory 350 has been developed through a continuous feedback loop between the production teams in 3D Systems' advanced manufacturing centers and product development. With this technology 3D Systems offers you an integrated solution for metal additive production.
View Details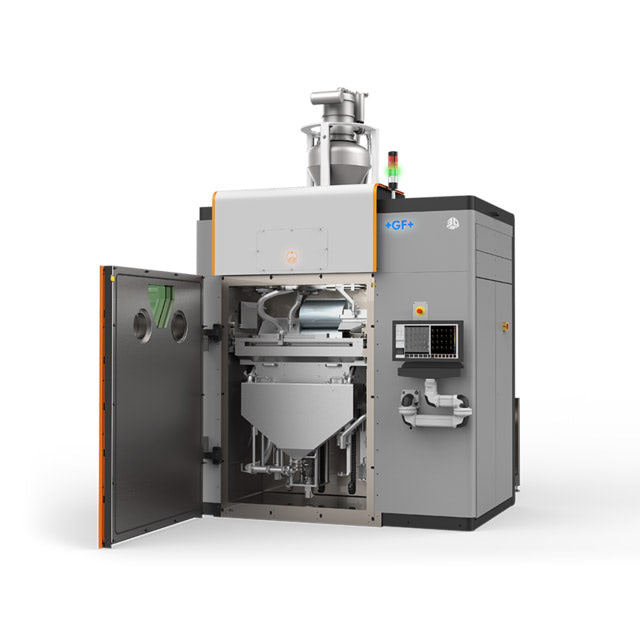 - Powder-based metal production system
- Reduced weight/light-weight design
- Orthopedic and spinal implants
- Simplified assemblies
- Part count reduction
- Conformal cooling
- Enhanced fluid flow
- Conformal latticework
- Topology optimization
- Mass customization
Production, Research and Development
Next up is the DMP Factory 500, which is a scalable metal additive manufacturing solution for the manufacture of seamless large parts measuring up to 500 x 500 x 500 mm.
This platform is aimed at the very high end of serial manufacturing, namely the aerospace industry.
For this machine, 3D Systems combined their own precision metal additive technology, along with GF Machining Solutions' technical and industrial knowledge, and the precision System 3R clamping systems to deliver a fully-integrated, streamlined metal AM platform.
The system consists of 5 main components, all contributing to an automated process permitting 24/7 printing with minimal supervision. These components are:
Printer Module (PTM): Designed for the ongoing, 24/7 printing of parts (the main printer).
Powder Management Module (PMM): Efficiently depowders parts on build platforms under inert conditions, automatically recycling unused powder materials and preparing the RPM for future print jobs.
Removable Print Module (RPM): Seals the build platform and powder from the atmosphere and is engineered to move between Printer and Powder Management Modules for a continuous production workflow.
Transport Module (TRM): Efficiently transports RPMs between printer and powder management modules using a precision positioning system to facilitate easy loading of RPMs into PTM and PMM modules. It's basically a mobile robot.
Parking Module (PAM): Interim storage of RPMs in an inert environment until ready for further progression in the workflow.
Having all of these modules enables a highly customizable workflow, and also enables highly parallel workflows The modularity of the DMP Factory 500 allows for increased throughput as key workflows such as printing the parts, depowdering the parts, recycling the material, and preparing a new build, now all occur in parallel. This is in contrast to non-modular systems which are limited to each part of the workflow occurring in the same system, extending wait times and reducing production.
In terms of the printer itself, this model comes with 3x 500W Fiber lasers which are capable of printing layers with thicknesses in the range of 2 µm to 200 µm. This machine like the Flex 350 and the Factory 350 prints with a typical accuracy of ± 0,1- 0,2% with ± 50 µm minimum.
3D Systems DMP Factory 500
The DMP Factory 500 Solution is comprised of function-specific modules designed to maximize efficiency by optimizing utilization. Each module within the factory solution is fully integrated with a Removable Print Module (RPM) which is vacuum sealable for a controlled print environment and engineered to move between printer and powder modules for continuous production workflow.
View Details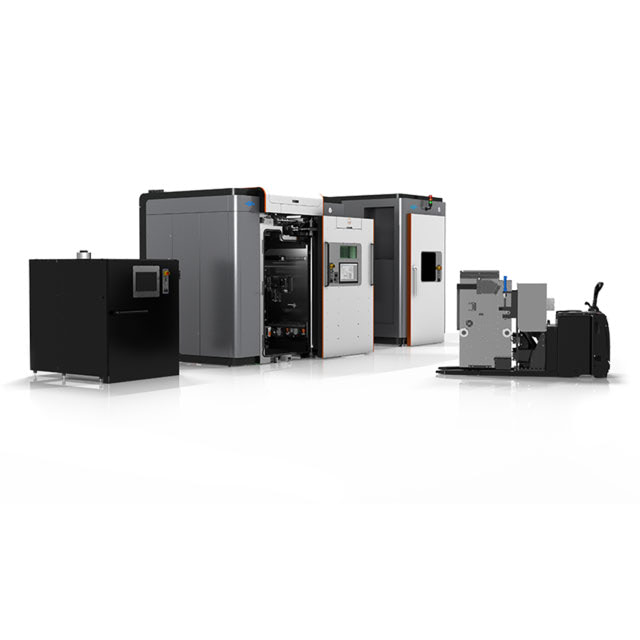 - AM metal production system
- Modularity for a Scalable Factory Solution
- Uniform, Repeatable Quality
- Metal 3D Printing with Lower Part Costs
- High Productivity
- Seamless Large Parts
Production, Research and Development
DMP Materials
As mentioned previously, the different DMP systems are capable of printing a variety of metal powders from various suppliers, which is great news for researchers and for those wanting to experiment materials for their own commercial products.
However, there are a range of proprietary metal powders which are best suited to these systems. That is to say, they have been tested and the printing parameters for these materials have been confirmed as good for repeated quality printing, dependent on the machine and machine settings.
The LaserForm materials cater for a wide array of applications ranging from tooling/mold production (LaserForm Maraging Steel) to biocompatible titanium alloys for implanting into the human body (LaserForm Ti Gr23), to more familiar general production grade materials such as stainless steel and aluminium alloys. There are nearly 20 LaserForm alloys available at time of this writing, and there are more in development.
If you have any queries about specifically which systems can produce which metals, you can head over to the 3D Systems website and take a look at the Material Finder page, where you can search materials based on machine type, material type, application and other parameters.
So there it is, a variety of metal printing solutions for a range of user needs.