Use Case
Custom In-ear Products
Ears are very unique things, and for decades have had to make do with a one-size-fits-all approach to hearing products. Thanks to additive manufacturing, this trend has been changing for a while now, with the hearing aid industry being especially quick to adopt the technology for bespoke hearing aids. Even as far back as 2013, there were estimated to be approximately 10 million 3D printed hearing aids in use.
But custom earware is not limited to hearing aids. There are many other applications which could benefit from the bespoke touch. Industry is a noisy place (especially the music industry), and one company has set out to bring bespoke hearing protection and other related products to those who need a nice snug fitting in-ear solution.
And of course, in addition to benefits to the customer, the manufacturers have managed to shave plenty of time off their product development workflow thanks to the use of 3D printing.
In-ear Products
Advanced Communications Solutions (ACS) are based in Oxfordshire, UK, and they specialize in ear protection and in-ear monitoring solutions.
Their in ear protection products cover a range of environmental uses (mostly aimed at musicians and sound engineers) ranging from gentle acoustic sets in small clubs, to large amplified stadium shows , industrial environments such as loud factories and there's even an option for those who use shooting ranges.
Their in-ear monitoring solutions are similarly aimed towards musicians, and come in a range of options for artists who would like to actually hear themselves playing on stage, in glorious high fidelity audio.
The soft part of the ear defender and the monitor (the bit that you squish into your ear) is made from silicone rubber, for a comfortable, sealing fit.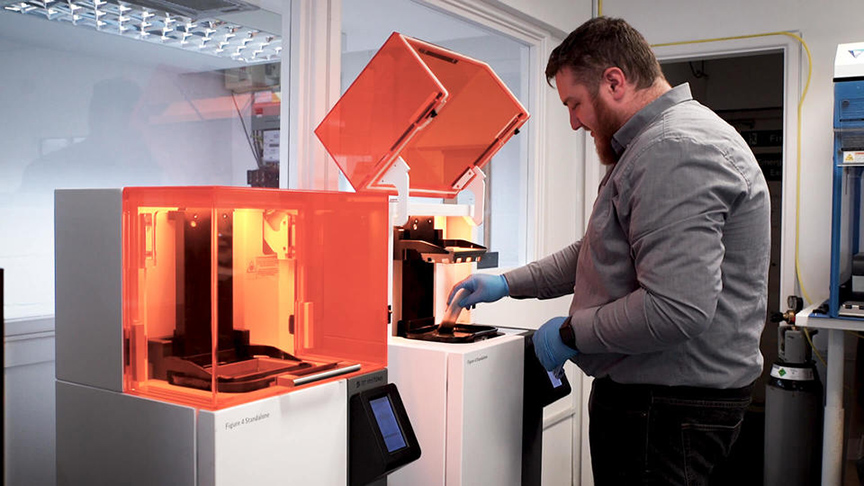 Prototype and Production
Thanks to the rapid turnaround time of their AM system (the 3D Systems Figure 4 Standalone), ACS utilizes AM not just in the bespoke squidgy parts of their custom production ranges, but also for development and prototyping.
To manufacture the silicone parts, ACS uses eggshell casting, where they use the Figure 4 system with the EGGSHELL-AMB 10 material to create a thin mould for injecting the silicone into. When the silicone is set, the mould is simply peeled off like an eggshell.
Of course, the power of AM allows the engineers to print complicated internal features for the moulded parts which would be close to impossible with traditional machining.
The 3D model below shows the internal channels in-situ of the mould, which reduces the need for machining these additional features (such as fastener holes/wire harness ducts) later on.
ACS has also made use of their Figure 4 system for the testing and production of structural elements too. Items such as brackets, fasteners, as well as enclosures printed with ease, and with additional features such as threads, as you can see in the image below. These threaded widgets were printed with the Figure 4 PRO-BLK 10 material, which is a production-grade material with thermoplastic-like behavior and long term environmental stability.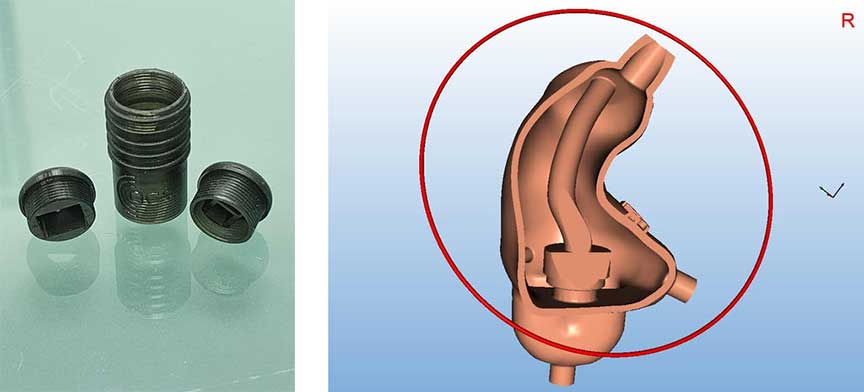 "We can now print geometries inside the silicone molds, whereas before we would have to drill it all out by hand," said Dan Bennett, technical director at ACS Custom. "What's more, the dimensional accuracy of the Figure 4 printer ensures we don't need to do as many iterations or build tolerances into the parts."
Speedy
With their AM setup, the company has seen measurable improvements to the speed of their workflows.
"Speed is one of the best things about these printers," said Bennett. "It allows me to do five or six revisions in a day if I need to, rather than waiting hours for a single print job as I've experienced on other systems."
Given the pace that innovation occurs here in Industry 4.0, additive manufacturing can definitely help a company keep a nimble and responsive approach to new design challenges (or rivals).
"Thanks to the 3D technology we're using, we're at the forefront of our industry. It allows us to keep ahead of the competition by innovating and creating new products."
3D Systems Figure 4 Standalone
The Figure 4 Standalone is perfect for low-volume production and same-day prototyping with high accuracy and industrial-grade durability. Print parts and get results within hours instead of days.
View Details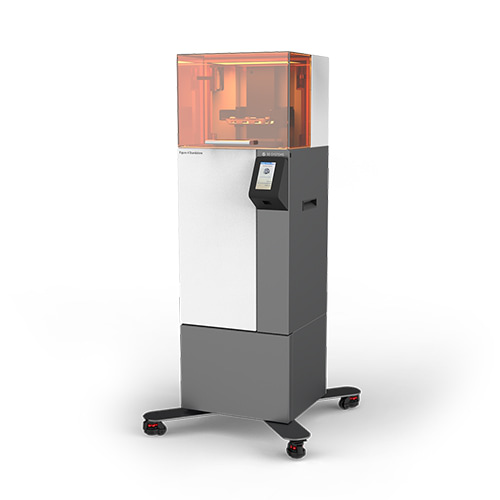 - Print 500 parts per month
- Industrial-grade materials
- Accurate
- Affordable
Elastomeric Parts, Medical Applications, Investment Casting, Mold Making, Production, Prototyping, Tooling
3D Systems Figure 4 Modular
The modular version of 3D Systems' Figure 4 is a scalable, semi-automated 3D production solution suitable for low to mid-volume production and bridge manufacturing. Print parts and get results within hours instead of days.
View Details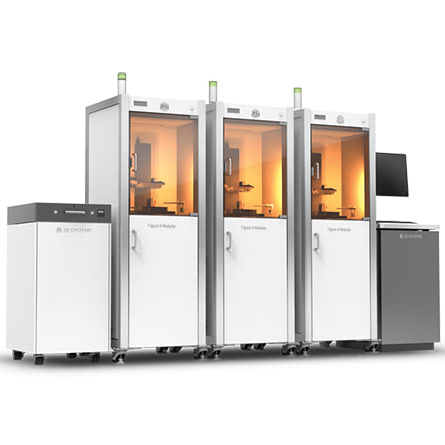 - Print 10,000 parts per month
- Add up to 24 printers to base unit controller & printer
- Automated job management and queuing
- Automated material delivery
- Centralized post-processing
- Industrial-grade materials
Elastomeric Parts, Medical Applications, Investment Casting, Mold Making, Production, Prototyping, Tooling
3D Systems Figure 4 Production
The Figure 4 Production is a fully-integrated digital manufacturing solution suitable for high volume production.
View Details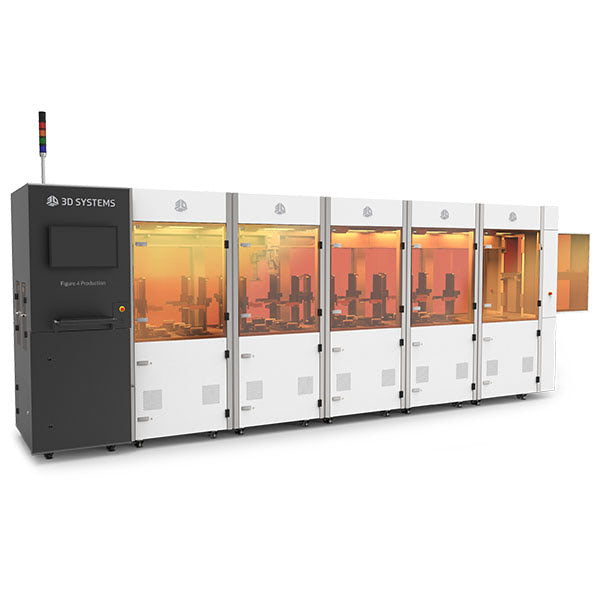 - Resin-based direct digital production system
- Fully-integrated solution
- Print > 100,000 parts per month
- Automated job management and queuing
- Automated material handling
- Integrated post-processing (washing, drying & curing)
- Industrial-grade materials
Elastomeric Parts, Medical Applications, Investment Casting, Mold Making, Production, Prototyping, Tooling