How To
Lost Wax Casting with 3D Printing
Wax pattern making is an important step in the investment casting of metals and it has been for thousands of years through all corners of the ancient world.
The investment casting process is fairly lengthy to describe. As you can see in this diagram, the metal casting process starts with the creation of a wax copy of the item to be manufactured. Ancient metalworkers used beeswax and would form the wax pattern by hand. Now, wax injection molds are used. The wax (or resin) pattern is dipped in a refractory slurry and then in refractory powder and dried/fired before the wax is removed leaving a hollow mould for receiving the molten metal.
In using 3D printing, at least the first two steps can be removed from this process. On an industrial scale, removing those steps can potentially save a lot of time and cost. Plus, modern 3D printed wax patterns are consistent in quality and dimensional tolerances, unlike those made by hands with beeswax. On the shoulders of giants, as they say…
How to 3D print wax?
Wax, unsurprisingly, is a great candidate for 3D printing in terms of low melting point, rheology, and so forth. One option for wax printing is the 3D Systems ProJet MJP 2500W, which is a multi jet printer capable of printing small to medium sized parts inside its 294 x 211 x 144 mm build volume.
The ProJet MJP 2500W prints with an unfilled paraffin based wax, with added resins designated as VisiJet M2 ICast RealWax. The feedstock produces parts in a high contrast green colour to allow for easy fine details visualization, as you can see below.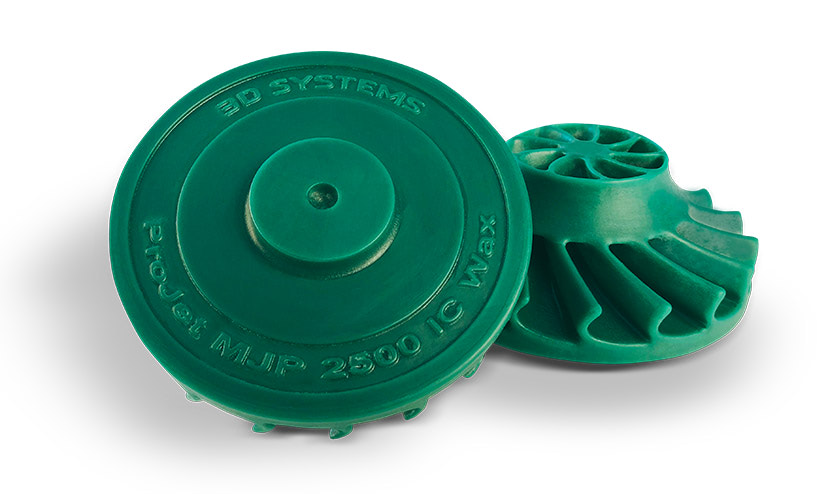 By using this method, it is possible to print hundreds of small to medium-size patterns with exceptional surface finish, dimensional stability and castability.
In addition, it is far quicker and cost effective compared to the time and cost of manufacturing with a traditional injection mold. The wax patterns are then stucco'd, the wax is burned out during firing, and a nice, dimensionally tight and smooth mold cavity is produced ready for metal casting.
The photo below shows the various stages of the process. The large white part is the stucco'd tree with multiple instances of the part to be filled with metal from the opening at the top. And on the right is the final metal piece.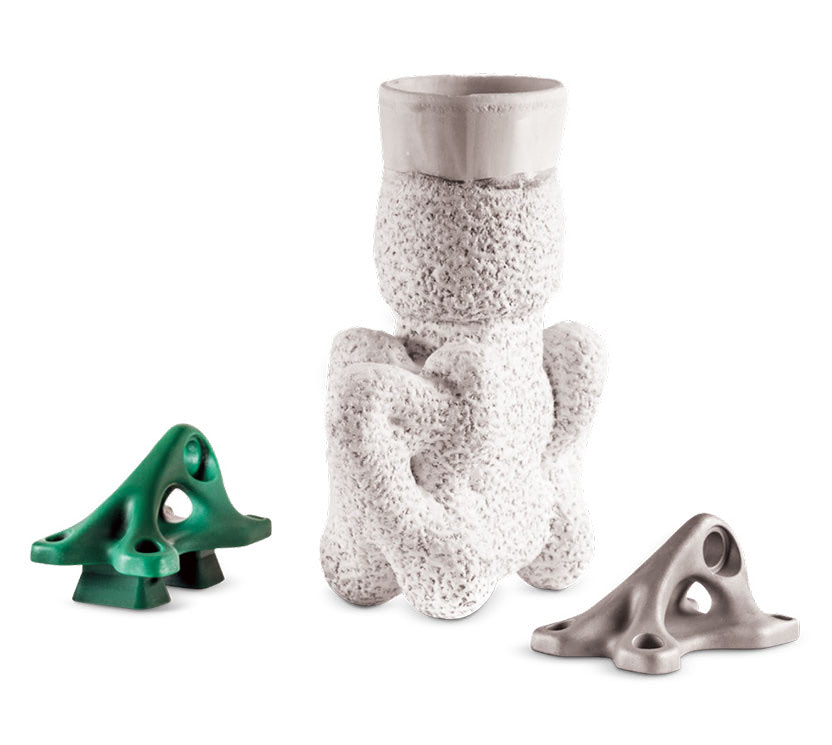 So there it is. That's how you make high quality metal cast parts from 3D printed wax patterns.
Don't forget, certain SLA resins can also be used in the same way.
For more information on which option is best for you, you can download this free e-book describing 3D Systems' approach.
3D Systems ProJet MJP 2500W
The ProJet MJP 2500W is a wax 3D printer that prints fine wax patterns for direct metal casting. It is a 100% wax jewelry patterns 3D printer that adjusts to your workflow, delivering from several short-run batches a day to the next day for larger builds at high productivity.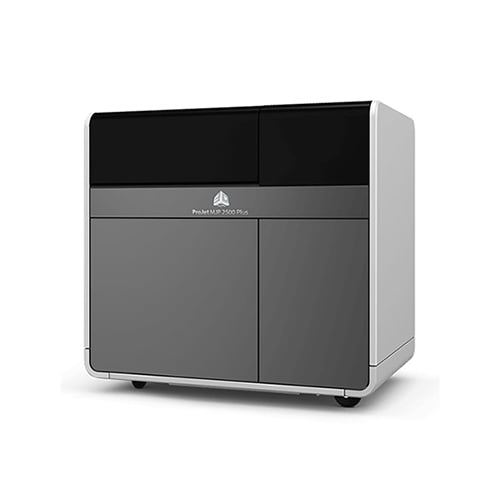 - Wax 3D printer for direct metal casting
- Print high fidelity patterns
- Exceptional sharp edges & fine feature definition
- Greater geometric freedom
- High performance, durable casting wax
- Low Total Cost of Ownership (TCO)
Investment Casting, Production, Prototyping