Custom car fanatic Greg Salzillo entered his self-built Nashville Metropolis Rat Rod into the Hot Wheels Legends Tour. The tour is a US-based event where the toy manufacturer holds a contest to turn the best entry into a 1:64-scale Hot Wheels replica.
It seems Hot Wheels liked the custom Nashville Metropolis, because they awarded Salzillo the prize, and replicated his vehicle at miniature scale, and presented him with the die-cast produced (and nicely boxed) version that you see in the image below.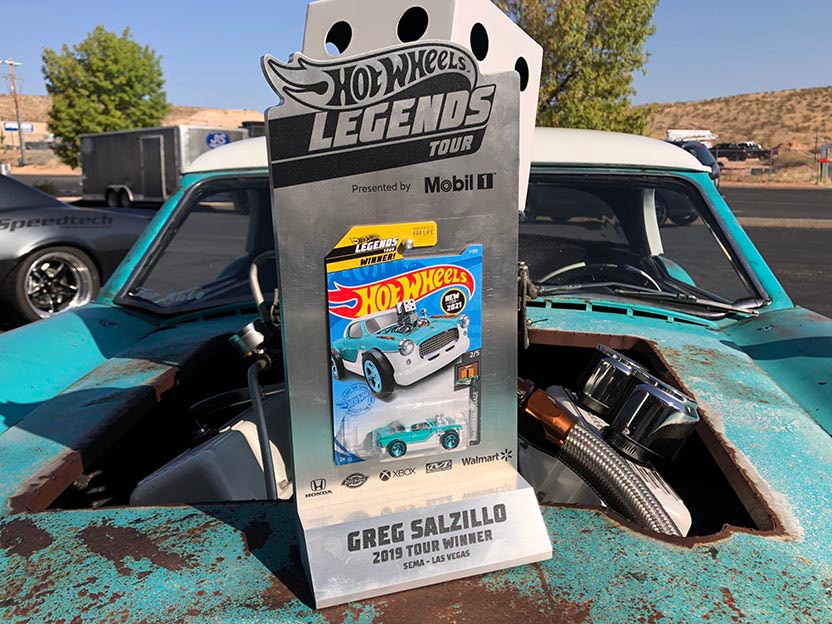 And they did it with the assistance of 3D printing, and a haptic-feedback based design tool which they have found preserves the more tactile aspects of traditional modelling while benefiting from a more digital approach.
A Rat Rod is a Hot Rod that deliberately looks a little bit worn down and can be made from a variety of different donor car sources. In this case, the Rat Rod is build largely from a Nashville Metropolis body, with a custom chassis, suspension and a 300hp Chevy engine.
Until lately toy manufacturer Mattel has taken their show on the road looking for cool custom cars to turn into toys. They found inspiration in Salzillo's entry at one of the events back in 2019, and just recently he was presented with the die-cast model of his vehicle.
The process of miniaturizing his vehicle is somewhat traditional, but with a modern digital twist (or two).
In the old days of die-cast toy car making, the modeller would first sketch, then sculpt the scaled version of the real car in modelling clay to form a rough shape before beginning more thorough design work.
Mattel's modern designers still prefer the hands on tactile experience of modelling like this, except nowadays they don't use clay.
They combine virtual clay with 3D printing.
Haptic Virtual Clay Sculpting
In ye olden times, modellers would use clay to sculpt a rough shape of the car to capture its contours and lines organically.
Nowadays, after initial sketching, modellers at Mattel use a 3D Systems Touch X haptic feedback device and some 3D printers to get the same results, but digitally.
The haptic device has a stylus which the operator uses as an input, and the system provides a force feedback to emulate when the modeller's touch. Surgeons also use this exact system for training, presumably for their robot-assisted keyhole surgery procedures where an actual physical touch is particularly important.
The haptic device pairs with 3D Systems' own Geomagic Freeform modelling software, which is designed specifically for modelling with haptic devices, and allows the designer a more natural approach to digital sculpting than what one may be used to with a 2D mouse.
As the model gets more and more refined, prototypes are 3D printed at various stages to ensure form and fit, and to give a clear idea of the manufacturing needs. A Hot Wheels car consists of 4 pieces (plus 4 wheels), and the model evolves from a concept into those 4 manufacturable parts.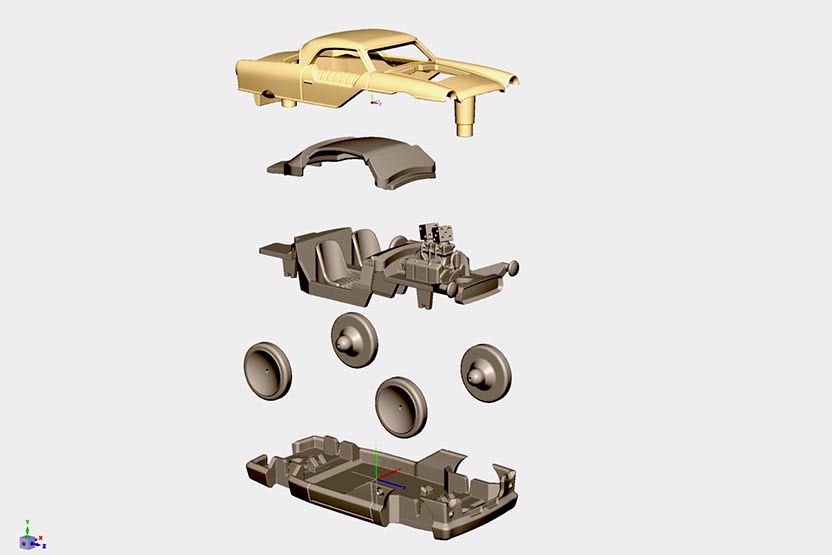 "For the majority of requests, we'll print using our Stratasys J750 color printer which can print more than 500,000 color combinations including Pantone colors," said Shane Thompson, 3D printing specialist at Mattel.
The team at Hot Wheels also uses Formlabs SLA 3D printers for models requiring a higher resolution than the J750, but which don't mind being stuck with one colour allowed by the SLA system.
Ultimately, the model process reaches a point where the four pieces are both aesthetically pleasing and manufacturable and the files are sent off to Asia for manufacturing (casting and finishing).
The entire design process for the Nashville Metropolis took just 40 hours thanks to the Virtual Clay, and the files created in that virtual clay system were ready to print for prototyping.