Overview
Options for Dental Printing
The dental industry was an early adopter of 3D printing technology in its various forms, understandably so.
Many dental prosthetics and dental appliances require a high level of customization to ensure conform and compatibility with the patient. Before AM came along, dentists were not only "mouth doctors" but were makers in their own rights, having to fabricate molds and accessories in order to manufacture a range of products from dentures to caps and everything in between. Thanks to 3D printing, their jobs have been made a lot easier.
Let's have a look at a couple of 3D printers dedicated to orthodontic usage!
What do dental professionals use AM for?
In the old days dental staff would either dedicate time to simple in-house manufacturing, or else they would send the designs outside to be manufactured. In both cases, this would have been time consuming.
Now thanks to AM, dental professionals can scan/design and manufacture a wide range of goods right there on site. And according to 3D Systems, who have designed a couple of dental AM systems themselves, dental professionals have been seeing productivity gains of up to 90% when using these systems.
These printed dental items include:
– trays
– orthodontic & prosthodontic models
– surgical guides
– dentures
– orthodontic splints
– crowns
– bridges
They come in all shapes and sizes and various materials.
In this article we will look at a couple of different 3D printers and see what they offer in terms of capability. Both are based on photopolymer methods, because they provide high resolutions resulting in smooth surface finishes, which are obviously important when creating dental appliances.
First up is the NextDent 5100.
Dr. Michael Scherer, prosthodontist (California) has stated that with the capabilities of the NextDent 5100, he has been able to reduce denture production and delivery timelines from five or six visits to just one or two.
3D Systems NextDent 5100
Powered by Figure 4 technology, the NextDent 5100 facilitates high-speed 3D printing for production of dental appliances and sacrificial castings. This revolutionary solution features an industry-defining value proposition that combines best-in-class speed and performance at a price point that is accessible to virtually all labs and clinics.
View Details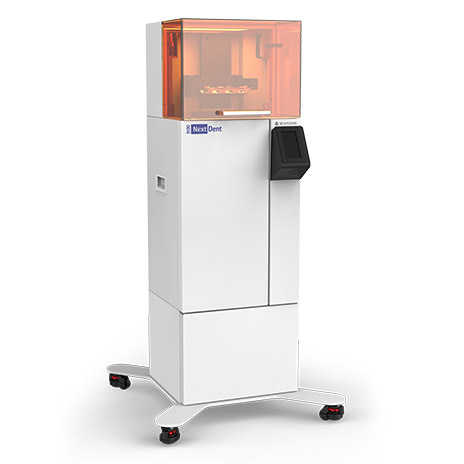 - Dental 3D printing production system
- High speed productivity
- Accurate
- Affordable
Dental models, Dentures, Impression trays, Surgical guides, Production, Prototyping
Next is the ProJet MJP 2500 Plus
The ProJet MJP 2500 Plus still uses photopolymers, but rather than Figure 4 Technology it makes use of MultiJet printing to achieve results.
This machine produces parts of a more stone-like quality with a matte finish, thanks to the VisiJet M2R-TN material (and VisiJet M2 SUP support material). You can see what that looks like in the video below.
This system can be used to create accurate prosthodontic and thermoforming models in tan color, for easy detail visualization. The tan color has the right balance of light color which contrasts with the shadow to make details pop out for your needs. There are a range of other materials available for the MJP 2500 Plus, but for dental applications, the two VisiJet materials we mentioned seem to be the popular choice.
You can see how the post-processing of parts made with the MJP 2500 goes in this video:
3D Systems ProJet MJP 2500 Plus (Dental)
With excellent edge fidelity and low friction matte surfaces for easy prep insert and removal, the ProJet MJP 2500 Plus utilizes VisiJet M2R-TN material to produce accurate prosthodontic and thermoforming models in tan color, for easy detail visualization. Models deliver ± 50μ accuracy on 80% of global surfaces, which yields clinical fit for single and multi-unit indications.
View Details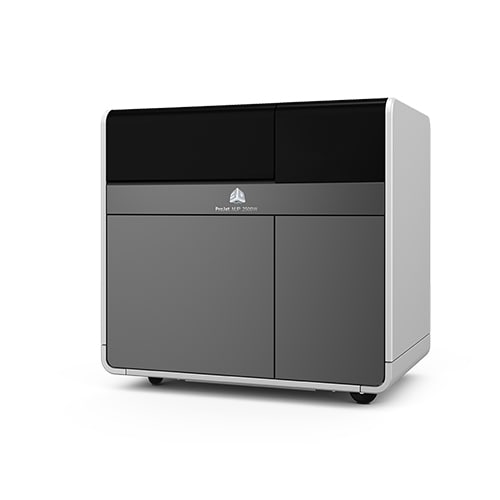 - Dental 3D printer
- Produce prosthodontic models
- Produce thermoforming models
- Designed for 24/7 use
- Exceptional sharp edges and fine features definition
- Designed for your office/lab environment
- Low Total Cost of Ownership (TCO)
Dental models, Production
Conclusion
As you can see, not all dental printers are the same. Different use-cases require different machines. The NextDent 5100 is more suited to a wider range of applications while the ProJet MJP 2500 Plus is better suited to the manufacture of prosthodontic models.