Use Case
Rodin Cars 3D Prints Titanium Sequential Gearbox
When you're a startup supercar manufacturer nestled in the remote hills of New Zealand, relying on old tricks is no way to pull ahead of the pack. That's why Rodin Cars is leaning heavily on their sizeable collection of metal 3D printers for the development of their 1,000-horsepower FZERO's gearbox. The ZERO stands for zero restrictions and zero compromises on design because the goal is to make a track car that's faster than a Formula 1 car.
No compromises in any part of the transmission. The entire thing is completely custom for our application… The Titanium case gives you a substantial benefit over other cast Aluminum cases or a billet machined Aluminum case. Titanium is just a fundamentally better material for the job so you pick up significantly there. With the printing, we're able to print various passageways and ports and ribs and things that would be much more difficult to do on the casting side and impossible if you were machining it from a billet. David Dicker, Founder of Rodin Cars
When Dicker heard that 3D Systems was developing one of the world's largest metal 3D printers, the DMP Factory 500, he wanted to know if it could print in Titanium. After some prototype testing with a machine at Ricardo Inc, the engineers there determined that yes, it can. So Rodin acquired one of the machines to get to work on designing and printing the hydraulically-controlled 8-speed sequential gearbox.
After a year and a half of Ricardo and Rodin hitting the drawing boards and running simulations, they landed on a gearbox case that's made up of only four printed parts, which is why such a large printer was necessary. Keeping the part number that low does a great deal to increase rigidity, and at the same it makes the case lighter by reducing the number of fasteners needed. Using Titanium allowed for significant weight reduction as well because, being stronger than Aluminum, less Titanium is needed to achieve the same strength. Of course, incorporating cooling channels and ports right into the case is a value add like no other.
The gearbox is not the only 3D printed metal parts on the FZERO; dozens of parts on the F1 challenger are printed as Rodin uses SLS and SLA machines in their cutting-edge factory to print production parts and manufacturing tools. It makes sense. If you're going to try to beat the fastest racecar in the world, you've got to have something up your sleeve.
3D Systems DMP Factory 500
The DMP Factory 500 Solution is comprised of function-specific modules designed to maximize efficiency by optimizing utilization. Each module within the factory solution is fully integrated with a Removable Print Module (RPM) which is vacuum sealable for a controlled print environment and engineered to move between printer and powder modules for continuous production workflow.
View Details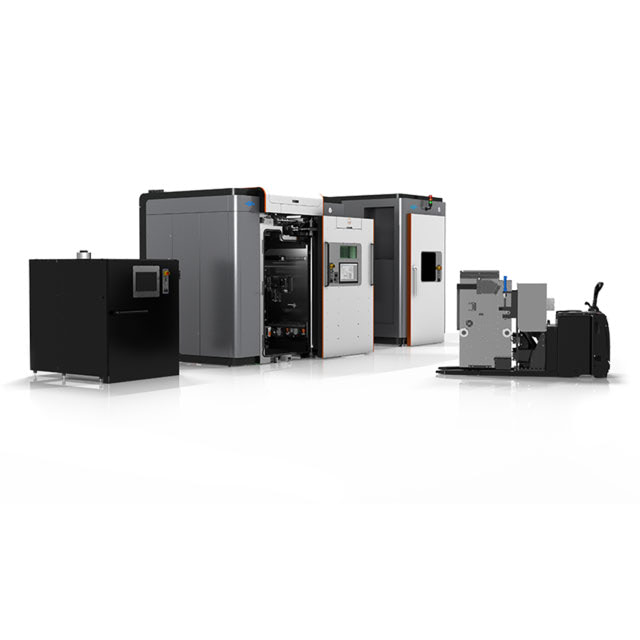 - AM metal production system
- Modularity for a Scalable Factory Solution
- Uniform, Repeatable Quality
- Metal 3D Printing with Lower Part Costs
- High Productivity
- Seamless Large Parts
Production, Research and Development