Most of the concrete printing stories we look at on this website are focused on large scale concrete printing systems with fairly large nozzles for a large flow rate. It's great for laying down concrete layers in a fairly quick and repeatable manner.
But for truly intricate concrete work that makes full use of the capabilities of 3D printing requires something a little more nimble, and with a finer touch.
That is exactly what Dutch company Vertico hopes to bring to the table with their contribution to concrete printing, and they have some images on their social media channels showing exactly what their robotic-arm effected printer can do.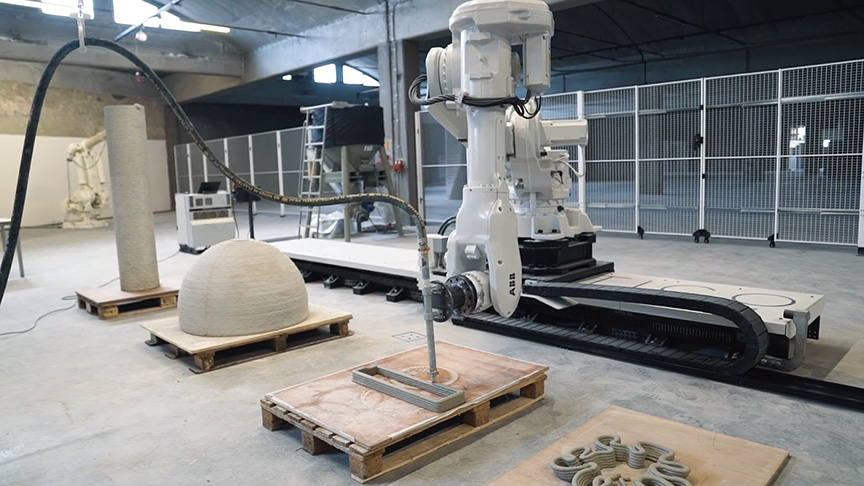 The company offers printing services, consultations and also printer systems with their own software.
The printer systems consist of a variety of options including a choice of small or large robot (from a selection of robot vendors), as you can see in the image above. Additional options include stationary, or rail-mounted robot, accelerated/standard nozzle, and a choice of a safety fence or a light curtain.
Their new concrete printing factory opened early in 2020. You can see their facilities in the video below.
The company has been involved in a variety of projects including various art installations, and a topologically optimized bridge (pictured below).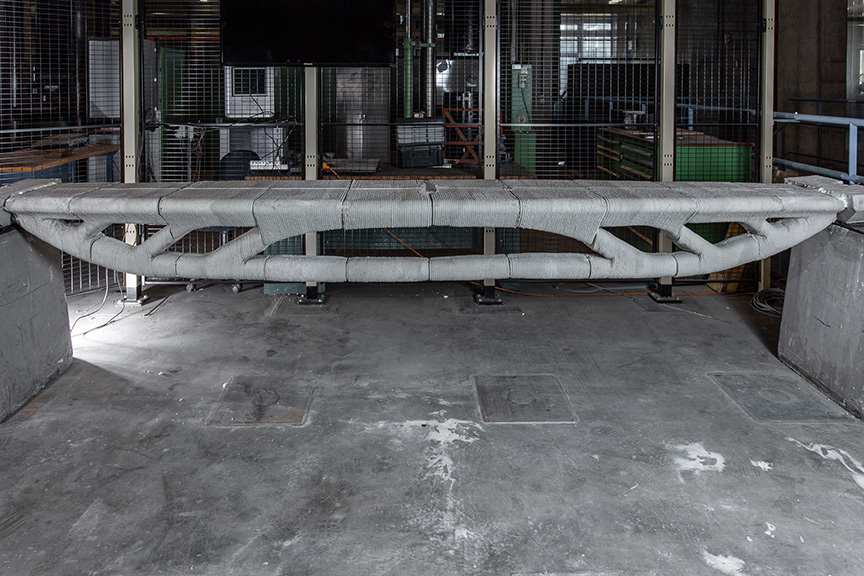 You can see a more intricate example in the image below which is apparently a vase displaying the Dutch Weave pattern. Nice to see fine detail on concrete.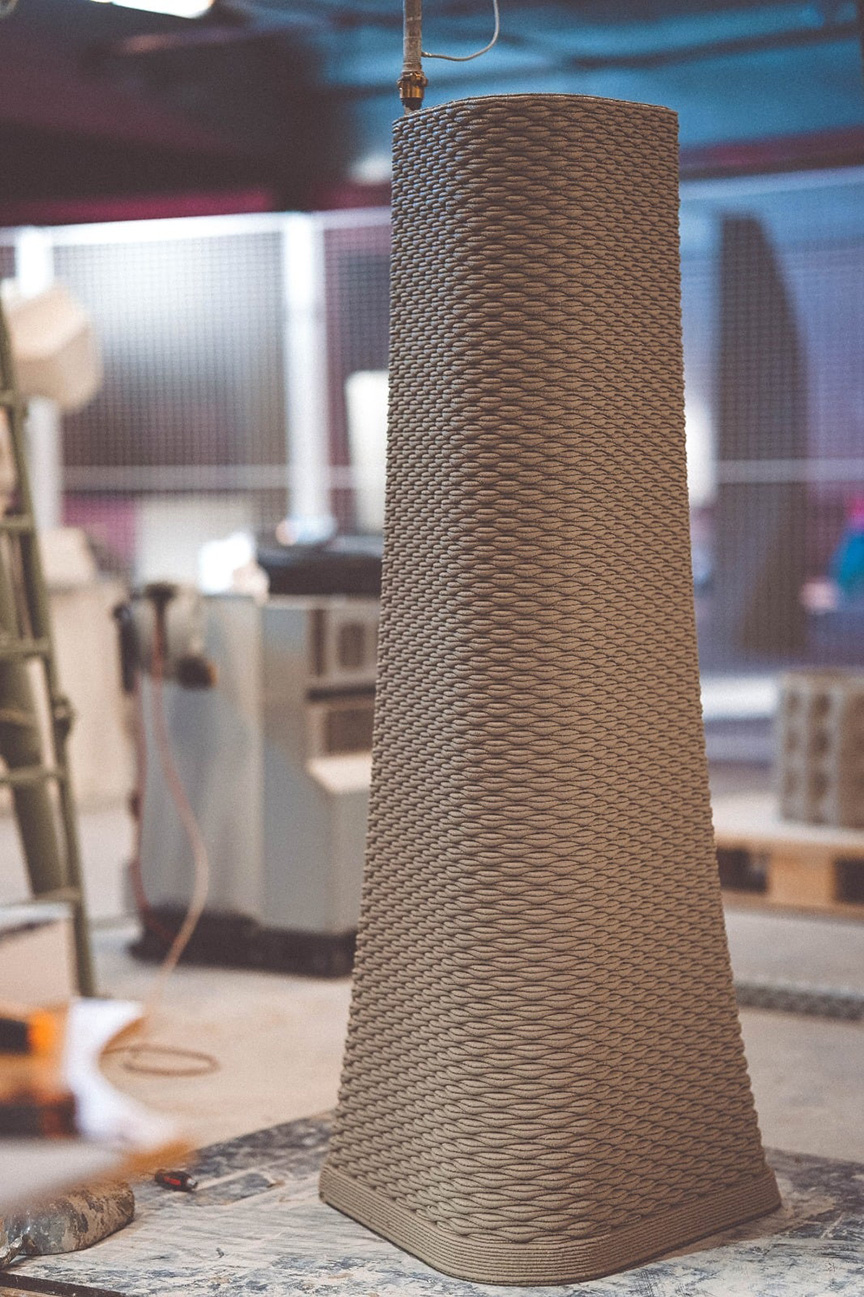 Free Concrete Slicing Software
Perhaps you have been interested in experimenting with concrete printing yourself, and were wondering exactly how to go about scaling up the slicing process.
Perhaps (like me) you have wondered, can this be done in Simplify3D or a standard slicing software?
Well thankfully we don't even have to look up the answer to that question, because the folks at Vertico have also released some large scale slicing software (for free) to the public which runs in a browser.
The software allows users to select from a robotic arm type system or a gantry type.
The gantry type allows a print volume of a maximum 15m x 15m x 15m, and the robot arm type allows prints of an inner radius of 3.2m and outer radius of 5m.
The picture below shows some of the transform settings for moving the object (a cube) around the 5 metre radius print bed. Users can mess around with the default objects (cubes) or upload their own CAD geometry (useful).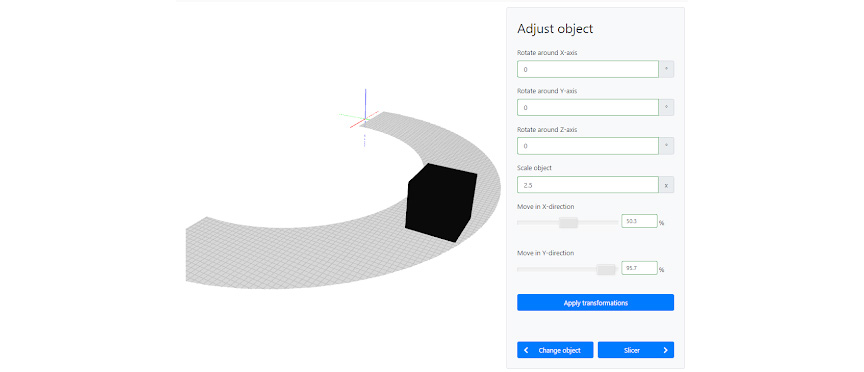 Other settings include layer height, line width, speed, and basically the usual things you'd expect to find in a slicer. Everything except temperature controls, because concrete does not require heating.
After the parameters are added, the software slices the part and generates the G-code ready for the concrete printer.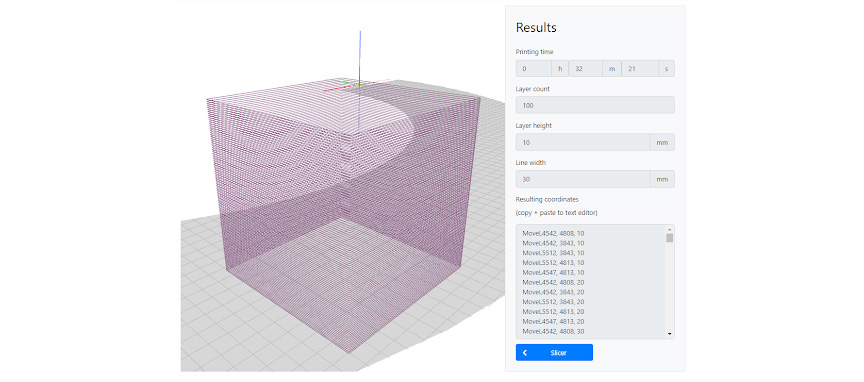 Be aware however, that the slicer may not be suitable for complex designs.
"The intention of slicerXL is to remove the first hurdle of large-scale printing and as such it is not suited for complex geometries. It is made with beginners in mind and works best on simple objects," it says on the SliccerXL website.
Apparently most large scale concrete printing companies are still fairly hands-on with the toolpath generation and it requires a little intrinsic knowledge where it comes to designing these things.
This software, which was born out of a Hackathon hosted by Vertico, at least offers a tool for those who may be building a concrete printer and are curious to see how it performs at a basic level. And that's definitely a welcome thing.
You can try the SlicerXL software for yourself over at this link and learn more about Vertico over at this link.