Sardauscan is an open source diy 3D scanner you can build for approximately 30 USD. It can be a low cost entry into the field of 3D scanning.
3D scanning is a very important tool in any ones arsenal since it can extend your making abilities. You will be able to work with objects that are not in any repository like Thingiverse or that are not custom designed by you. What you can scan you can make.
You'll need some basic knowledge of electronics to make a Sardauscan but the construction guide is very detailed so you shouldn't have any problems.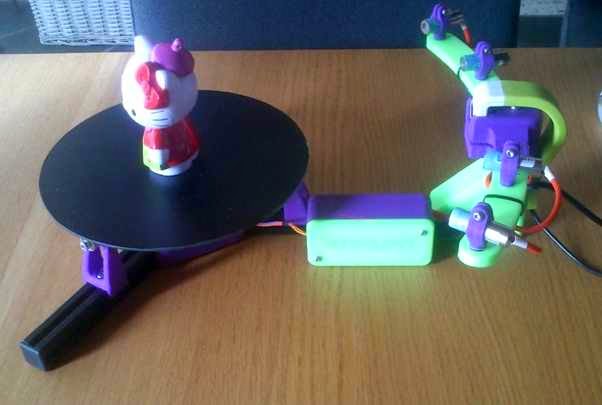 So how does it work? Well the basics of a 3D laser scanner are simple and described in the project documentation as follows:
A picture of the object is taken without any lasers firing
One laser is switched on and another picture is taken
Computing the difference between the two images, a laser trace (profile of the object) is obtained
By knowing the positions of the camera and laser you can derive the 3D coordinates of all the points on the profile
You do the same for all the lasers, turn the table and repeat the process until the table has made a full revolution
And there you go, you have a complete point cloud representing your object.
Here is a video of the Sardauscan scanning a small figure:
All the files needed to build it by yourself with the instructions can be found at:
http://www.thingiverse.com/thing:702470
The software to run it (still under development) can be found at:
https://github.com/Sardau/Sardauscan
Detailed building guide can be found on the Instructables:
http://www.instructables.com/id/Build-a-30-laser/
Here is the summarised Bill Of Materials with estimated prices that may vary depending on the source:
Bunch of M3 (16 and 20 mm)
Bunch of M4 (12 ans 20 mm)
1x Chinese Arduino Nano (Chinese copy, $4)
1x Chinese Stepper Motor and controller ($5)
1-4x Line laser ($2.5 piece)
1x Hercules HD twist webcam ($15)
20×20 profile which can be printed: for example http://www.thingiverse.com/thing:280318
Optional 3x 4mm roller ($0.3 piece)
Total estimated price: $26.5 (1 laser) to $35 (4 lasers)
Sardauscan is developed by Fabio Ferretti. Please keep in mind that this project is still in development and you will not be able to get the same professional grade results obtained by high end much more expensive industrial 3D scanners. You should view it as learning and hacking project.
In the near future we'll see more and more 3d printer / scanner hybrids just like the paper printer and document scanner on your desk.