Approximately 10% of all plastic AM goes into the manufacture of plastic fixtures ranging from brackets to jigs. And apparently, only 1% of all plastic fixtures are 3D printed.
This sounds like an area ripe for a little AM disruption, and topology optimisation software company NTopology seems to agree.
NTopology has just announced the release of a new module in their FDM Assembly Fixture Generator module that allows the rapid creation of masks based on existing CAD geometry. Unsurprisingly, the new module is called the Masking Fixture Module. You can see the generated masks in the render below.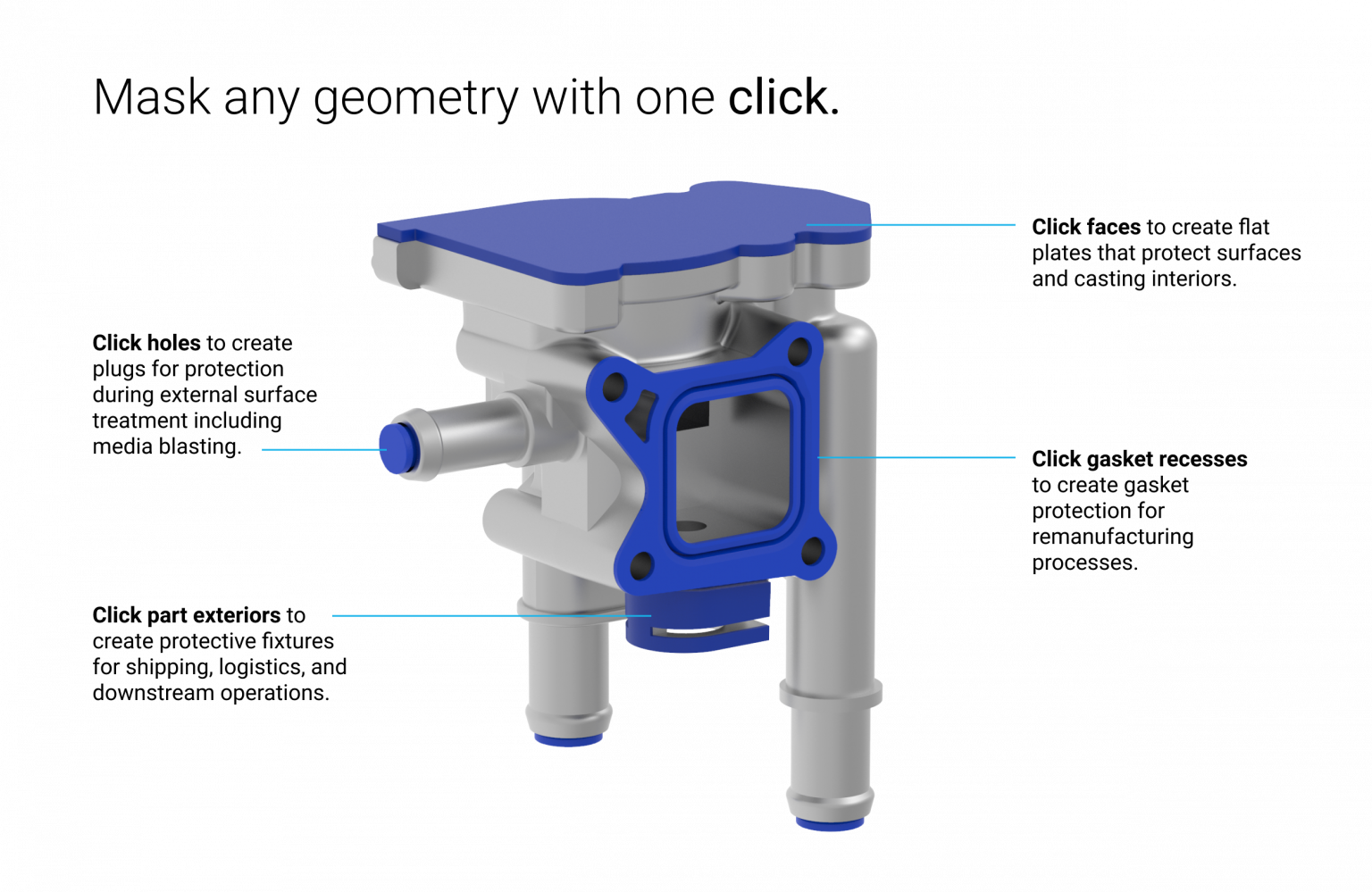 For those unfamiliar with FDM Assembly Fixture Generator, it is a software module designed by NTopology and Stratasys and is found on the NTop cloud platform.
So does that mean you need an industrial scale FDM printer to use it? Nope! The geometry can be exported for use on any printer. No need to buy an industrial 3D printer. You can generate a mask or fixture and print it on your desktop 3D printer if you like.
Fixture Headaches
Traditionally, if you wanted to design a bracket for an existing CAD model, you would have to recreate the mating faces somehow, maybe by manually sketching the face and fastener holes, or else by somehow projecting the face onto a sketch plane. Other ways can involve Boolean methods, creating a cavity at an intersection.
Whichever way you do it, it's probably not a very direct workflow. NTopology hopes to take some of the pain out of the process with the fixture and masking modules.
Why are we talking about fixtures?
Because this writer spends way too much time making fixtures and brackets in his day job, and understands how much of a pain in the butt it is, so welcomes anything that helps reduce the time in designing these important (but tedious) parts.
Additionally, we see further usage with this software for the design and manufacture of AM seals and gaskets. Naturally the ability to manufacture these items to suit your requirements will depend on the process and material used.
Don't expect to be producing cryogenic seals with your $200 printer and a roll of PLA… but for applications a little less environmentally challenging, this could be a useful tool to assist around the workshop for some light plumbing applications, again, depending on the materials used.
How does it work?
So, how does the fixture generator work? It's not super complicated, you will be pleased to hear.
Step 1: Import the part (CAD or mesh)
Step 2: Create conformal fixture
Step 3: Mesh the fixture and export
Sounds simple, right?
Take a look at the video below to see how simple it is.
NTopology is offering a 30 day trial to try out all their goodies, and that includes the fixture and masking features, so head over to their website and request a trial for yourselves.