As 3D printing technologies, processes and standards have matured, we have seen additive manufacturing climb the ranks of technically complex manufacturing fields.
We have seen additive manufacturing applied to motorsports, spacecraft engineering, aviation…and now finally, it has made inroads into what could be considered the pinnacle of safety critical sectors: the nuclear power industry.
And like a bus stop, where one may stand waiting for hours before two arrive at once, we have not one but TWO nuclear 3D printing stories this week. Read on.
Nuclear Thimble
For the first time ever, a 3D printed component has been used in a nuclear power station.
US-based Westinghouse Electric Company announced on 4th May that the 3D printed thimble plugging device was installed in their Byron 1 generating station, in Byron, Illinois.
Byron 1 began commercial operations back in 1985, and is operated by the Excelon Generation Company. The plant must undergo regular refuelling, and it was during the recent scheduled spring refuelling outage that the thimble plugging device was installed.
The device itself is used for lowering fuel assemblies into reactor cores.
The 3D printed version is the result of 3 years of research, was constructed using powder bed fusion and is made from 316L grade stainless steel.
"Our additive manufacturing programme offers customers enhanced component designs that help increase performance and reduce costs, as well as provide access to components that may not be available using traditional manufacturing methods," said Ken Canavan, CTO at Westinghouse.
As you can see from the image below, the device would normally require many different process steps to manufacture. By utilizing 3D printing, Westinghouse has managed to reduce the number of manufacturing process steps.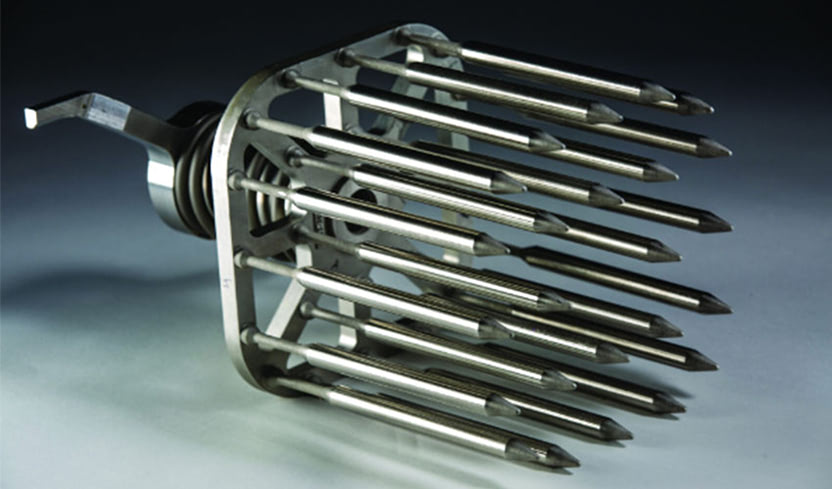 Of course, 3D printing is not only useful for next generation components, but can be super handy where it comes to manufacturing legacy and obsolete parts, which is definitely a boon for industries such as nuclear and aerospace where development lurches forward so slowly that entire OEMs can fade from existence before a project is realised.
Nuclear Reactor Core
We aren't nuclear engineers around here, but it's probably safe to say that a nuclear reactor core is a highly critical component requiring fantastically high reliability combined with unparalleled quality control methods (if you know of any other engineered system on the planet more demanding of reliability, then let us know in the comments!).
So it is perhaps a good indication that AM has come of age when Oak Ridge National Laboratory (ORNL) declares that they have 3D printed an entire nuclear reactor core. And that's exactly what they announced yesterday (11th May).
ORNL in Tennessee has been working on developing new methods for nuclear component manufacturing as part of the Transformational Challenge Reactor program (TCR), which aims to develop methods enabling faster and more affordable approaches to nuclear energy.
The research team has been focussing on gradually scaling up their 3D printed nuclear reactor core, and plans to have a fully operational core by 2023.
As part of their aggressive timeline, the team has even been continuing with design and simulation remotely during the coronavirus pandemic (which is no doubt good news for cloud based CAD and simulation companies who have struggled to make inroads into high security manufacturing sectors).
"The nuclear industry is still constrained in thinking about the way we design, build and deploy nuclear energy technology," said Thomas Zacharia, ORNL Director.
Traditional nuclear engineering is a very time consuming and costly process, due to availability of materials and glacial plant construction speeds. AS a consequence, the US has been reduced to building one reactor every 20 years. This has put the country on the back foot in terms of new developments, and this has worried industry insiders. The TCR program may offer a solution to these concerns.
"The TCR program will provide a new model for accelerated deployment of advanced nuclear energy systems," said Zacharia.
You can see the manufacturing demonstration of the reactor core in question in the video below.
The core took a mere 40 hours to print using stainless steel feedstock. The thermal imaging video shows melt pools reaching temperatures of up to 1400 degrees Celsius.
So there it is. The nuclear industry has a bright (glowing) future thanks to additive manufacturing, and 3D printing is further validated in critical system applications. And with that, it seems that AM has finally reached the plateau of productivity for highly safety dependant systems.