As of late, 3D printing and scanning have seen increased usage for art and cultural restoration projects. The boom has been all over Europe and America, where restoration projects are quite common. Sometimes, however, the need for restoration can be due to political and social turmoil. This was the case in the Middle East, where multiple Afghan heritage sites faced desecration. Although, now, the local communities have found new technology to help restore their former glory.
Since 2015, the restoration project has helped bring back crucial Buddha sculptures desecrated by terrorists. Under UNESCO, the plan is to reconstruct the statues using laser scanning and 3D printing. While scanners and printers help rebuild, there was once also a major role for 3D projection systems. The projectors cast holograms of the original Buddhas from projectors mounted on scaffolding to show their outline, as they once were, as a temporary substitute.
The laser projections were originally provided by a Chinese couple who had been moved to action by its destruction. In the time since, the efforts to physically restore these cultural landmarks has taken off. It seems the international organisations that now took over share their passion. The rubble of the once mighty statues is currently incomplete but will be ready. The organisations are printing it at 1:25 scale.
Restoring the Sites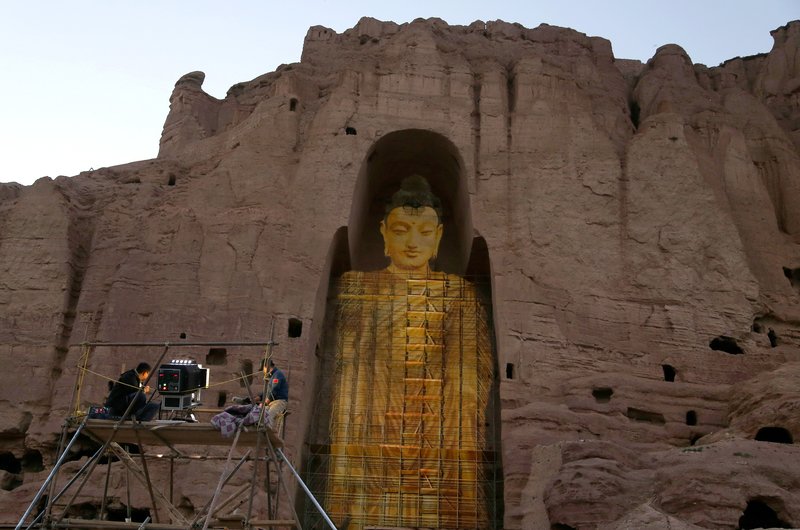 The initiative to visually restore the destroyed antiquities was dreamt up by Chinese couple Zhang Xinyu and Liang Hong, who were travelling through countries on the historic Silk Road route. With newer technology and more initiatives by archaeologists, one can hope that it will be back to its roots.
The project's scale is amazing. It employs 3D photography to capture dimensions and specifications and put into an archive. This archive will aid in the printing process. This is no simple feat considering they are only half-way there despite employing the use of 5,000 3D cameras.
Restoration projects and documentations of cultural projects are increasing at a rapid pace now. This is in no small part due to 3D printing and scanning. From the Victoria & Albert Museum to Historic Royal Palaces, modern technology is helping in the preservation of history like no other time. In tandem, they can provide a new kind of humanitarian relief. One against cultural vandalism.
Featured image courtesy of AFP/Getty Images, Kamran Shafayee.