Historic Royal Palaces (HRP) is an independent charity that, as the name suggests, deals with historic sites. Their particular interest is in looking after palaces in England and maintaining their history. As of late they've taken up the task of restoring them as well. With the aid of 3D systems, HRP renovated ancient dragon sculptures that adorned the palace long ago.
3D Systems has been busy at work on this project. It created a staggering 72 large-scale dragons at The Great Pagoda at Kew as part of the restoration. The palace is a major historical site after all, having been around since the time of King George III. The original dragons were removed for repairs but never replaced, so they've since no longer been a part of the corner-pieces of the palace.
The ancient dragon sculptures are 250 years old and their wood has rotted over time. The new designs will not only replace them but improve on their mechanical properties. More specifically, using SLS printed polyamide 12 nylon material, 3D Systems will ensure they don't fall victim to the weather conditions in their native England environment.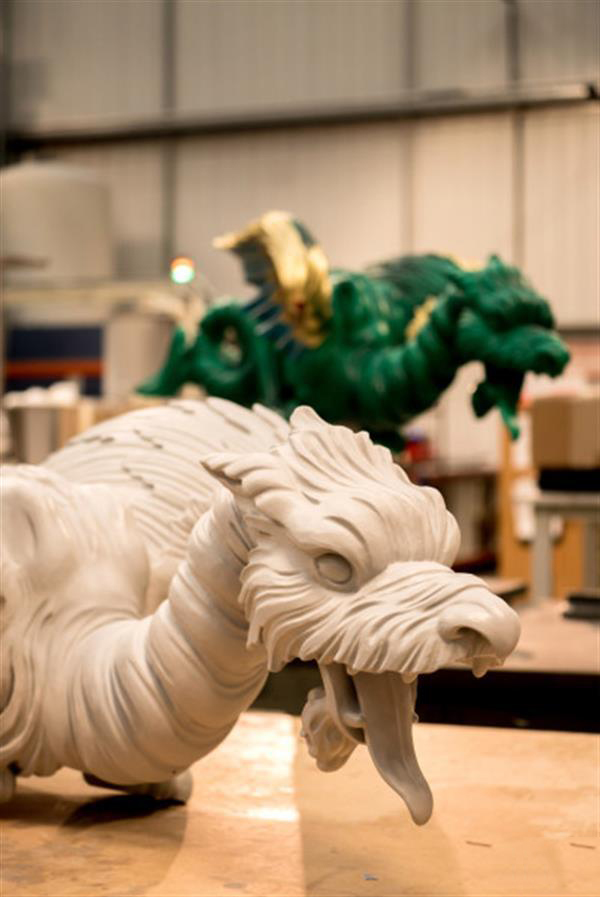 "We turned to 3D Systems to provide the rapid throughput, accurate details, and excellent finishing that was needed for this project," said Craig Hatto, project director, Historic Royal Palaces. "The engineering skill of 3D Systems' team, the opportunity to light-weight the dragon statues, and the material longevity of SLS 3D printing were key considerations for this project."
It all started with a scan to CAD process using Geomagic software and Faro Design ScanArm. The software helped reverse engineer the wood work of the originals in fine detail. Post-processing consisted of a paint job by 3D Systems' own skilled artisan painters.
The new 3D printed sculptures are significantly lighter, being hollow and comprising less denser material in comparison to their wooden and solid predecessors.
In 3D printing, we are not limited by the need or time required to wait for tooling. The existence of digital 3D data gives us freedom to produce parts rapidly, and with custom sizes. Said Nick Lewis, general manager, on demand manufacturing, 3D Systems.
Art Restoration Projects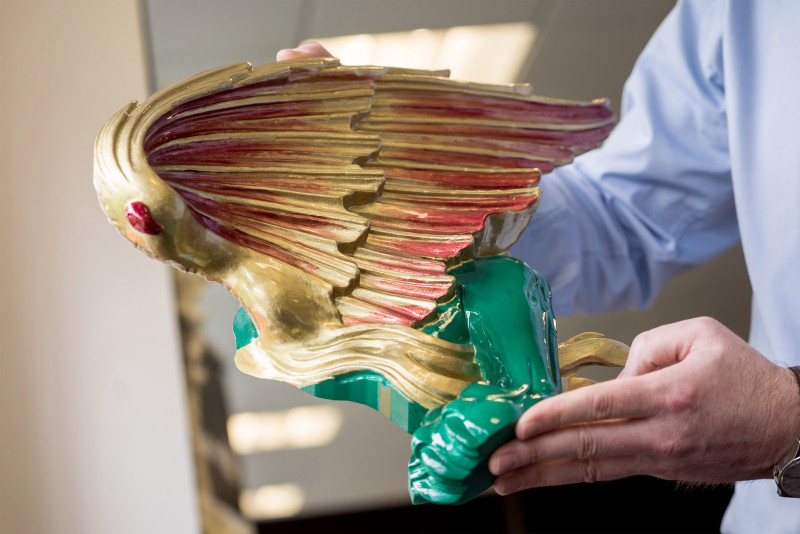 The palace is now a world heritage site according to UNESCO. The worlds of art and architecture need preservation as time goes on. It's why many restoration projects are turning to 3D printing for solutions to rebuilding the past. Thus, art restoration has very quickly found a place within additive manufacturing applications. Just this year it's been a part of architecture renovation and art restoration.
These projects bring to light the creative possibilities that 3D printing can offer. Along with technologies like 3D scanning, it serves a crucial function in faithful recreation. It also allows for rapid production at multiple scales.
The Great Pagoda Kew will once again be open to the public on July 13, 2018, in all its splendour.
All images courtesy of 3D Systems.