How many new ways are there to mount eyewear to your face?
Probably not many more…after several centuries of eyewear manufacturing, it's definitely a case of making incremental innovations at this point.
Spectacles are, by nature, very efficient in terms of design: not a single component is superfluous. It's pretty difficult to make spectacles even leaner, without changing the essence of the thing. All you could do in the past is to make them a bit thinner.
Thankfully AM, material science and topology optimisation has thrown a lifeline to engineers looking to shed a bit of weight without drastically altering the form of the thing that they are designing, which is important when trying to be innovative with two pieces of plastic of a very specific geometry (it has to be kinda face shaped).
3D CMPT sunglasses
To that end, Adidas has teamed up with sunglasses giant Marcolin Group to produce the 3D CMPT sunglasses, who have, thanks to topology optimisation and 3D printed Nylon, produced a pair of shades weighing a mere 20 grams. Apparently, they are also very well ventilated.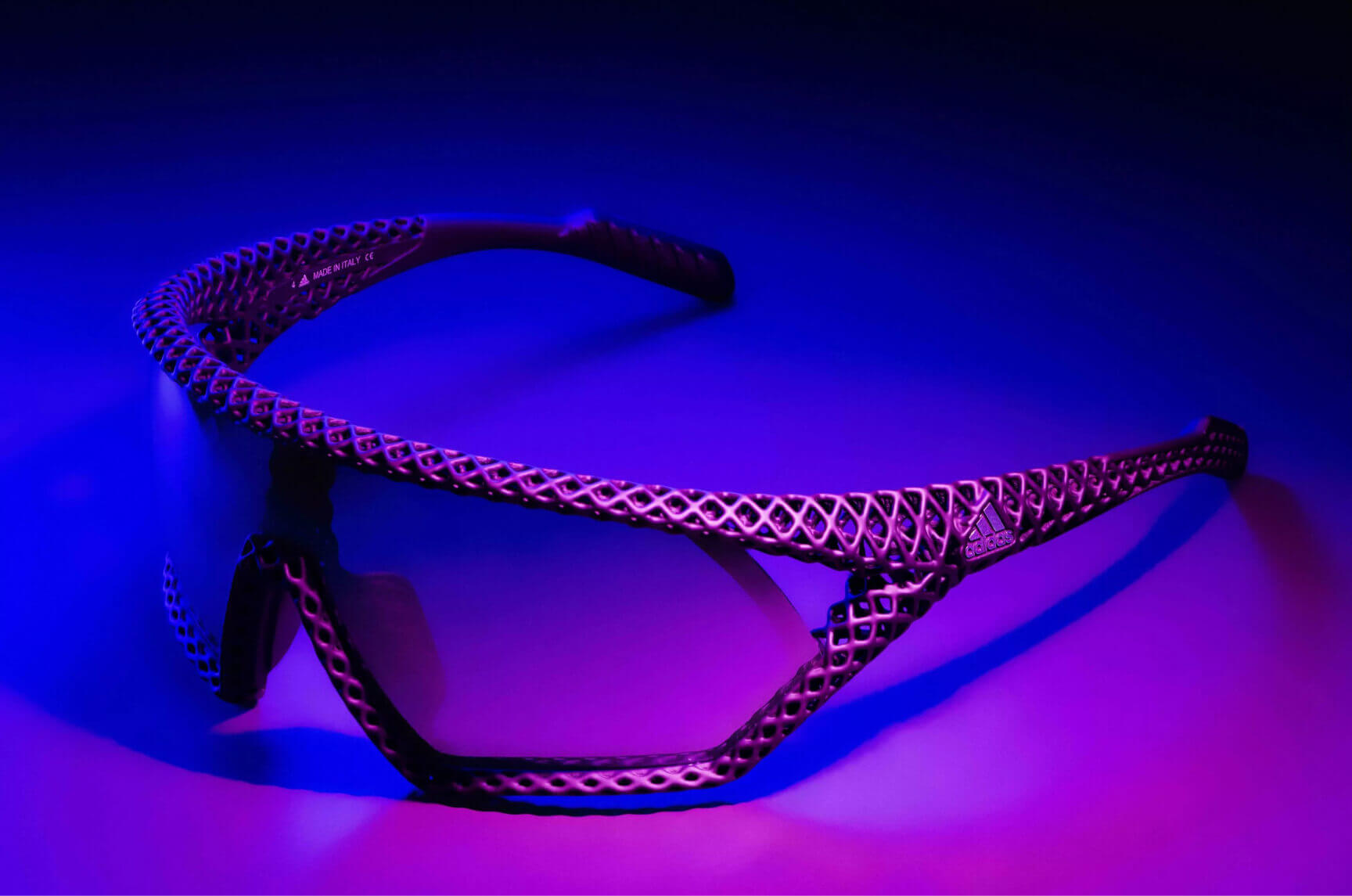 As you can probably see from the design, the glasses are aimed more towards athletes in the styling, and presumably the ventilation and weight reduction is beneficial at that level of competitiveness. We will take their word for it.
Fancy engineering plastics aren't new in the world of spectacles. Injection molded Ultem (PEI) and carbon fiber glasses have been on the market for quite a while now. But while injection molding and carbon fiber forming are great for lightweighting from a material standpoint, these manufacturing methods do hit a wall where it comes to reducing weight.
For something so light already, topology optimisation and lightweight materials are one of the only ways forward.
No details are available on the type of printer used.
All we know is that the glasses are assembled from two pieces (the lens and the frame).
The lattice is made from an AM Nylon material and it has a "special coating" which turns the exterior surfaces of the lattice to a rubber-like texture. The mono-lens is made from polycarbonate.
Presumably the coating to the frame is added after the print. Traditionally one may use some kind of dip molding or spraying process to apply such a rubbery coating. However, there have been some developments in the vapour deposition of polymers of late, so maybe that's one route that Adidas and Marcolin are using to innovate here.
The sunglasses will cost $415 per pair when they hit the virtual shelves on the Adidas website on August 23rd, but you better be quick as the original run will be limited to just 150 pairs of glasses.