UK-based lattice design software Gen3D has been acquired by simulation giant Altair.
This is interesting to fans of topology optimization and other geometric optimization tools, because users of Altair's software have previously been using Altair's Inspire topology optimization solution. Now with the acquisition of Gen3D, it will be integrated within Altair Inspire. So your Inspire functionality will be enhanced, as well as your Gen3D functionality. It's a great two-for-one as far as topology optimization is concerned.
I have also used Gen3D and can confirm that it's an easy to use option for this type of work. And let's look at that type of work in more detail.
Gen3D
Gen3D are based in Bath, UK, and are a spinoff from the University of Bath.
Their current DfAM software, Sulis, is used to generate all manner of lattice-like geometries for the lightweighting of additive manufacturing components. And if you're not particularly fussy about practical lightweighting benefits offered by the software, you can always just create pretty looking models. Because topology optimization is nice, but great looking topology optimization is even better.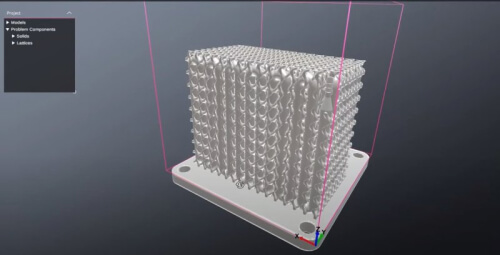 Sulis has two different modules, named as Sulis Lattice and Sulis Flow, with the former being for the optimization of structures and the latter being for the optimization of fluid flow paths for hydraulic systems. Both are geared towards additive manufacturing, naturally, as traditional manufacturing methods will struggle to create these complex geometries.
Both Sulis Lattice and Sulis Flow can be used together to create optimized structures and optimized flow paths within those structures.
Heat Exchangers
One interesting use case for the Sulis Flow software is the generation of heat exchangers for additive manufacturing.
The image below shows an actual printed heat exchanger which was the result of a project focusing on multi material printing. The heat exchanger, printed by Aerosint, features a stainless steel exterior and a copper interior, as you can see from the little cutout in the picture.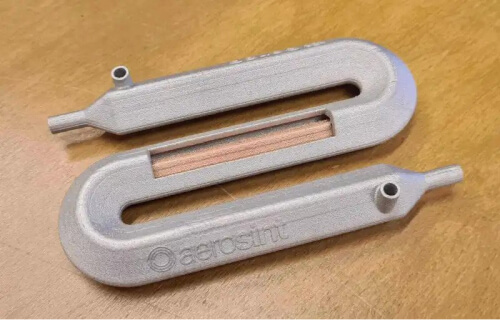 Why are heat exchangers such a popular topic among AM engineers?
Because traditionally, a heat exchanger is made from multiple components, such as the exchanger core and manifold. Think of a car radiator. Obviously, more components equals more cost in terms of both manufacture and assembly.
With AM in general and with Gen3D in particular, designing these parts as one is simplified.
In addition, metal AM can produce incredibly thin walls, which is what you want for heat exchange. Sulis Flow helps to create these thin walls with a focus on manufacturability.
Other features of the software include fractal generation (for splitting flow paths into smaller flow paths), spline/helical based cooling channels, freeform path editing, and very importantly, export to a wide range of CAD formats (including STEP).
You can learn more about how Sulis Flow is used to build heat exchangers here.
Structures
The structural lattice module offers solutions to help with the design of devices in the domains of energy absorption, heat transfer, filtration and many more.
Users can benefit from the one-click lattice generation and can choose between multiple lattice types including surface, strut, stochastic and planar lattices, and can combine different lattice types in a single part.
And I can confirm personally that it is one-click. It's much easier to use compared to other topology optimization methods. I'm looking at you NTopology.
The lattice cells themselves are highly adjustable and can be varied in terms of strut size and other parameters to ensure that the design process is flexible to the needs of the designer. Cells sizes for example can be graded across different multiple axis, and the resulting lattices can be blended with other structural components to create radii and reduce stress concentrators in the final part, which is nice.
If you'd like to download a trial of Gen3D's Sulis software, then you can get it over on their site at this link.
You can never have too many options for topology optimization, and for sure we are looking forward to seeing how the integration with Inspire will enhance the user experience for engineers using both platforms.