UK-based Betatype and CAE/topology optimisation software developer nTopology developed a means of functional and process optimisation for rocket nozzle parts. Consequently, the part is not only a high-quality component but also takes advantage of additive manufacturing. As a result, these components are printable 28% faster, taking build times from 25 hours to 18 hours.
nTopology converted and optimised the 3D model of the nozzle part into a workable form. The team then applied their advanced topology optimisation and simulation tools to make the design even more efficient. Along with Betaype, they improved the design specifically for metal additive manufacturing technologies (in this case, laser powder bed fusion processes).
"Betatype's partnership with nTopology is an excellent demonstration of how we can work with talented designers to make additive manufacturing perform," said Betatype Founder and CEO, Sarat Babu commenting on the results. "The application clearly shows the benefits of combining the functional design and optimization skills of our partner with process optimization through our technology to achieve productivity levels that would not otherwise be possible with a standard metal LPBF platform."
Process Optimisation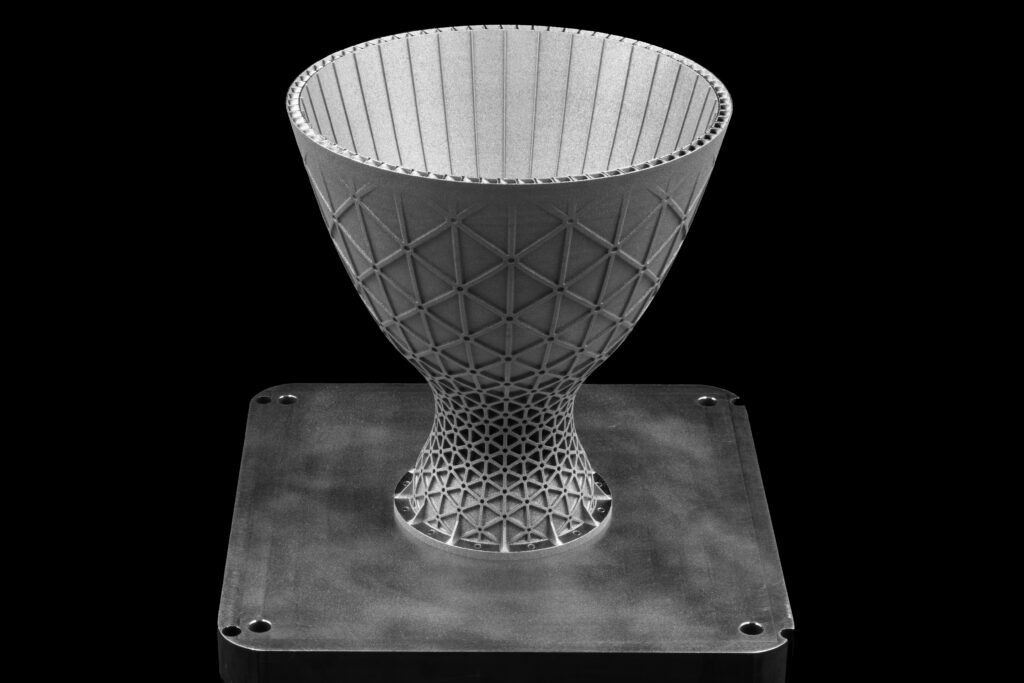 As part of the collaboration, nTopology's used their nTop platform software to design the base of the part. The software allows for the creation of lighter, higher-performing parts with functional requirements built right in. The software is especially geared towards AM parts, unlike many other CAD and modelling software applications.
This new aerospace design is a great example of how design for AM benefits both production speeds and functionality. Betatype's rocket nozzle design was tested out and printed on built in titanium on a Renishaw RenAM250 system. The part indicates that productivity does not have to come at the expense of good design. In fact, the companies make clear that both can come hand in hand with the right optimisation technologies.
"For serial production in additive manufacturing to work, it must make business sense," added Brad Rothenberg, nTopology Founder/CEO. "Through the partnership between nTopology and Betatype, and our shared belief in solving engineering problems by linking design, simulation, and manufacturing processes directly, we are able to present a strong business case for additive manufacturing. We enable our customers to design and manufacture complex parts with speed, efficiency and reliability. We could not be happier with the results of this rocket nozzle case study and are looking forward to working on more joint projects."