Metal 3D Printing
Effective and quick metal 3D Printing is tantamount to the Holy Grail of additive manufacturing. Companies are in a full-scale arms race to establish the most effective means of moulding metal into malleable forms and in accordance, sales have been rising annually. Metal 3D printing is poised to kickstart a whole new renaissance in manufacturing. So far, there are multiple types of metal 3D printing that each have their own benefits and drawbacks. Here are some of the most common types used to digitally craft metal objects.
Quick jump to:
Selective Laser Melting
SLM refers to the metal 3D printing method of using lasers to melt and recombine powders. This method is fantastic for rearranging alloys. SLM is very similar to Direct Metal Laser Sintering and according to rumours the name difference is due a falling out between the parties developing the method and varying patents. Nonetheless, both methods make use of lasers to arrange a wide spectrum of alloys.
Selective Laser Sintering
SLS, while mostly used for plastics, can also be used for certain types of metals. SLS and SLM are among the most common means by which metals are 3D printed, also known as Direct Metal Laser Sintering (DMLS) and Direct Metal Laser Melting (DMLM). These methods are quite similar to the point of being confused for each other very often. The difference lies in what materials they affect. SLM sinters powders making it useful for alloys as opposed to SLS which processes single element metals and certain alloys. SLS displays a far wider range of material powders that it can work with and it can achieve varying levels of density in creating structures. Another difference is that SLS requires the elements to be fully melted. The main companies operating in SLS and SLM are 3D Systems and EOS.
Robocasting
Robocasting is a fairly obscure practice used to make ceramic models or thin layer inks of certain types with various materials. The thin nozzle allows for a very precise mode of action with elaborate designs being woven by the printer. Nitrides, metals and composites have been used for this method. The end-products are very high strength and the method is very material efficient. "Robocasting Enterprises LLC" is the main company operating in this field.
Cold-Spray Metal 3D Printing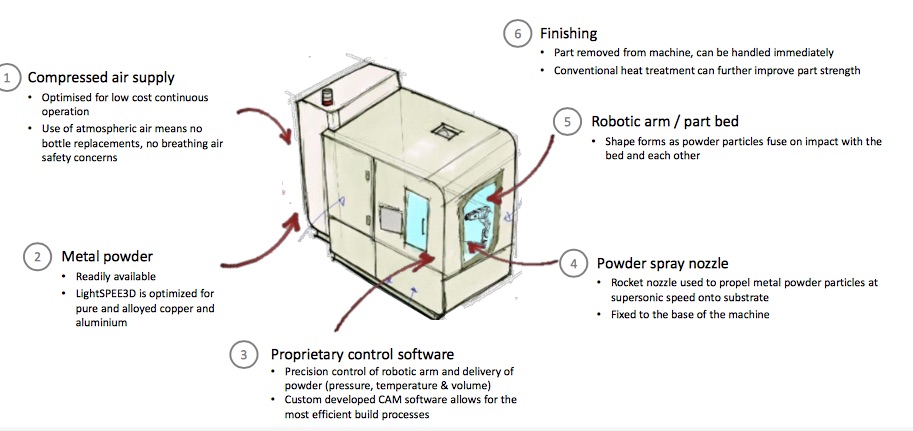 This is one of the fastest means of printing metal. Cold-spray printing refers to a means of firing particles at a surface to build up a physical object. It was originally used by NASA to build metal objects in space. It has been recently employed into the LightSpee3d 3D printer. The LightSpee3d is currently the fastest metal 3D printer.
Binder Jetting and Inkjet Metal 3D Printing
Originally developed at MIT, this metal 3D printing method uses powders just like in SLS, but instead of laser technology in makes use of binding agents. The process is carried out layer by layer till it produces a 3D model. This form of metal printing is used by ExOne. This type of printing leaves a lot of powder residue after processing, but luckily it can be reused easily. One of its greatest advantages is the speed with which it generates models. One of the innovations made by binder jetting was the ability to use 2 materials in a single print.
Magnetojet Metal 3D Printing
This site has covered the basics of magnetojet 3D printing before. This system is primarily employed by Vader Systems. The method uses a metallic ink that is sprayed down and magnetised to produce very quick and elaborate different shapes. It is being used by Lockheed-Martin in aeronautics.
Directed Energy Deposition
DED is actually a blanket term that covers a large swathe of Additive Manufacturing terms. These methods include 'Laser engineered net shaping', 'directed light fabrication', 'direct metal deposition' and '3D laser cladding'. Its main use is to add to existing objects rather than creating a whole new one from scratch. A material or wire is heated with a laser on top of an existing object, soldering them together when using any DED method. It provides a very high ability to control the structure of the grains making it ideal for intricate repair work. Compared to other methods, very few materials are available for use in DED which can put it at a disadvantage.
LENS
LENS is a laser-based metal 3D printing method that fuses powders to produce printed structures. Like many other laser based metal printing methods, LENS necessitates a very controlled environment. The process requires a hermetically sealed chamber, typically purged of oxygen with the use of Argon. This keeps levels of oxidation as low as humanly possible.
LENS lasers can range from 500W to 4kW. The process has been used to process titanium, stainless steel and Inconel. Despite the difficulties of maintaining the oxygen free chamber, LENS allows users a degree of accuracy and control that few additive manufacturing methods are able to. After the LENS process is completed parts still need to be finished separately.
Electron Beam Freeform Fabrication
Originally developed by NASA a decade ago, EBFE is a method primarily used in aeronautics. This method can craft surprisingly complex geometric shapes with no material waste whatsoever. It was a natural metal 3D printing method for space agencies to use because of its ability to create lightweight shapes boosting fuel conservation. As the name suggests, it uses electron beams to solidify a melting wire. This is a great method for transforming nearly liquified metals into new shapes.
Laser Metal Deposition
LMD is in many ways similar to melting or sintering tech. The technology deposits powders and uses lasers to heat them into shape onto a platform. The core difference appear upon closer inspection. For example, this method utilizes a constant powder stream being melted. It uses twin streams of powders and another pair of shaping gas streams in the procedure.
So far the technology works on iron, cobalt-based, nickel-based alloys, tungsten carbide and other metal powder coated metal. It is useful for strengthening, repair, regeneration or direct manufacturing. Printers like ITRI's LMD 3D also use various intensities and laser types depending on what suits the materials best. As a result it can work with such a diverse range of metals.
MOVINGLight Metal DLP Printing
Metal DLP printing is quite a recent development. Prodways is leading the charge with their MOVINGLight technology (as shown in the video above). The technology uses UV curing on metal powders that has an organic binder around it. The binder has to be removed through oven heating to finish the part. One of the machines that uses this is the V6000 printer by Prodways.
MOVINGLight is an incredibly fast technology. One of the elements holding the technology back, however, is that the materials are very difficult to produce. It requires the combination of multiple elements with the organic binder.
Ultrasonic Particle Manipulation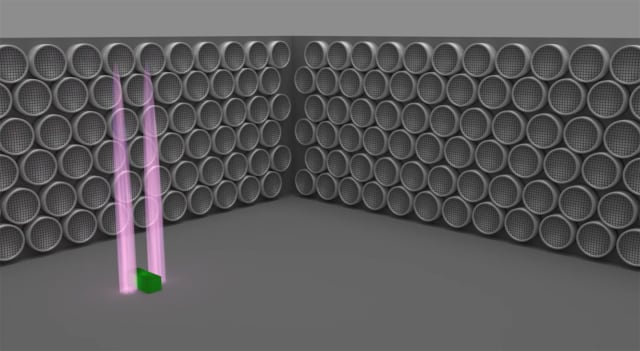 UPM is a relatively new method that can operate with metals but also a variety of other materials. Researchers believe that this method, at its full potential, can make complex technologies from start to finish. It will be able to mix and match various materials into one cohesive whole.
UPM uses sound to manipulate various particles. Another thing that makes it unique as a method is that it requires no contact with the material itself. The sound makes particle hover above the floor of the machine and it takes the desired shape. This method is still in the test phase, but it promises to be one that could shake up manufacturing as a whole.