Metal 3D printing is considered the apex of all 3D printing. When it comes to strength and durability, there's nothing quite like metal. The first patent for metal 3D printing was DMLS (direct metal laser sintering) and it was filed in the 1990s by the German company EOS. Ever since then, engineers have come up with other methods for printing with metal, some of which are entirely unique and some that are just different enough from DMLS to be awarded their own patents. It can be tricky telling them apart, so we're here to help!
Every metal 3D printer will generally fall into one of these four categories (with a few exceptions that will be covered at the end): powder bed fusion, binder jetting, direct energy deposition, and material extrusion.
Metal Powder Bed Fusion
This category includes DMLS (direct metal laser sintering), SLM (selective laser melting), and EBM (electron beam melting) machines.
Metal parts produced using PBF melting technology are free from residual stresses and internal imperfections, making them ideal for demanding applications found in the aerospace and automotive industries.
The history and categorization of PBF metal 3D printers get a bit messy and it mostly relates to the difference between sintering and melting.
Here's where it gets tricky: most of the companies that claim to be using DMLS are technically using melting technology.
Difference Between Metal Sintering and Melting
Sintering uses a combination of heat and pressure to make particles stick together. Melting uses high enough temperatures to cause the particles to fully melt and join together. Sintered parts have high porosity and require heat treatments to be strengthened, though they'll never be as strong as forged metal parts; melted parts are nearly fully solid and don't require heat treatments. In the image below you can see the difference between a sintered and melted part. The particles of the sintered part are simply touching real well but there are large gaps between them throughout the body. In contrary to the melted image on the right. The particles seen are melted and the body is a far more cohesive solid mass with no visible voids.

When EOS came up with the term DMLS, they were actually sintering and using the heat treatments afterward, but since then they've started using stronger lasers that do fully melt. They just hung on to DMLS term, likely because it was already popular and users don't like having to remember a dozen different acronyms.
With all that in mind, understand that we sorted the companies based on the terminology used on their websites.
So, long story short, while SLM and DMLS are technically different and the industry uses both terms, nowadays most metal 3D printing companies use a form of melting instead of sintering.
EBM uses a high-power electron beam, rather than a laser, to melt the metal powder; electron beams produce more energy and higher temperatures than lasers so they can handle (and are limited to) high-temp superalloys.
Several industries rely on parts created on metal powder bed fusion 3D printers. Medical professionals and surgeons use these 3D printed metals for biocompatible implants, aerospace engineers use them to reduce the weight of aircraft, and industrial manufacturers use them for custom tooling equipment.
Metal PBF Pros
Nearly any geometry can be fabricated with high precision
Wide range of metals, including the lightest titanium alloys and the strongest nickel superalloys that are difficult to process with traditional manufacturing technologies
Mechanical properties are as good as (and sometimes better than) forged metals
Can be machined, coated, and treated like traditionally-fabricated metal parts
Metal PBF Cons
High cost of materials, machinery, and operation
Parts must be attached to the build plate with support structures (to prevent warping) that produce waste and require manual post-processing to remove
Limited build sizes (though they're getting steadily larger)
Handling of metal powders can be dangerous and requires strict process controls
Metal Binder Jetting
Binder jetting, like laser sintering, can handle more than metal materials. Sand, ceramic, and full-color objects are also possible with the technology. Because metal binder jetting machines operate at room temperature, warping does not occur and supports are not necessary. As such, binder jetting machines can be much larger than powder bed fusion machines and objects can be stacked to use the entirety of the build chamber, so it's a popular choice for small batch production runs and on-demand replacement parts.
Metal Binder Jetting Pros
Large build volume
Parts don't need to be attached to a build plate so they can be nested to make use of all available build volume
Fewer restrictions on geometry because supports generally aren't needed
Larger parts are possible because warping doesn't occur
Very fast printing
Lower cost than powder bed fusion metal printing
Metal Binder Jetting Cons
Parts must go through a time-consuming debinding and furnace sintering process after printing
High cost of machines and materials
Higher porosity than powder bed fusion so mechanical properties are not as good
Small material selection
Direct Energy Deposition
DED 3D printing systems are also known as LENS (laser engineered net shaping) and DMD (direct metal deposition) machines. They can work with metal wire or metal powder and melting can be achieved with a plasma arc, laser, or electron beam. It's very similar to welding so one of its primary applications is repairing and adding features to existing metal parts.
DED Pros
Metal wire is the most affordable form of metal 3D printing material
Some machines can work with two different metal powders to create alloys and material gradients
5- and 6-axis motion enables the production of overhangs without the use of support materials
It's possible to repair broken metal parts and add new components to objects
Large build volume
Efficient material usage
Parts have high density and good mechanical properties
Fast printing
DED Cons
Printed parts have poor surface quality so machining and finishing is usually necessary
Small details are difficult or impossible to achieve
High cost of machinery and operation
Metal Material Extrusion
This technology was specifically created to make metal 3D printing cheaper and more accessible and it's done just that. Small and medium businesses have rapidly adopted material extrusion with metal, largely because it's so affordable. Design studios, machine shops, and small manufacturers use metal material extrusion machines to iterate designs, create jigs and fixtures, and complete small production runs. The latest development in this space is metal filaments that will work in most desktop FDM 3D printers, making metal 3D printing accessible to nearly everyone.
This is how material extrusion with metal works:
1) Either polymer filament or rods impregnated with small metallic particles are 3D printed layer-by-layer in the shape of your design.
2) The 3D printed part is then washed to remove some of the binder.
3) The part is then put in a sintering furnace which fuses the metallic particles into solid metal.
Now the final parts are ready for use. It can be processed and treated just like any other metal part. The image below shows a replica of Vortic Watch Co.'s watch case printed in 17-4PH Stainless Steel on Desktop Metal Studio (left) and MarkForged Metal X (right) material extrusion systems.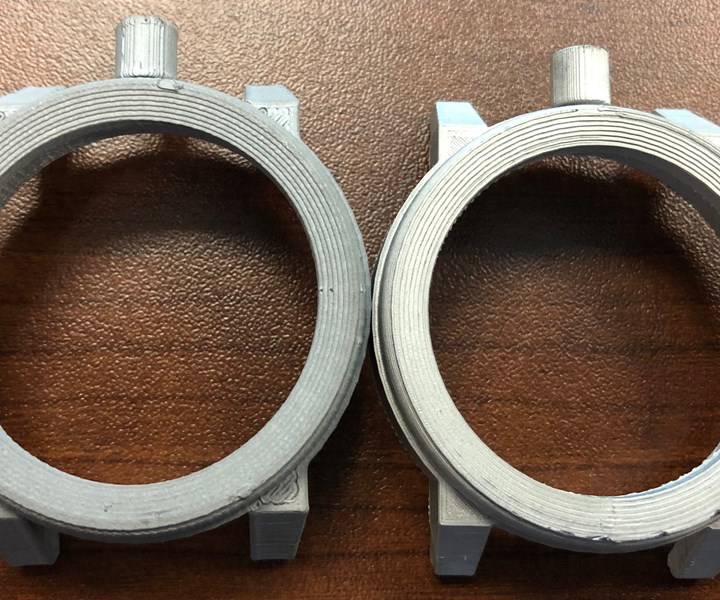 Metal Extrusion Pros
Most affordable method of 3D printing metals
Functional prototypes are possible
Easy and safe to operate
Metal Extrusion Cons
Parts must go through the same debinding and sintering process as binder jetting parts
More restrictions on geometry and supports are necessary to prevent warping
Parts have high porosity and don't achieve the same mechanical properties of forged metals
Parts are not as dense as you would achieve with PBF or DED
Less accurate due to shrinkage in furnace
Other Metal Printing Types
Joule Printing
Joule Printing from Digital Alloys looks a lot like DED but the metal wire is melted by running a current through it rather than heating it with an arc or beam. This enables much faster printing as the company has demonstrated printing up to 2kg of titanium per hour.
Liquid Metal Additive Manufacturing
Vader Systems created Liquid Metal Additive Manufacturing where 1,200°C liquid metal droplets are deposited in a manner much like an inkjet printer.
Electrochemical Deposition
Exaddon has a nano-scale metal 3D printer called CERES that can make metal objects smaller than the width of a human hair using electrochemical deposition.
DLP metal printing
ADMATEC and Prodways are examples of companies that offer metal DLP printing technologies. Similar to metal material extrusion, metal powder is mixed in with the photopolymer resin. 3D Printed parts will have to go through the same debinding and sintering process, just like the metal material extrusion method.
Cold Spray Metal Printing
Cold Spray Metal Printing was originally used by NASA to build metal objects in space. Key feature is that it's the fastest method of metal 3D printing in the world (think of 6kg of aluminum or copper per hour) downside is that it's not that accurate. Australian companies Titomic and SPEE3D are frontrunners in this technology.
Ultrasonic Consolidation
Ultrasonic Consolidation or Ultrasonic Additive Manufacturing (UAM) 3D printers bond thin layers of metal foil together using sound, machining away the excess for each layer before bonding the next layer of foil, so it's a combination of additive and subtractive manufacturing. Fabrisonic's line of SonicLayer 3D printers use this technology.
LENS
LENS is a laser-based method which necessitates a very controlled environment. The process requires a hermetically sealed chamber, typically purged of oxygen with the use of Argon. This keeps levels of oxidation as low as humanly possible.
LENS lasers can range from 500W to 4kW. The process has been used to process titanium, stainless steel and Inconel. Despite the difficulties of maintaining the oxygen free chamber, LENS allows users a degree of accuracy and control that few additive manufacturing methods are able to.
Electron Beam Freeform Fabrication
Originally developed by NASA a decade ago, EBF3 is a method primarily used in the aerospace industry. This method can craft surprisingly complex geometric shapes with no material waste whatsoever and has the ability to create lightweight shapes boosting fuel conservation.
Laser Metal Deposition
LMD is in many ways similar to melting technologies. The technology deposits powders and uses lasers to heat them into shape onto a platform. The core difference appear upon closer inspection. For example, this method utilizes a constant powder stream being melted. It uses twin streams of powders and another pair of shaping gas streams in the procedure. It is useful for strengthening, repair, regeneration or direct manufacturing.
Metal 3D printing has come a long way in the last few years and it continues to get bigger (and smaller), faster, more precise, cheaper, and easier to use. Curious about how 3D printing can benefit your business? Look no further than our own additive manufacturing consultancy or 3D printing service.