Denmark's GXN Innovation, a subsidiary of 3XN, has teamed with Dansk AM Hub and design studio MAP Architects in their new Break the Grid initiative for construction technologies. The collaboration will look to autonomous mobile 3D printing and investigate physical and virtual hacks of existing 3D printers. In doing so, the organisations hope to create versatile construction tech for multiple environments including sea and air.
The Break the Grid initiative has ambitions beyond just improving construction technologies. The various companies also hope their research can address environmental concerns and climate change. A large part of GXN's work is in establishing environmentally beneficial applications of 3D printing and showcasing them to companies. Similarly, the project is also part of the Moonshots initiative from Danish AM Hub, which has similar ideals.
"Freeing 3D printers to meet these challenges could be a revolution in the making," explained Kasper Jensen, Founder of GXN. "By enabling 3D printers to crawl, swim and fly, we can address environmental threats at lower costs and with greater efficiency."
Together, the companies hope to develop a more nuanced perspective on 3D printing, accounting for ecological concerns. "Converging technologies are enabling new approaches to construction," comments Mads Kjøller Damkjær, Danish AM Hub Fund CEO. "We hope to inspire the additive manufacturing industry to envision new possibilities, which will require combining design and technology to shift our values and our current ways of thinking."
The Future of Mobile 3D Printing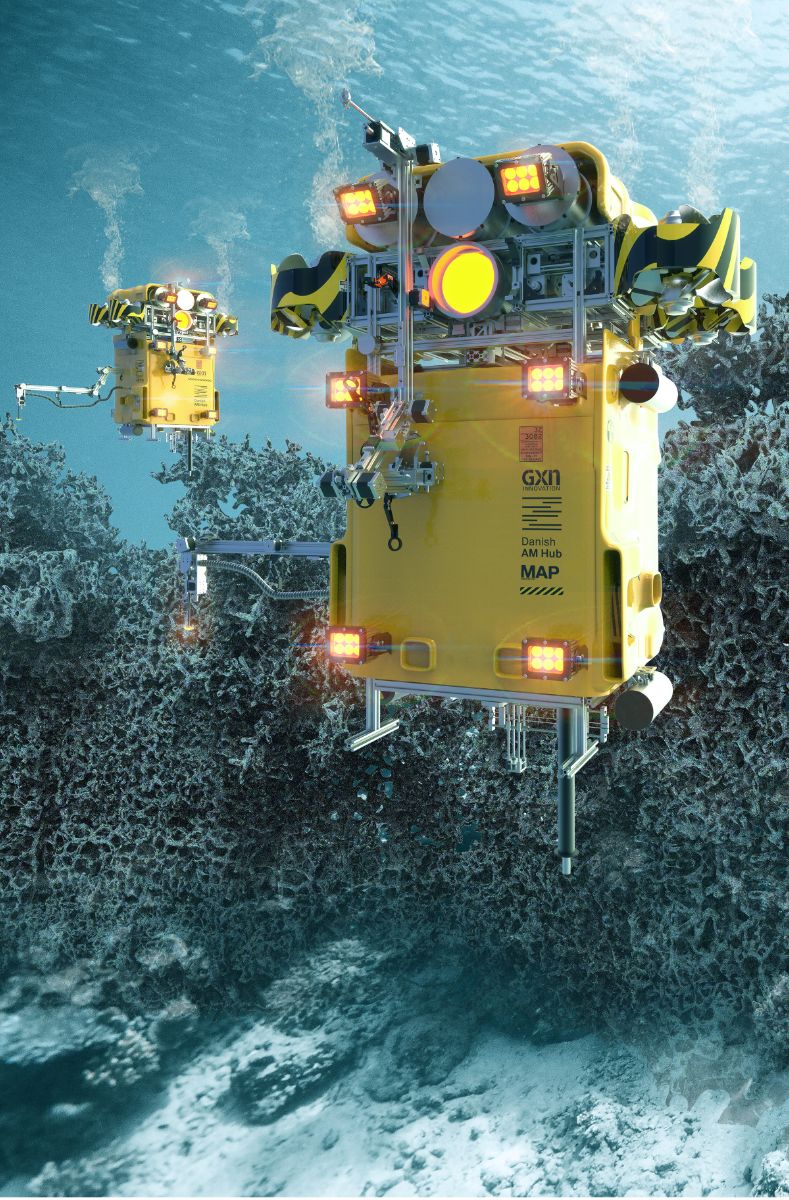 The challenges to building such technologies are many, so the teams brainstormed possible future applications. They looked to present-day global challenges and found ways to mitigate their effects. The first of these was dealing with the repair of global infrastructure, especially micro-cracks. The Break the Grid project team explored the idea of 3D printers using a porous filler mix to repair small breakages in buildings.
These breakages can be an issue due to water entry and corrosion. Their idea for the filler would mix in with 'Trichoderma Reesei' fungus, which extrudes calcium carbonate neutralizing acidic conditions in both soil and water, thus preventing corrosion. Autonomous construction printing hexapods could theoretically scout urban and remote concrete infrastructures, identifying micro-cracks to repair before further damage can occur. This idea is quite possible, considering prior research and functional attempts in asphalt repair drones.
Another scenario they proposed solutions for was rising sea levels and areas becoming more prone to storms/tsunamis. In response, they came up with a synthetic glue that mimicked the specialized adhesive produced by oysters. Break the Grid investigates how 3D printing ROVs could mix the glue with ocean floor sands, swimming underwater (as the concept art shows). As a result, they could make a wet-setting binder to 3D print artificial reef structures.
The last global challenge they looked into dealt with the loss of heat and energy due to bad insulation in high-rise buildings, particularly in major cities. They proposed creating new thermal insulation for older buildings with functionally graded materials that combine glass with high-performing polymers. These ideas are still theoretical but some are on their way and being tested. Maybe we'll see functional versions in the near future.
Featured images courtesy of GXN.