Milan Design Week always has many offerings, so much so the courtyard itself is drawing eyes. The Palazzo Isimbardi, located behind the 16th-century palazzo, the establishment houses a 3D printed design marvel. Commissioned by fashion brand COS, Conifera is London-based architect Arthur Mamou-Mani's sustainable bioplastic structure greets attendees at the centre of the premises. It is one of the largest 3D printed structures in the world, particularly among ones consisting of bioplastic.
The structure is COS' 8th entry into the annual Salone del Mobile. As Mani explains the design of Conifera: "the piece is made of a multiplicity of elements and each element is 3D printed in a material that is a combination of wood and bioplastic". As a result, the element materials are all biodegradable and renewable.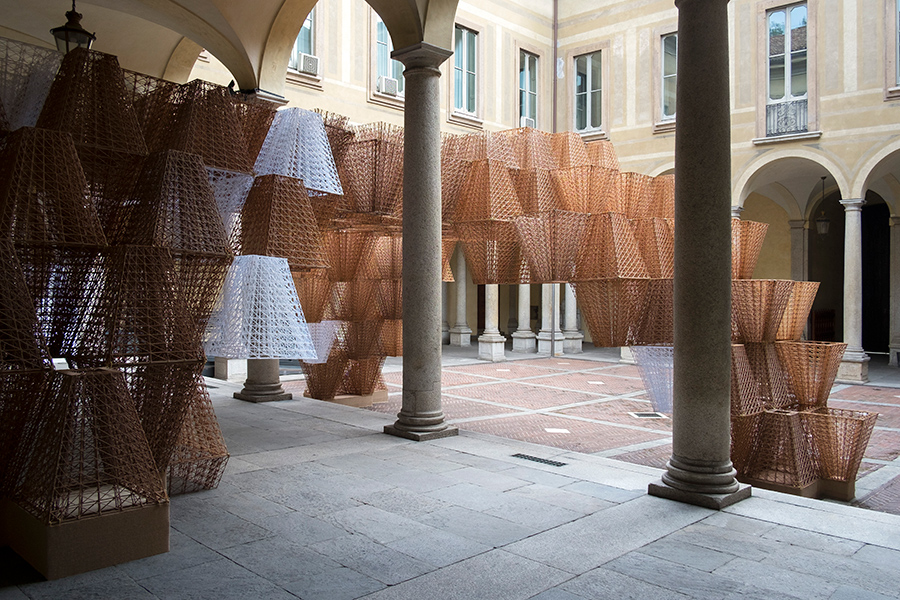 The Conifera is a site-specific work and it was open to visitors from 9 -14 April, 2019. The piece was the product of seven hundred interlocking modular bio-bricks, with elements that shift from a wood and bioplastic composite starting in the courtyard and transitioning to a translucent bioplastic in the palazzo's garden. The lattice structure is not just large and efficient, but the gaps allow light to permeate the area. Despite the airiness and light material, the giant structure still comes up to 3.5-tons.
Sustainable Architecture
Mamou-Mani explains how "the geometry of Conifera comes from the square motif which is very present at Palazzo Isimbardi, through the courtyard to the tiles. I wanted the piece to echo the circular nature of the compostable material and create a journey from architecture to nature in order to showcase how renewable materials, coupled with an algorithmic approach and distributed 3D printing, can create the building blocks of the future".
This explains the transition from the garden and biological materials to the man-made ones. This design approach relishes in the benefits and ideas behind 3D printing. The designers attached the individual bricks to each other using cable ties on location. With installations such as this, once the exhibit concludes, the various parties can recycle it. Sustainable architecture projects often envision harmony with nature as a core theme. Fittingly, this one takes a different route, artistically embodying the duality of man-made and natural ingredients.
About 3D printing, the architect says "It brings the architect and designers closer to the finished thing. The factories are directly within your studio and that means what you are producing is not a blueprint but…the actual thing. It means you can work on highly sophisticated design and you can work cleverly at minimizing the amount of material you use."
Featured image courtesy of COS.