A startup out of Syracuse, New York called Powerbelt3D is taking pre-orders for its first product, the Zero, which offers both continuous and "infinite 3D printing." The Zero is a conveyor-belt 3D printer intended to increase access to production-level manufacturing; its open architecture will allow users and developers to experiment and share their experiences with the creators to improve functionality.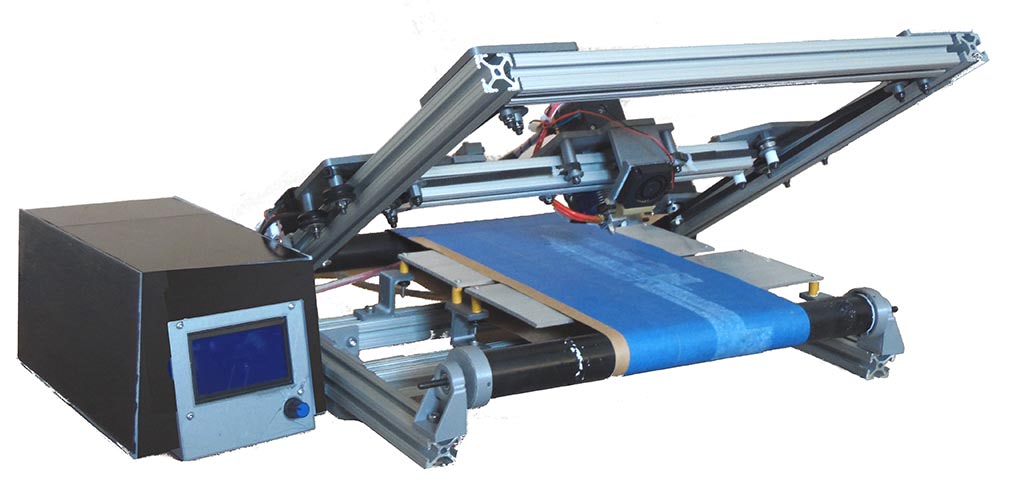 We want to make infinite 3D printing more accessible. This style of 3D printer has been available for a few years, but can cost over $10,000. This price point is fine for large businesses, but out of reach for hobbyists and smaller companies who could benefit from it." Adam Fasnacht, President of Powerbelt3D
Making Conveyor-Belt 3D Printing More Accessible
We touched briefly on conveyor-based 3D printers when covering the increasing accessibility of automation in 3D printing but it was in reference to DIY modifications for traditional desktop 3D printers. The Zero is designed specifically for the task of uninterrupted printing, and its angled XY plane combined with a conveyor-belt bed enables it to print objects that are infinitely long. By printing every object at 35-40°, fewer support structures are needed for certain geometries with overhangs. Of course, being able to print multiple objects without having to manually remove prints and start the next is the biggest selling point.

The pre-order price of $399 is also appealing. Small to medium print farms will be able to use the Powerbelt3D Zero to significantly increase the production rate of small objects. On a traditional desktop 3D printer, one of the largest sources of printer downtime is the time in between prints as the printer has to fully cool down and then reheat back up. Additionally, a person has to be standing by to remove the object from the build plate and initiate the next print. All of that downtime is bypassed on the Zero. It can churn out dozens of parts without any human intervention.
There are some obstacles to overcome relating to bed adhesion and plastic flow dynamics of printing at an angle. Releasing the Zero to the open-source community as a kit is a fantastic way to find solutions to those problems. After all, 3D printer users can be especially creative.