Jet packs are many a dreamer's biggest sci fi fantasy. While flight-enabling jet packs are quite a while away (and probably dangerous), Archie O' Brien may have developed an underwater alternative to sate that thirst for the moment. Using a lot of 3D printed components, O' Brien created an underwater jet pack that propels the user forward like a human submarine.
The jet pack does not use air based push propulsion, but instead an impeller system. The 3D printed carbon fiber impeller moves the water using its rotation generating forward force. It, thus, allows the user to have hands-free control whilst exploring whatever watery depths they choose.
The CUDA contains a total of 45 3D printed parts. All of these parts also needed to conform to fit into a single backpack configuration. Many of these also went through rigorous trials over the course of refining the CUDA's design. One of the tests involved leaving it in freezing water but the jet pack seemed to resist even these harsh conditions.
After testing various prototypes and iterations, Archie O' Brien printed the parts with the help of 3D Hubs. O' Brien covered all the 3D-printed elements with epoxy resin, while adding silicone parts to protect the batteries from the water.
Plans for the CUDA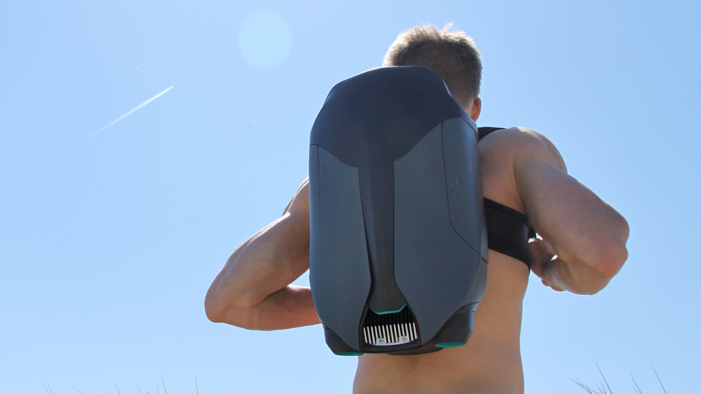 The CUDA jet pack came to him out of a need for lower priced propulsion systems. Traditionally, underwater gear that serves the same functions would go for upwards of $15,000 but O' Brien found this to be unpalatable.
He also envisions it finding uses for more than just recreation. Indeed, the underwater jet pack could easily be useful for sea exploration or rescue missions or even military applications. However, at this stage those are quite distant ideas. Currently, it requires more testing and redesigning before it can reach the mass market. It will also need significant safety checks.
Still, it's a fascinating item and a fully functional design shown to work. O' Brien's preliminary prototype is a great example of ingenuity and skill. While his design is significantly cheaper than current alternatives, it remains to be seen how much the market version will cost when he releases it in 2019.
Featured image courtesy of Archie O'Brien, retrieved via Gizmodo.