3D printer giant Creality has two new product lines launched today and has also teased the upcoming release of the Klipper-integrated Creality Sonic Pad.
Read on to know more about the new and upcoming releases, plus a couple of extra goodies for fans of Creality Cloud and the CR-Laser Falcon cutter.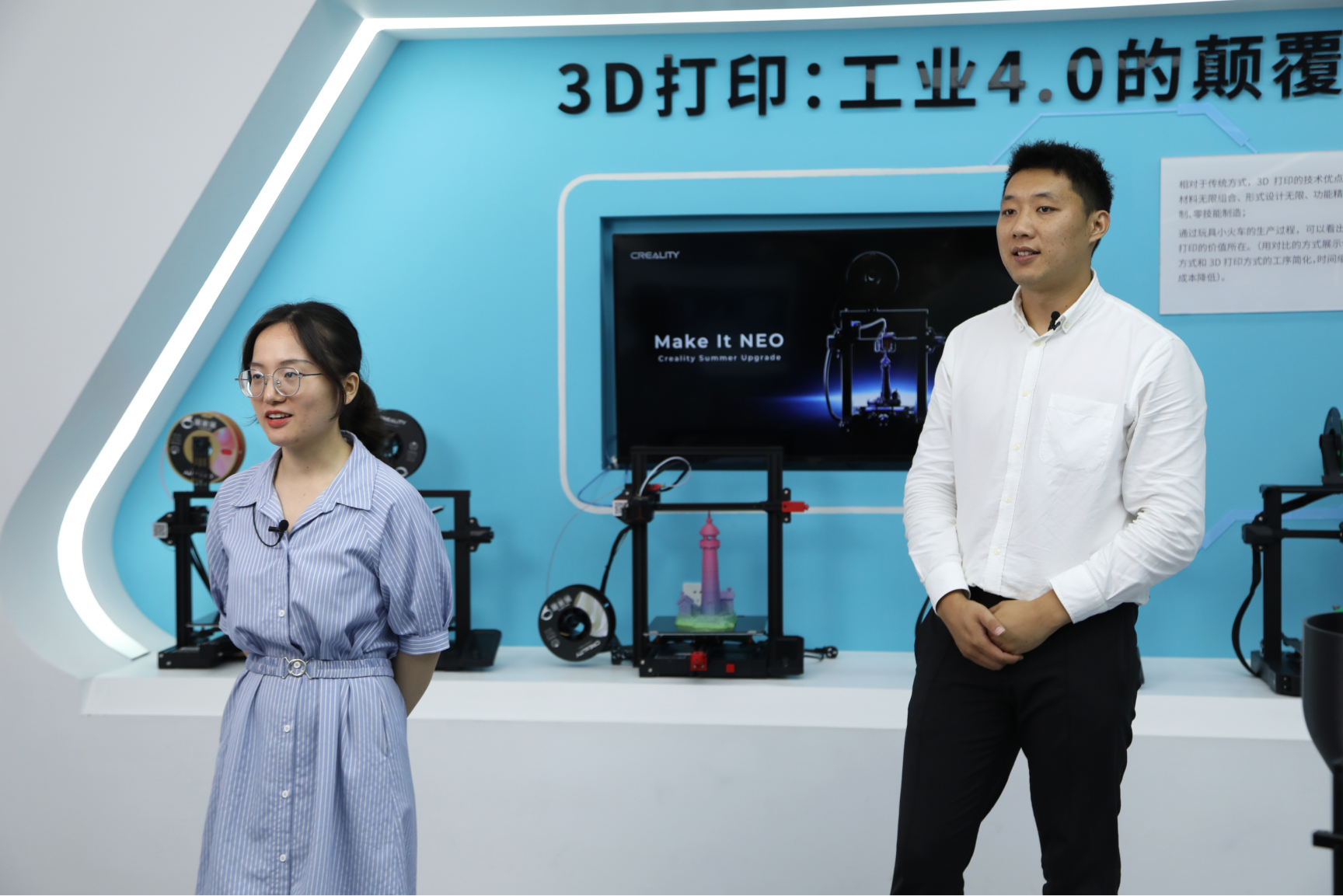 Ender-3 Neo series
The new Ender-3 Neo series is the latest addition to the Ender 3 line and consists of three printers, the Ender-3 Neo, Ender-3 V2 Neo, and Ender-3 Max Neo.
The Ender-3 Neo series carry durable full-metal Bowden extruders, offering great extrusion force and smooth feeding and retracting of filaments. They also integrate the CR-Touch automatic leveling system with Z-axis compensation functions, providing a hassle-free print bed leveling experience.
The Ender-3 Neo is the updated version of Ender-3 Pro, and it integrates a silent mainboard reducing the noise during the printing process. The compact wavy-fin heat sink significantly increases the surface area, allowing rapid heat dissipation and avoiding throat tube clogging.
The Ender-3 V2 Neo is the premium edition of the classic and popular Ender-3 V2. The 4.3-inch color knob screen is upgraded with a brand new UI design that offers model preview features, making it easier to visualize the prints.
With print speeds up to 120mm/s, the Ender-3 V2 Neo is the user-friendly printer of choice for 3D printing beginners.
Ender-3 Max Neo, the full-scale upgrade version of Ender-3 Max, has a sizeable build volume of 300x300x320mm. Dual Z-axis and motors guarantee ultra-stable printing with high print precision and quality.
A 350W built-in power supply is incorporated into the machine, improving the operation stability and print quality. An optimized wavy-fin heat sink is installed on the printer, doubling the cooling effect of the Ender-3 Max.
For engineers, designers and small and medium enterprises, Creality is in the final Stages of preparation for launching the Ender-5 S1, a flagship edition to the Ender series with premium features. It will have a Sprite direct extruder and remarkable high print speed.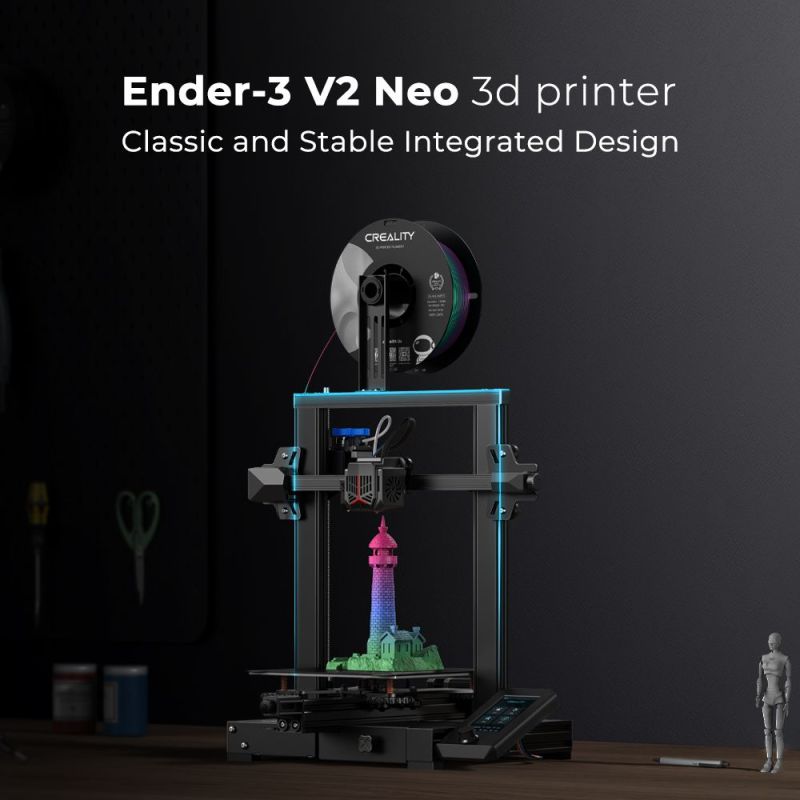 HALOT-RAY resin printer
After two years of continuous iterations, HALOT has incorporated the second generation of the self-developed Integral Light Source technology, which is installed on HALOT-RAY, the latest addition to the HALOT family of resin printers.
Equipped with a 9.25-inch screen in 6k resolution, HALOT-RAY is the premium choice for printing large-size models with high accuracy in details. HALOT OS, a smart software that synchronizes the printer with multiple devices of users, allows a seamless remote control experience.
The slicing software HALOT BOX enables users to edit and print models from any computer with a Wi-Fi connection. HALOT BOX can also detect problems of the models and automatically repair them before slicing.
Creality Sonic Pad
At present, 3D printing beginners who want to achieve superior print performance often trip up on the Klipper installation process. To completely address this issue, Creality are launching Creality Sonic Pad, a highly integrated touchscreen tablet based on Klipper firmware later this year.
Depending on the type of printer and filament used, Creality Sonic Pad will increase the print speed up to 5x without the need to run the firmware on Sneakernet or SD cards.
It will also incorporate automatic leveling and vibration compensation feature controls into the system, empowering your printer to achieve higher performance.
For Ender-3 V2, Ender-3 S1 and Ender-3 S1 Pro, Creality Sonic Pad can connect to the printer with one click on the screen. For the rest of the Creality FDM printers and even non-Creality machines, the connection is also straightforward by following the provided instructions.
Creality Cloud
Creality Cloud is an integrated platform offering a one-stop solution for model downloads, cloud slicing, printer remote-control, and makers' tools. Creality has recently released its Designer Partnership Program to support 3D designers worldwide. Creality Cloud pays commissions to program partners and promotes their designs across the platform.
Creality Cloud has recently also launched its Premium subscription campaign, offering extra features to elevate advanced users' 3D printing experience.
In celebration of the launch, newly registered users will be offered one month of Premium subscription and an exclusive 3D model bundle free of charge.
Creality Ecosystem Announcements
Along with the printers, Creality has also announced the new edition of CR-Laser Falcon, a professional and user-friendly laser engraver with a very reasonable price.
Equipped with a 10W laser module, it can cut through wood board up to 12mm with one pass and engrave on objects as hard as stainless steel.
The focal spot of the laser is compressed to 0.06mm, enabling users to engrave finer pattern details. CR-Laser Falcon also offers online and offline modes and safety protection features, guaranteeing safe and convenient use.
Creality will be offering a variety of accessories for users to update their 3D printers, including the Spider High-temp Hotend that supports temperatures up to 300℃. For printing materials, Creality is launching the Better Filament Plan that consists of filaments with different materials and colors, and high-fidelity model resins.
For more information, please visit
store.creality.com/collections/accessories and store.creality.com/collections/materials.
Creality also releases the latest version of 3D scanner software, CR studio 2.0, that supports free OTA online upgrade.
Price and availability
The newly launched products are available in the United States at the Creality store,
Users in European countries may also purchase at this link.
You can see the prices of the various goodies in the table below.
| Model | Price |
| --- | --- |
| Ender-3 Neo | From $219 |
| Ender-3 V2 Neo | From $299 |
| Ender-3 Max Neo | From $369 |
| HALOT-RAY | $669 (retail only) |
| CR-Laser Falcon 10W | $519 |
Products are also available on Amazon and other affiliate stores. The HALOT-RAY is currently for retail only and not available online.
The availability of Ender-5 S1 and Creality Sonic Pad will be announced later on the official Creality websites, and right here on this website also.