British architect Norman Foster just unveiled his firm's designs for potential colonies on Mars or the moon. Along with his firm Foster + Partners, the architect is looking to change the way we view the future of space. Using 3D printing, robotics and VR, they've created a faithful demonstration of the colony and life in space. The firm has come up with interiors, exteriors and transport plans, all of which the audience can explore as part of the exhibit.
While world-renowned architecture firm Foster + Partners has made its name here on Earth, they appear to be shooting for the stars with this project. "… when considering extra-planetary structures, [robots and 3D printing] become an absolute necessity". Said Irene Gallou, head of the research and development unit at Foster + Partners in an interview with NBC. "Forcing ourselves to incorporate these features into relatively small, but highly complex buildings lets us develop our knowledge and project into the future."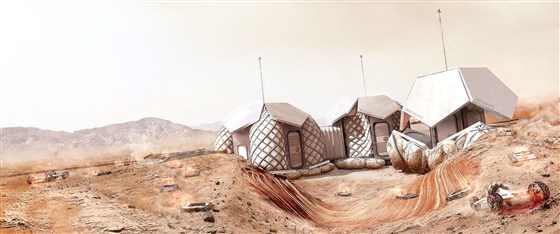 As part of the exhibition, visitors can take a VR tour of the red planet's habitat. While this is the simulation, make no mistake, Foster + Partners are dedicated to practical space gear. Visitors can also steer the robots into mars-like sandpits using remote controls. Eventually, all of these concepts will be space-ready and part of actual lunar or martian missions.
The habitats will be on exhibit at the Goodwood Festival of Speed in Chichester, England from July 12 to 15. The concepts came about in 2012, collaborating with the European Space Agency. They later showcased the concept at NASA's 3D printed habitat challenge.
Simulating Space Colonies With Modern Tech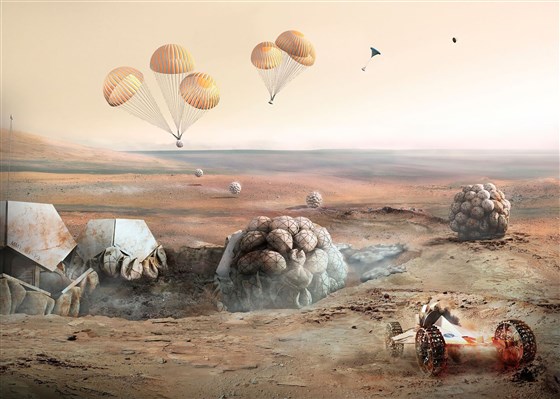 We've gone into the major links between space travel and 3D printing at length. One of the most ambitious projects scientists are undertaking in this field is that of building colonies and habitats. Similar versions have popped up before, however, this is the most detailed and thorough one. For example, this exhibit is showcasing inflatable pods that will land on the moon (as shown above) or Mars ahead of time, acting as the base of the settlement. Next, the robot-operated 3D printers will cement together loose soil and rocks to form a protective shield around the pods, that protects it from gamma radiation. The soft-landing system is reminiscent of the one NASA used on its Mars Pathfinder mission.
Similarly, they've even gone into the interior and living situations, which they will showcase at the festival. Four astronauts can live comfortably in this futuristic space pod filled with all sorts of sci-fi amenities. Visitors to the festival can go on a VR tour of the pod.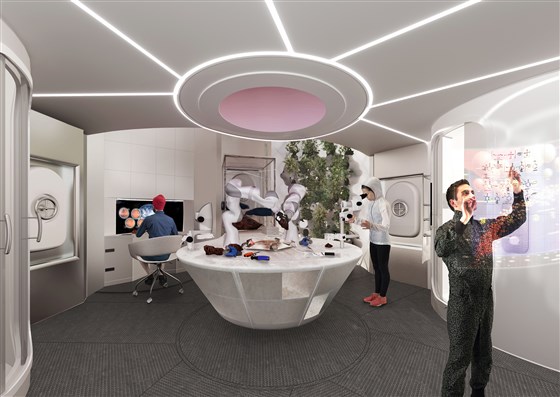 All featured images courtesy of Foster + Partners