As part of their "Go Beyond 4.0" project, Fraunhofer is looking to 3D print optics individually, while also allowing for mass production. The project proposes new material concepts and processing technology for multifunctional and individualized optical components. It also proposes new transparent hybrid polymer materials and illustrates the integration of apertures, electrically conducting tracks and mirrors into the structure of 3D printed optics.
The project is a collaboration between two sub-branches of the institute, Institutes for Silicate Research (ISC) and Optics and Precision Engineering (IOF). The ISC researched the uses of ORMOCERs, glass-like inorganic-organic hybrid polymers that form the basis of the optics. Meanwhile, the IOF provided new printing technology for higher quality production.
The initial material has had very good optical properties. Due to further development, it was refined for the enhanced 3D printing process, as provided by the colleagues of the Fraunhofer IOF. The combination of material and technology avoids defects on surfaces and in volumes that wouldn't otherwise result from 3D printing. Dr. Sönke Steenhusen, project manager at Fraunhofer ISC.
Developments in 3D Printed Optics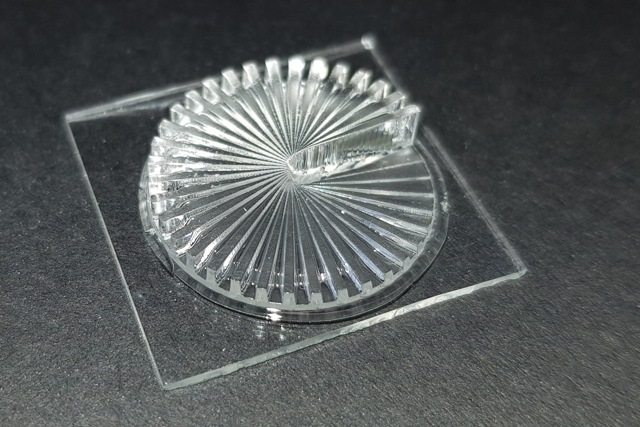 Fraunhofer's method has some added flourishes that improve the transparency and glass-like qualities in optics. In adding functional components such as apertures, electrically conducting tracks or mirrors, they simplify later assembly and enable highly complex designs. Thus, the optical systems they create by combining optical ORMOCER and digital manufacturing processes also have uses in advanced lighting.
For larger quantities, the Fraunhofer researchers are already working on the parallelization of processes. Most notably, they will be able to produce large quantities of optics but with varying properties for varying tasks. According to the company, they have solved "the contradiction" between individualization and mass production.
For quite some time, printed optics and lenses were not thought of as an ideal good for printing. However, companies and institutes like Fraunhofer and Luxexcel have been putting a dent in that perception. Both are offering customization and high transparency in their line-ups. Luxecel has also already achieved high production volumes for their operations.
The "Go Beyond 4.0" project is self-financed and combines the competencies of several Fraunhofer Institute branches to solve current industrial challenges. The project specifically looks into the individualization of single products in mass production environments with the employment of digital printing and laser technologies. The optics are just one such off-shoot of the project.
Fraunhofer's work with 3D printed optics is also a leap forward because systems for lighting require demanding levels of quality. They should ideally be able to  run for long terms while sporting high transparencies in the visible part of the light-spectrum. This makes the project quite promising for a number of applications including eyeglasses, lighting, microscopes and more.
Featured image courtesy of Fraunhofer ISC.