3D printed ophthalmic lens manufacturer Luxexcel and IFB solutions have been working together for a while now, 3D printing custom lenses matching the specifications of patients. Using Luxexcel's technology, IFB's Twenty200 optical lab has been able to ship at production rates of up to 1,500 units a day. The companies are also using their facilities to experiment with and produce lenses that would not be possible using traditional methods.
Although Luxexcel and their patented technology have been around since 2009, the two companies originally commenced commercialization of the lenses back in 2017. The Twenty200 lab is at the centre of this plan, operating with the ability to personalize each unit. Patients can enter their prescriptions and simply receive precise lenses that match their needs.
All in all, IFB's lab produces about 1,100 pairs of spectacle lenses a day. These include regular prescription ones and a significant number of special lenses such as slab-offs and prism lenses for low vision patients. Printing custom lenses in-house allowed IFB to slash its turnaround time, while reducing the range of equipment necessary. After all, Luxexcel's systems don't require generators, blockers, tapers and polishers.
IFB states: "In 2017, we created the Twenty200 brand to help customers better understand the positive social impact of their purchases. While 20/20 is perfect vision, 20/200 is the threshold for legal blindness. The Twenty200 brand name is a proud declaration of our purpose: to envision a better world."
Luxexcel's Technology at Twenty200
Luxexcel's work with the VisionPlatform is key to the production of these ophthalmic lenses. Traditional fabrication methods use semifinished lens blanks, then grind and polish the lens, thus producing a lot of waste material. 3D printing them avoids this problem entirely, creating clear and smooth lenses that are ready for coating. This, along with the lack of additional steps, makes the process far cheaper and faster.
While the technology ships a lot of pieces, it was never originally intended for mass production, according to LuxExcel. The "primary goal was to add value for the users" and enabling independent ophthalmic labs to offer unique products to their customers.
The Luxexcel 3D printer, the VisionEngine and the Luxexcel VisionClear material play a crucial role in the production chain. The printer crafts lenses by jetting UV-curable resins onto the curing surface. This acrylic-based material requires multiple passes of deposition, taking several passes until takes on the intended shape. As part of the process, the droplets flow and merge when they hit the surface, thus creating various lens shapes and features with optimal clarity and functionality. The printer can jet tiny droplets for precision or a larger number of droplets at high speed for faster production.
When the designers delay the deposition time of the droplet and the curing, the Luxexcel VisionClear material is given some time to flow and to form the smooth optical surfaces under natural surface tension. The company can print at a rate of 4 lenses/per hour but are also looking to accelerate the process with further research.
Customizable Lenses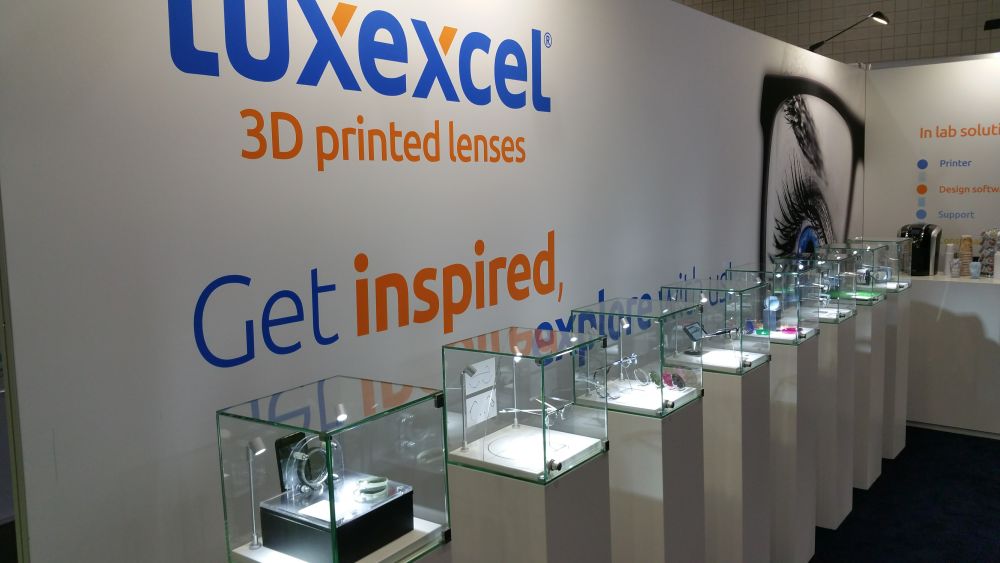 Originally, the system for customization required users to upload their models to the Luxexcel website, however this could be costly and cumbersome for patients so trinckle 3D and it's Customizing Cloud Engine offered an easier way forward. In cooperation with the Luxexcel team, they created the "Lens Creator – Plano Convex Lens" and the "Lens Creator – Plano Concave Lens" programs. This same ethos carried over to the VisionMaster platform, where users (both patients and eye-care professionals) could enter their prescription and design lenses.
The Luxexcel VisionMaster Software is responsible for a lot of the design possibilities that go into these lenses. This includes the surface prescription, functionality and design shape. The Luxexcel VisionMaster also allows ophthalmic labs and eye care professionals to tailor their custom lenses themselves. As Luxexcel states, they want to create lenses with designs that aren't possible with the legacy production methods.
The software brings in options to style the glasses for leisure wear, occupational wear, lifestyle glasses and other applications. It also allows for a number of types of lenses like aspheric lens designs, prisms that eliminate the need for slab-offs or specialty lenses like high diopter lenses or lenses with high cylinders.
Featured image and video courtesy of Luxexcel and IFB Solution.