The French armed forces have been employing 3D printing to produce spare parts for far-off bases in regions such as Mali. Since procuring supplies and equipment on the field can be cumbersome, the military contracted Desert Tactical Group – Logistics "Charentes" in testing 3D printed replacements for broken components. With the aid of Formlabs and Ultimaker 3D printers, they have managed to severely speed up the supply chain and cut part transportation costs.
Technologies like additive manufacturing and 3D scanning can be a great means of simplifying operations for bases in desolate areas. The French Army have been 3D printing multiple parts including protective shells, seals, and parts for optics, which would be otherwise inaccessible for places like Mali or Niger. On top of that, the French armed forces are maintaining a base that houses 4,500 personnel. These factors make equipment supply and maintenance even trickier, so 3D printing is a natural solution.
If we take the example of an ignition button for a P4 vehicle, it is obvious. Instead of having to order a part, immobilize the vehicle for several days and change an entire power system, I make a replica with the 3D printer in a few minutes, the part is changed and the vehicle is back up and running. Quartermaster Quentin
Military Projects & Spare Parts Manufacturing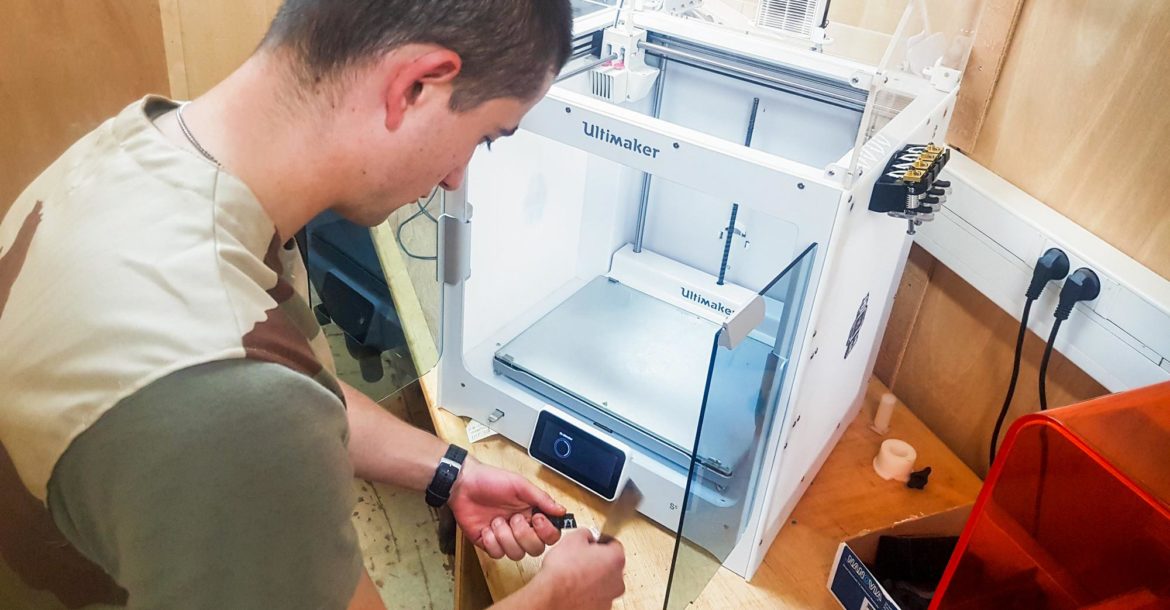 The French military are also using the technology to produce parts and improve them over successive iterations. Quartermaster Quentin takes part in just about every step of the printing process, from 3D modeling to the choice of materials. The future object can thus be a precise fit for its function. "The key is choosing the right material that will impact the machine's print speed and the strength of the part."
As we've previously covered, the French Army is not the only military leveraging 3D printing. It's a great solution to spare parts production and logistics but also offers other benefits. It's already aiding various militaries in terms of prototyping and the production of end-use functional parts. It also allows for militaries to make the best use of the materials available to them, through material recycling programs that certain US military bases are implementing. Additive manufacturing is proving to be a strategic resource both on the field and off.
Featured image courtesy of État-major des armées.