It's approaching that spooooky time of year again, and Creality is slashing the prices of their HALOT-ONE series of resin printers like a masked intruder in a houseful of teens in a Wes Craven movie.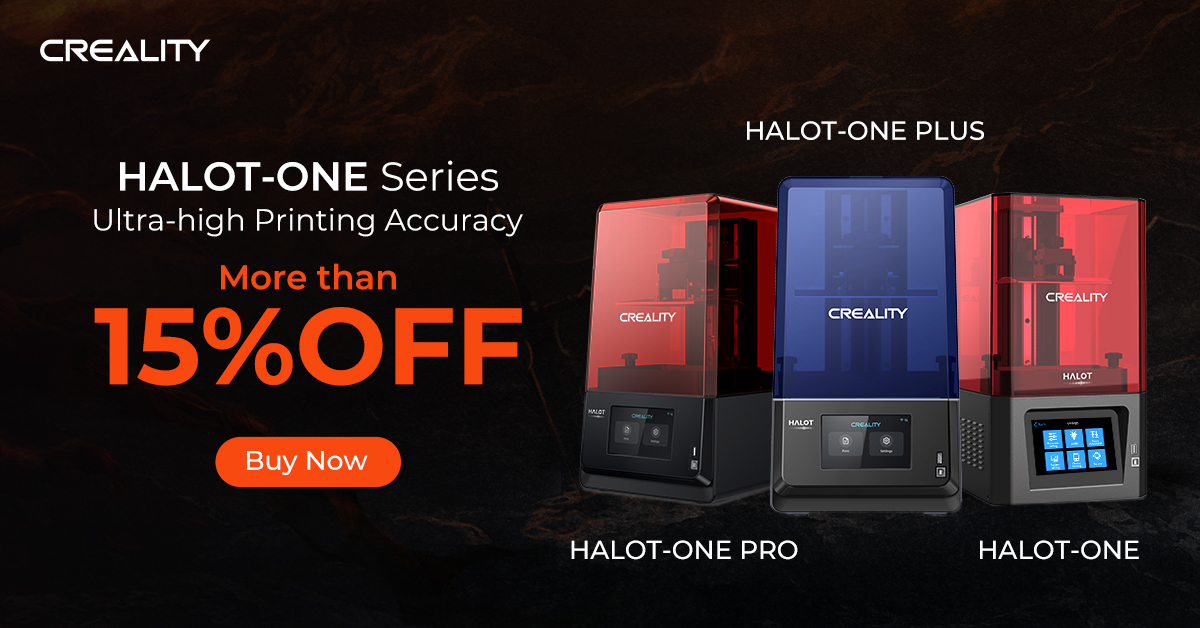 In this article we will see what the 3D printing giant is offering through the month of October leading up to All Hallow's Eve.
HALOT-ONE Series
The HALOT-ONE Series of resin printers come in three varieties offering a pocket-friendly option for those wishing to get into resin printing. During October, customers can get more than 15% off, making them even more accessible and easy on the wallet.
.
All of the HALOT-ONE series printers feature the Integral Light Source technology, developed in-house by Creality. Unlike the Parallel Emission technology common in most resin printers, it
offers enhanced lighting intensity, super precise printing, and excellent light evenness.
We have covered the Integral Light Source technology in depth in a previous article.
Let's look in detail at the full range of HALOT-ONE printers which includes the baseline model, the HALOT-ONE, and for users wanting extra features there is the HALOT-ONE Pro and the HALOT-ONE Plus.
HALOT-ONE
The original HALOT-ONE has a 6-inch 2K LCD monochrome screen with a 2560 x 1620 pixel
resolution, Wi-Fi connectivity, a large 5-inch color touchscreen, and a 127mm x 80mm x160mm build volume. The HALOT-ONE also comes with an air filtration system with an activated charcoal filter will help filter out the fumes effectively.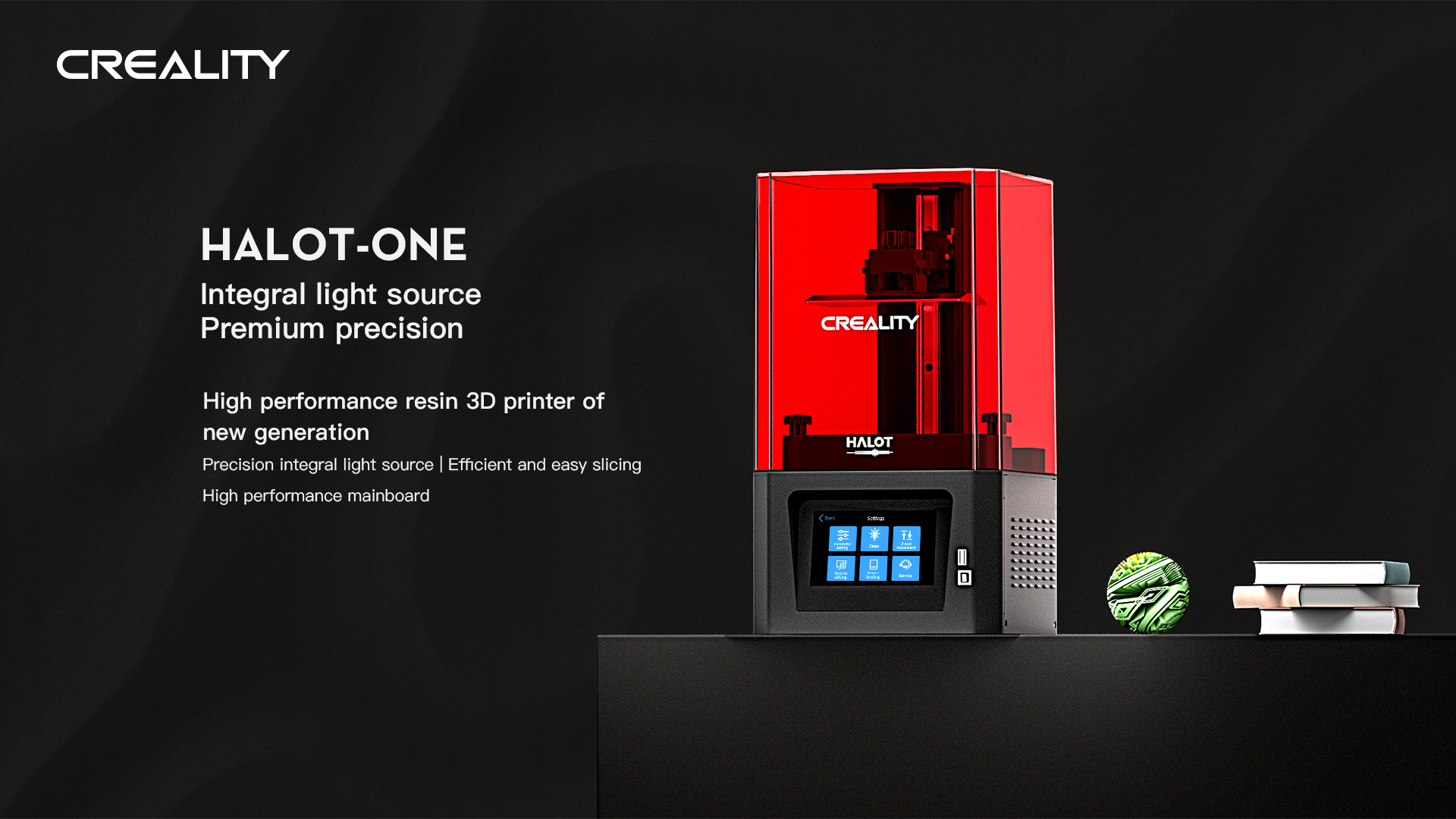 Powered by an ARM Cortex-M4 CPU, the HALOT-ONE brings you high resin printing performance at a low price.
Originally priced at $289, the HALOT-ONE is now available for the even lower price of $145 during the month of October when purchased at the Creality Official Store.
That is a SPOOKTACULAR price point for those wishing to try resin printing for the first time.
HALOT-ONE Pro – for better performance
As the suffix "Pro" suggests, the HALOT-ONE Pro has better specs than the HALOT-ONE.
Debuted in April this year, the HALOT-ONE Pro carries a larger build volume of 130mm x 122mm x 160 mm, and a 7.05-inch monochrome 3K monochrome LCD with a 2560 x 2400 pixel resolution.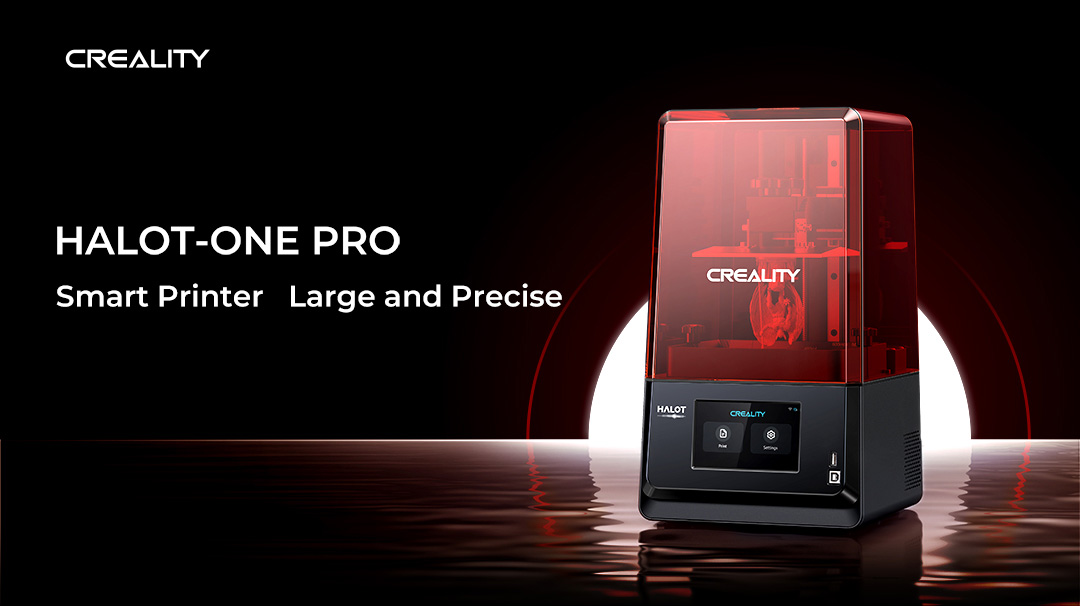 It also integrates Wi-Fi connectivity, air filtration, and remote control features.
The 5-inch touchscreen of the pro version supports 14 languages including English and Chinese making it more accessible to users worldwide.
During printing, the model can be rendered on the screen for better visualization. In addition to the USB port, you can connect the HALOT-ONE Pro via Wi-Fi, setting up prints remotely from a PC or from Creality Cloud.
The pro version is equipped with dual z-axis linear rails that give the printer extra stability and layer accuracy over the baseline model.
The HALOT-ONE Pro normally sells for $349, but during the Halloween sale a $51 discount is available. That's a fiendishly good bargain!
HALOT-ONE Plus – for larger build volume
The HALOT-ONE Plus is the biggest in the range, offering a 7.9-inch 4K monochrome screen with a 4320 x 2560 resolution.
With a large build volume of 172mm x 102mm x 160 mm, the plus version unlocks more creative
Possibilities for your resin printing needs. In addition to remote features, you can also add a camera module to the printer to view the prints in real-time while you are away from the printer.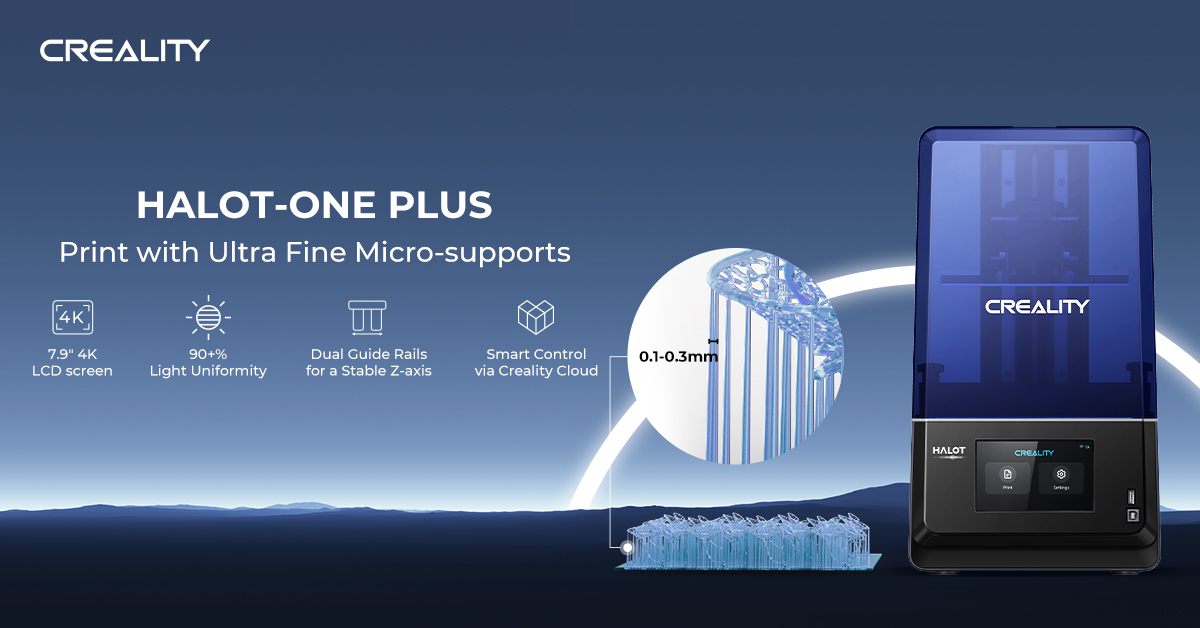 Just like the Pro version, it has dual linear rails offering stability and better print quality, and
integrated air filtration system to remove the odors.
If you prefer a larger printer with great remote monitoring capabilities, the HALOT-ONE Plus at $399 is a great choice.
Creality will offer a discount from October 10th till October 30th meaning that you can get one for only $339.
The three models of the HALOT-ONE are available at this store for customers in the United States, and European countries can find their ghoulishly good bargains over at this store.
For more details on the range of HALOT-ONE resin printers, head on over to the official website for more information.