Bringing a product to market can be a long process. Even when you have the perfect design on paper, turning that concept into a usable object represents a big jump. One cannot simply hand a blueprint to a manufacturer and hope that everything turns out fine.
The gap between design and manufacturing is a significant one, and one that involves figuring out exactly how the design could and should be manufactured, before it is put into the hands of the manufacturer. Make the jump too soon, and with too little preparation, the results could be catastrophic. Leave the important tasks to a non-expert and the product's chances of success could be ruined.
3ERP, an international prototyping company based in the Guangdong Province of China, is a specialist in bridging the gap between design in manufacturing. With expertise in a wide range of prototyping services, from CNC machining to injection molding and everything in between, 3ERP knows how to develop a concept into a product that is ready for manufacture.
But while 3ERP is expertly skilled with its machinery, bridging the gap between design and manufacturing is about more than simply feeding material through a CNC mill. When 3ERP receives a design, the company evaluates how it should be made, considers the material possibilities and discusses the manufacturability of the product relative to budget, proposed quantities and other factors.
Only then can the design be transformed into a production-ready product; only then can the gap be bridged.
Bridging the gap with prototypes
Prototypes are early versions of a product made before the production stage. They can be used for several purposes — to demonstrate a product's viability to investors, to put it to the test in a functional capacity, to see how it looks — and are considered a necessity for virtually all physical products.
By creating prototypes, several tasks can be accomplished: firstly, the team carrying out the prototyping can find out whether the design can be manufactured in the way originally planned; if not, it can make certain adjustments in preparation for making the prototype. Once this stage is complete, the prototyping team can consider different manufacturing processes, configurations and materials for the product. 3ERP offers a wide variety of prototyping options, each of which offers particular advantages.
CNC machining
3ERP's fleet of CNC machining centers, which includes 5-axis, 4-axis and 3-axis machines, is capable of producing prototypes of all varieties to the tightest tolerances. Technologies like CNC milling and CNC turning can be used to create objects from scratch, or to add details to existing products, while a range of material and finishing options allow businesses to optimize their product.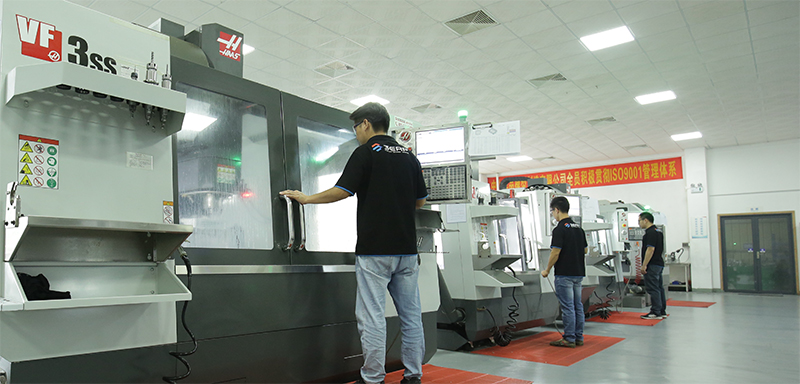 Since CNC machining is a widely used manufacturing process for end-use products, a CNC machined prototype can give an excellent indication of a product's viability. The process is also ideal for one-off prototypes, since it is not a duplicative process.
Casting, tooling & molding
In addition to its CNC machining capabilities, 3ERP offers a range of casting, tooling and molding processes, each of which can be employed to produce prototypes in larger volumes.
Although it is a completely different process, vacuum casting is closely related to CNC machining. To make vacuum casted prototypes, 3ERP first creates a master model with one of its CNC machining centers, before using that machined model to produce a silicon rubber mold. With this rubber mold, accurate duplicates of the master model can be made in a wide range of casting polymers.
There are other ways to create molds, too. For more demanding jobs that require high volume production or the use of plastics that are abrasive or corrosive, 3ERP can offer a rapid tooling service, in which highly durable molds are created from aluminum. Injection molding can then be used to create large quantities of parts with the aluminum molds.
3ERP also works with select partners to provide a pressure die casting service, allowing low-volume production runs of products made from aluminum, magnesium and zinc, as well as investment casting in brass and steel.
Prototypes made using a casting and molding process can help businesses move to production in various ways. For one, the molded duplicates can used for engineering tests and other technical procedures. But since they are of a high aesthetic standard, they can also function as display demos, helping businesses acquire financial backing that can pave the way to large-scale production.
Prototyping via 3D printing
One of the newest forms of prototyping is 3D printing or additive manufacturing, and 3ERP also offers prototypes made using this technology. At present, the company can create prototypes using Fused Deposition Modeling (FDM), Stereolithography (SLA), Selective Laser Sintering (SLS) or Selective Laser Melting (SLM) processes.
Although 3D printing is not commonly used for end-use manufacturing, 3D printed prototypes are an excellent way to bridge the gap between design and manufacturing. 3D printing can be used to produce complex shapes, making it a good blanket technology for prototyping parts that will later be made using other processes. Furthermore, a wide selection of material options is available across 3ERP's four additive technologies.
Sheet metal prototyping
For simpler parts that largely consist of a flat surface, sheet metal prototyping can be the most appropriate method of creating a prototype. With processes that include bending, punching and cutting, 3ERP's sheet metal services are suitable for clients in automotive, aerospace, medical and many other industries.
3ERP offers sheet metal prototyping services in a range of materials and gauges, and can even offer a variety of finishing options, including bead blasting, anodizing and powder coating.
More than just machines
It's one thing to know how to operate a machine, but it's another thing entirely to know how a rough-hewn design can become a finished product.
Knowing how to help businesses turn their designs into suitable prototypes and marketable products is an important quality with rapid prototyping. This involves not just carrying out the physical labor, but closely examining a design and considering the routes to realizing its full potential.
Contact 3ERP to discuss your concepts with them.