With the rise of XL 3D printing over the past few years, commercial uses are diversifying every day. Larger prints are making their way into manufacturing, construction and so many more industries. Tractus3D is highlighting another use for large format additive manufacturing: signage, retail and displays for everyday stores, businesses and exhibitions. Their machines open up a lot of avenues in the production of large, intricate designs for display advertising, set-dressing and lighting.
Tractus3D's large format 3D printers bring in a massive build volume, fast print speed and high consistency for producing these eye-catching elements for shops, events or architectural designs. Their 3D printers particularly highlight how additive manufacturing can produce parts that encapsulate the entire object and pass loads throughout without disruptions in the build. Thus, prints have better compression and tension-bearing abilities. This makes them ideal for large displays and fixtures.
Tractus3D T2000
Features
- Extremely fast printing with the F033L print head
- Huge print area: 680 mm (D) 1000 mm (H)
- Can print a wide range of specialty materials
- Complementary Simplify3D software licence
- XL 3D printer that is designed to be used in the office space
Specifications »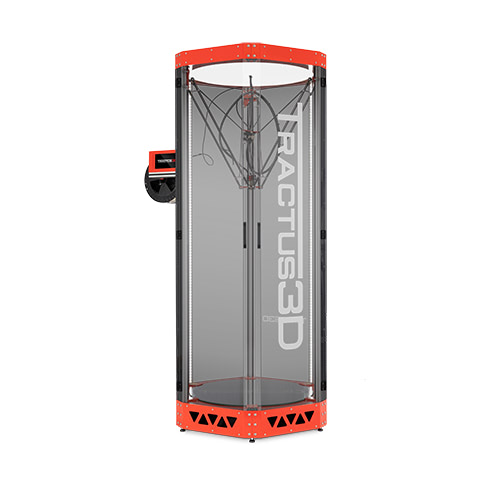 Of course, one of the main advantages large volume printing provides is the ability to produce objects in one flow. Many artists made pieces over 20 feet long by incorporating 3D printing into their arsenal. This eliminates the need for assembly, foregoing all the gluing, melting and mechanical welding. With fewer pre and post-processing worries, users can save time and money and produce full-size objects as well.
There are also creative and practical reasons to adopt the technology. Scale models of gadgets, toys, newly designed point of purchase displays, etc. can be useful for sales and visualization purposes. Not to mention, the benefit of how much more detail users can infuse by adding methods like lost wax processes.
Use Cases for Large Scale 3D Printers
Large format 3D printing allows for the creation of so many new forms of signage and retail projects. The freedom it gives to designers allows for truly unique forms to emerge and help businesses express their own aesthetic with vivid shapes and wild lettering. Here are just some of the ways firms, exhibitions and stores can employ the technology:
Soft Signage – Frames
One of the more interesting possibilities is in that of materials allowing for soft signage and frames. Digital textile printed soft signage allows for fabric graphics to be inserted into a frame for better effect. While traditional methods mean that these frames are aluminum, wood, acrylic or steel, 3D printed signs could upstage this field by being cheaper and more intricate with the use of thermoplastics.
Branding with Channel Letters
Similarly, channel letters provide ample ground for experimentation with additive manufacturing. Custom-made lettering (as in the image above) is usually metal or plastic and often features internal illumination. 3D printing channel letters on demand with a large format printer can save a lot of time and money, while incorporating never before seen fonts and designs.
Sculptures & Furniture
Making custom chairs, fixtures, mannequins and lighting specifically for the lay-out of your own premises. Showcase your products with statues, product designs and large-scale models. Printing your own mannequins, for example, reduces the production time from 8 weeks to 2 days.
Custom Lighting
With the ability to print hollow objects, there are all sorts of designs one can turn into lampshades or wall hangings for lights.
Point of Purchase Displays
Tractus3D make it a point to highlight how large format 3D printing can embellish the promotion and operations of a business. A great way of helping out businesses and stores is to customise and print point of purchase displays. Depending on the material and post-processing method, anything eye-catching is possible.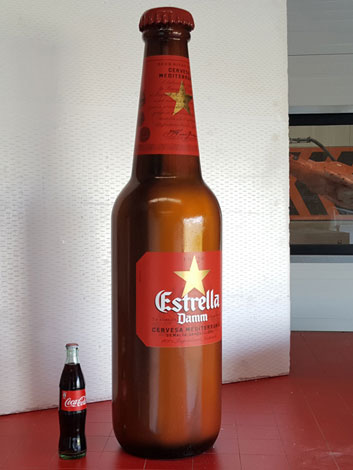 Exhibition Designs
Promote your business or store by designing its aesthetic signifiers in a portable form. It helps add more personality to exhibition kiosks, promotions and displays that stores set up. Statuettes and colorful promotions can really aid in getting a message out, especially during bustling fairs and conventions. It's a surefire way to get notice and stand out among the crowd.
Interior Decorations
The ability for personalization isn't just great for signs and attractions, but also for jazzing up the store from within. Interior decoration, for example, benefits greatly from 3D printing. Build your own plaques, signs and stands to actualise a businesses vision.
Ornaments and Architecture
Large format 3D printing also simplifies construction and renovation projects, allowing for busts and arches to be produced on demand.
Featured image courtesy of Tractus3D.