As 3D printing further progresses into industrial usage, many of the main additive manufacturing companies are upping the ante. Now with HP's 5200 series, the world-renowned conglomerate is pushing for mid-volume production with an accuracy and repeatability similar to that of injection molded plastics. As a result, they hope boost Jet Fusion technology with wider-ranging materials and more reliability.
HP's 5200 series is also part of a wider trend that the company has been undergoing. Their 500/300 series targeted functional prototyping, while the 4200 takes on short runs and production. With the 5200 series they hope to tackle middle volume workflows for "production environments producing over 200 parts per week".
Currently, the HP Jet Fusion 5200 Series includes three machines: the 5200, 5210 and 5210 Pro. All three embody a similar production quality so the main differences come down to running costs and volumes they produce. The 5200 can manage approximately 800 parts per week, but if a company needs even higher unit production, they may find the 5210 more economical. There are also other differences, such as the 5210 including better scanner calibration for the print bed and more materials.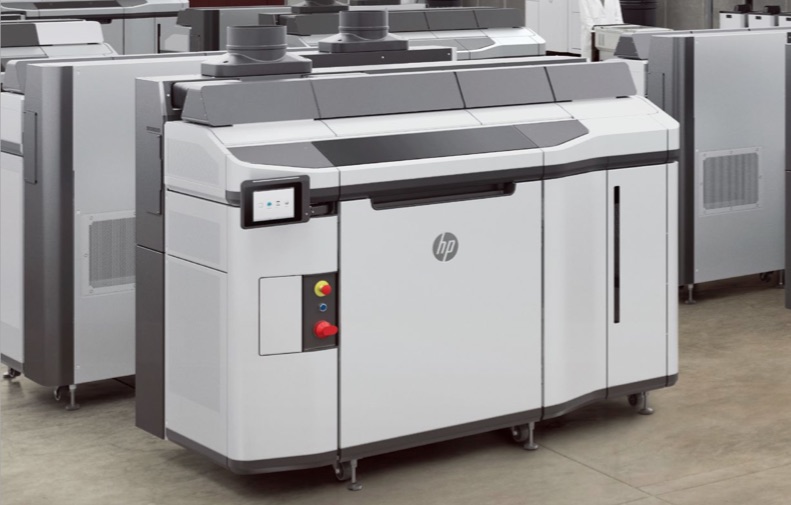 "The HP Jet Fusion 5200 Series unlocks production opportunities to move them into digital, thanks to its manufacturing predictability, breakthrough economics, and the enablement of new applications," said Ramon Pastor, Vice President and General Manager of HP.
One of the big upgrades the 5200 series brings to the table is the upgraded lamps. With the added power, the lamps can now heat at higher levels. This enables one pass of the printhead to achieve significantly higher effect. The higher temperatures also give the printer better capabilities in terms of materials it can fuse together.
HP Mid-Volume Production, Materials & More
The announcement came from on-site at the Siemens' facility in Erlanger, Germany. Along with the Jet Fusion 5200, the company also brought out other major reveals. Along with the printer, HP released a cooling unit, which automatically removes a finished print bed and replaces it with a fresh one to minimize downtime. The 5200 series is also supported by three new software releases: HP 3D Process Control, HP 3D Center and the HP 3D Parts Assessment Service.
Along with the printer, the company is also launching their new TPU material and their Digital Manufacturing Network. HP also announced new "industrial alliances" with Siemens, BASF and Materialise. BASF has actually had significant input in the production materials for the Jet Fusion 5200 series. Similarly, Materialise will integrate the 5200 series within their Build Processor and Magics 3D Print Suite.
"The market is clearly embracing 3D printing for production and, as a long-standing HP partner, we are proud to expand our collaboration to new areas," comments Fried Vancraen, Founder and CEO of Materialise. "Our customers are excited by our tighter integration with HP, our joint work on new applications and materials, and our commitment to scale high-quality part production."
Featured image and video courtesy of HP.