Austin-based ICON previously debuted their 3D printed house at SXSW, showing off an affordable construction alternative. Now, the company is building a lot more of them, having cleared it by regulatory standards for housing permission. Their Vulcan II printer can potentially build 650-square-foot houses for as $4,000-$6,000 dollars. The company believes that their work could help fix the housing crisis.
The technology behind 3D printed houses cleared the regulatory phase in 2018, and so ICON can now truly focus on larger projects. In a collaboration with nonprofit New Story, they built a 650-sq-ft home with separate bedroom, living, bathroom, and kitchen areas, truly showing off what the gantry style printer can do.
Another reason this project has a lot more legs than its various predecessors is the materials. With the use of lavacrete, the company has produced houses that can withstand various extreme weather conditions, even going so far as to minimize the impact of natural disasters. The material provides an ample basis for the frame, with traditional materials making up the windows and roofs etc.
The method is also sustainable, which a lot of 3D printing construction projects are aiming for. ICON's work allows for high thermal mass, while producing little waste. It even has the benefit of easy transportation, as the printer can fit in a trailer. As a result, they can build in areas that giant construction crews may not find accessible.
Vulcan II & Printing Houses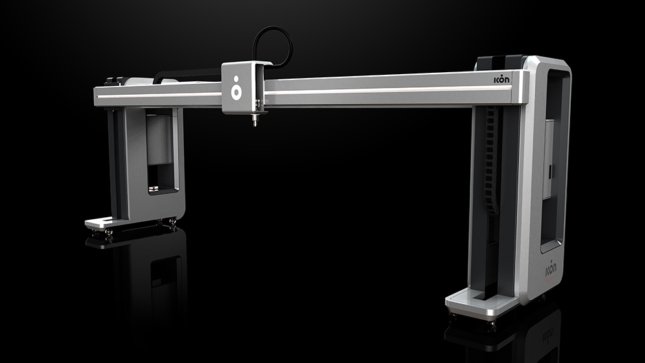 The Vulcan II is at the centre of the firm's operations. It employs a single gantry system and operates on the spot. It uses a novel "automated material delivery system", which ICON calls Magma. In the delivery process it can blend lavacrete with various additives and hydrate it using built-in water reservoirs. Aside from their easy transportability, both the printer and the materials can operate in conditions with limited water, electricity and construction-friendly infrastructure.
The lavacrete's composition can also vary from iteration to iteration. This allows ICON to custom-tune materials to the particular conditions of each location or the needs of the house. It allows for designers to account for temperature, humidity, altitude and other factors.
The Vulcan II is operable with a tablet as the control hub. It even comes with a software suite for converting CAD drawings into printable formats like obj. Considering the cost-cutting it manages, along with the accessibility and apparent ease of use, ICON have a very promising technology on their hands.
Featured image courtesy of ICON and Architect's Newspaper.