Indian aerospace engineering company Agnikul Cosmos has opened their first rocket printing factory at IIT Madras Research Park, Chennai.
"Rocket Factory-1" is intended to churn out two rocket engines per week with their EOS printers and other machinery. This will allow the production of one complete launch vehicle per month.
The factory contains all the tooling and hardware required to produce the whole engine in the same facility.

The 18m tall, 1.3m diameter, three-stage rocket is named Agnibaan, which means "arrow of fire", and is capable of hoisting a 100 kg satellite into a 700 km orbit.
According to the company website, the combustion section of the first stage will be 100% 3D printed. Looking at the image of their printed rocket motor below, it appears that this includes the injector plate, combustion chamber, cooling channels, and throat section.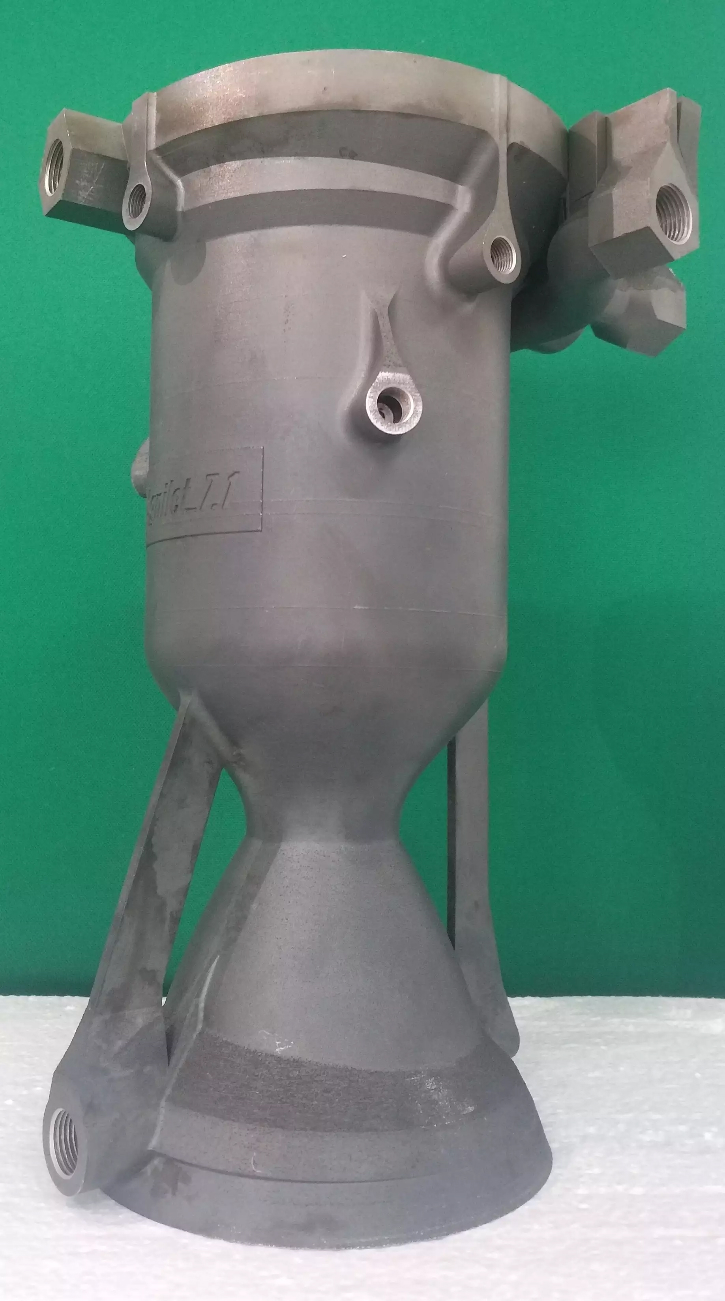 The printed engines are named as the "Agnite" and the first stage of the launch vehicle is powered by 7x printed Agnite engines optimized for sea level.
The second stage uses Agnite engines that are optimized for vacuum operating conditions. An optional baby stage can be fitted in the third stage under the payload fairing if required.
The company has also printed portions of the LOX pump, which is powered by an electric motor. You can see more about that in the video below.
The rocket is designed to be launched from multiple sites and so comes equipped with a mobile launcher dubbed "Dhanush", which means "celestial bow"- a perfect moniker for a device intended to launch fiery arrows towards the heavens.
"This is a milestone for us as we go from R&D phase into core manufacturing with the opening of this facility, and begin productionizing the launch vehicle engine making. We have a lot of inbound interest [for launches] from global quarters going up to 2024," said Agnikul co-founder Srinath Ravichandran.
"At full scale, the facility will have around 30-35 people working on various processes and machinery, and we have already staffed the factory with over 90% staff".
Currently Agnikul and other Indian rocket builders are not permitted to utilize the country's national space agency assets to launch rockets. However, India is set to introduce new space policies in the coming weeks that will permit private entities such as Agnikul to launch from ISRO facilities. Agnikul had signed an agreement in advance with Indian Space Research Organisation (ISRO) under the IN-SPACe initiative to have access to ISRO facilities.
This move to permit these partnerships between startups and the agency has been inspired by seeing the success of US companies (such as SpaceX) similarly using NASA infrastructure for launches.
It is planned to offload engineering and manufacturing work from ISRO to local private entities, so ISRO can focus their efforts on research.