Lockheed Martin has just finished quality testing a fuel tank for orbital satellites. The company has reduced lead times and cost effectiveness through producing it in 3 parts. 3D printing played a significant part in the overall production.
The high-pressure tank will hold fuel under the intense stress of orbital space on-board crucial satellites. The key to balancing of the fuel tank's features was in finding a material that was both durable and lightweight. Titanium did the trick, especially at being able to withstand the intensity of space travel for large amounts of time.
While it's a great material, there is the issue of processing such a large slab of the metal. Forging titanium that measure 4-foot-diameter and 4 inch thickness can take upwards of a year. Additionally, traditional methods can result in a wastage rate of 80%. So, instead the company used EBAM at their own facilities in Denver. Consequently in the final design, the 2 domes are 3D printed, while the main body of the cylinder was traditionally manufactured.
Lockheed Martin's 3D Printing For Space Applications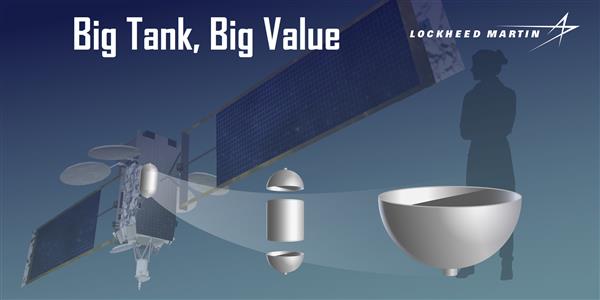 Lockheed Martin has a long history of linking 3D printing and space with each other. "Our largest 3D printed parts to date show we're committed to a future where we produce satellites twice as fast and at half the cost," said Rick Ambrose, Lockheed Martin Space executive vice president. "And we're pushing forward for even better results. For example, we shaved off 87 percent of the schedule to build the domes, reducing the total delivery timeline from two years to three months."
Lockheed Martin also had the honour of sending out the first ever printed parts into deep space aboard NASA's Juno spacecraft. The company has since produced many flight components for major missions. Now, this satellite fuel tank is one of the largest 3D printed parts to go out into space.
Featured image courtesy of Lockheed Martin's Website.