Lenses are among the most delicate objects to manufacture. Slight imperfections have massive ramifications for the quality of the overall product. Thus, lens manufacturers have been mining the possibilities of 3D printing due to its ability to work with precise instructions. In this same vein, German company Nanoscribe has developed a new printer that takes lens printing to the nanoscale.
We've previously covered different types of optics printing techniques. This new advent, however, is in the field of micro-optics. Through the use of a 2-photon polymerisation system, the company has developed a one step process for creating broad range of almost arbitrary micro-optical shapes. In essence, what this means is that this process allows them to create a myriad of refractive micro-structures such as refractive micro-optics, freeform optics, diffractive optical elements and even multiplet lens systems.
Applications Nanoscribe's Optical 3D Printers
The process is very different from standard lens production methods. Grinding and polishing are the usual modes for creating lenses. This is far more precise and works with a higher resolution than previously allowed. On top of that, the company has stated that it produces a smoother surface for the lenses.
Another interesting feature is the ability to create fiber optics in the form of photonic wirebonds. These relay light from one structure to another. This allows for a whole range of possibilities such as passing light from one optic to another or to photonic chips.
The University of Stuttgart experimented with the Photonic Professional GT in microchip production. They printed Complementary Metal-Oxide Semiconductor chips that use tiny lenses to process images. This method provided extra resolution boost. These sorts of lenses can be used for improving cameras and adding to the focus, width and range capabilities.
It also allows for the production of diffractive optical elements and very intricate hemispheric micro-optics. These shapes can greatly increase the possibilities of lens production and would not have been possible without the nanoscale resolution that this process offers.
Photonic Professional GT Optics Printer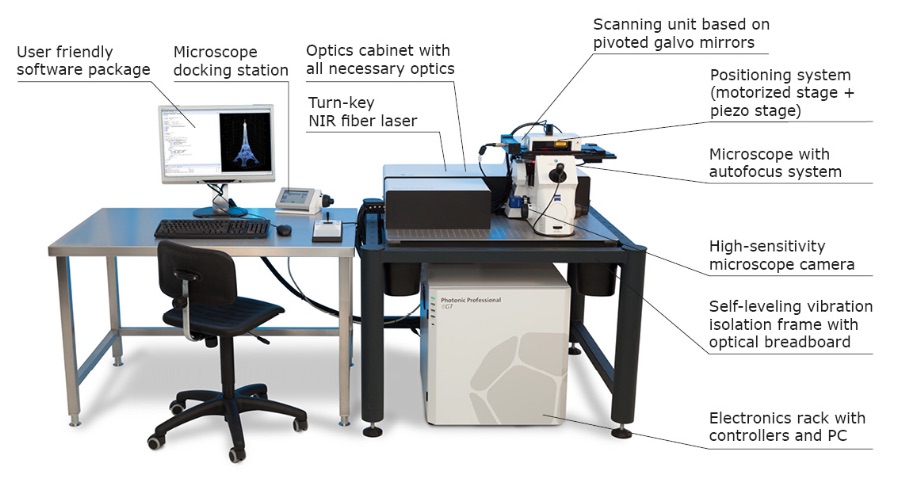 The Photonic Professional GT uses 3D laser lithography to create high resolution micro prints. It has a writing area (build volume) of 100 x 100 square meters. This device also allows the uses to monitor the entire process in real time via a high power microscope.
It has an ultra-precise piezo mode for arbitrary 3D trajectories (FBMS) and the high-speed galvo mode (MBFS) for fastest structuring in a layer-by-layer fashion. The PPGT supports CAD imports and standard STL formats. It also has a 2 photon polymerisation system for processing UV curable photoresists along with 2-photon lithography of common positive-tone photoresists.
It is aimed at research and development in scientific fields. While this article only covered its uses in lens productions it appears to be a diverse machine with various other applications for nanoscale printing projects in micro-fluidics, medicine or micro chip production.