The NextGenAM project that began in 2017 to demonstrate an automated 3D printing production plant has completed the pilot phase. NextGenAM is a joint project between Premium AEROTEC, EOS, and Daimler with the goal of developing a digitalized AM production plant that can cost effectively produce parts for the automotive and aerospace sectors. It's estimated that their production line will reduce the costs of manufacturing by 50% compared to other 3D printing systems.
"As far as the aircraft industry is concerned, Premium AEROTEC is today already an international pioneer in the field of metallic 3D printing. The aim now is to build further on this expertise and to bring it to bear in other sectors as well," said Dr. Thomas Ehm, Chairman of the Executive Board of Premium AEROTEC. "The successful conclusion of NextGenAM thus represents another important building block in our strategy."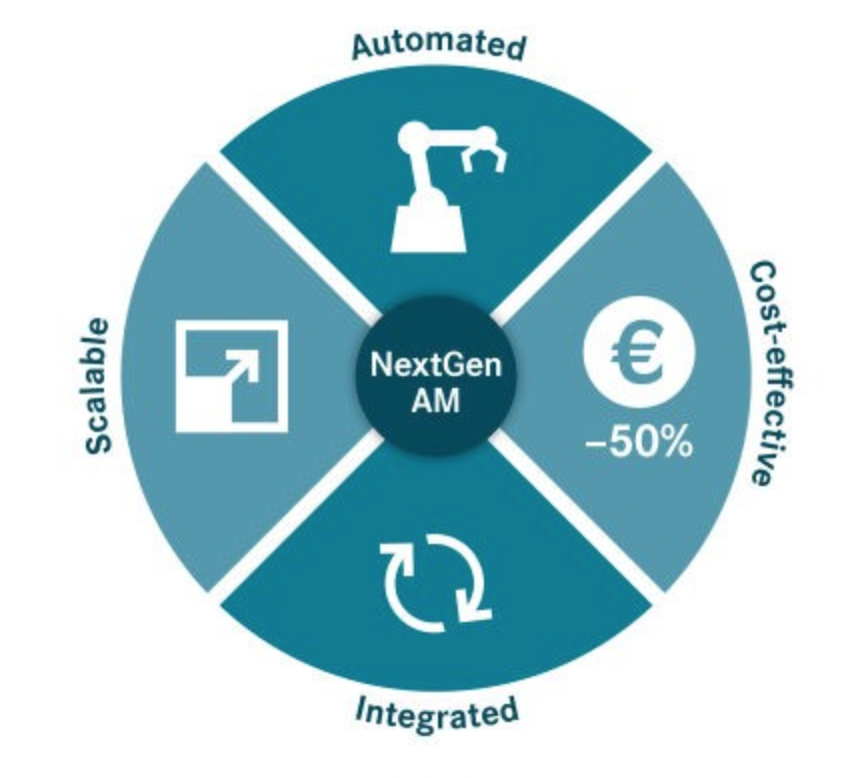 Premium Partnerships
Premium AEROTEC was the first component manufacturer to supply 3D printed titanium parts for the series production of Airbus aircraft, so they handled the management of the production process. EOS supplied all of the equipment and software for the project; their EOS M 400-4 four-laser system did all of the heavy lifting at the center of the production line. Aluminium alloy (AlSi10Mg) was used for most testing and production, and significant strength and finish quality improvements were realized during the last two years of development.
The entire production line has been automated. There's no manual work required from the data preparation to the final part separation from the build platform, which is cut off by a robotic saw. All of the metal powder loading and unloading, printing, heat treatment, and quality assurance is fully automated with robots and a driverless transport system. The entire production line is operated via a single control station.
Dr. Adrian Keppler, CEO of EOS, stated: "We are very proud of what we have been able to achieve in collaboration with our partners Premium AEROTEC and Daimler. The NextGenAM project has provided a very tangible demonstration of how industrial 3D printing can be used cost-effectively in series production as part of an automated process chain. In combination with the possibilities for digitalisation as used here, the pilot plant represents nothing less than a milestone along the way to digital manufacturing."
Expert Opinions
After extensive testing by Daimler, the processes and parts have all passed the industry standard qualification checks and production of serial parts has already begun. One example is an aluminum bracket for a diesel truck engine. The first 3D printed aluminum replacement parts for buses are currently being evaluated by the Centre of Competence for 3D printing at Daimler Buses and there are plans to produce parts for gas-powered and electric cars.
Jasmin Eichler, Head of Future Technologies at Daimler AG, explains the desire to bring AM to the automotive sector: "Additive Manufacturing is also suitable for smallest-series production of new vehicles (limited editions). Systematic development of the parts specifically for 3D printing means that the production costs can be further reduced and the quality optimised. 3D printing also makes particular sense during the advance development of vehicles. The low numbers required can often be produced more cost-effectively, and faster, with Additive Manufacturing than with conventional production processes."