A team of researchers from Khalifa University in Abu Dhabi has developed a means of 3D printing rugged optical fibers that can be used as temperature sensors. The group has published their findings in the Additive Manufacturing journal.
Using polymer resins embedded with color-changing powders, the researchers have been able to produce flexible and tough optical fibers that are vastly more robust than the traditional (brittle) kind that are made of glass.
More Robust
While industrial sensors made from glass fiber optics are commonplace, they are prone to readout errors due to the harsh environments they are often placed in.
"Optical fiber sensors can work in harsh environments as they are immune to electromagnetic interferences and have remote sensing capabilities," said Dr. Haider Butt, Associate Professor of Mechanical Engineering, at the university.
"They show high sensitivity but they do have durability issues and are prone to be affected by small mechanical disturbances. Polymer fiber-based sensors could be an alternative solution because of their robust strength and efficiency. They are also unaffected by ambient disturbances. Polymer-based fibers exhibit low sensitivity, but they are relatively accurate and reusable."
Industries using such glass fiber optical temperature sensors include farming, chemical engineering, medical diagnostics, power generation and oil & gas pipelines, and so these industries stand to benefit from robust new optical sensor options.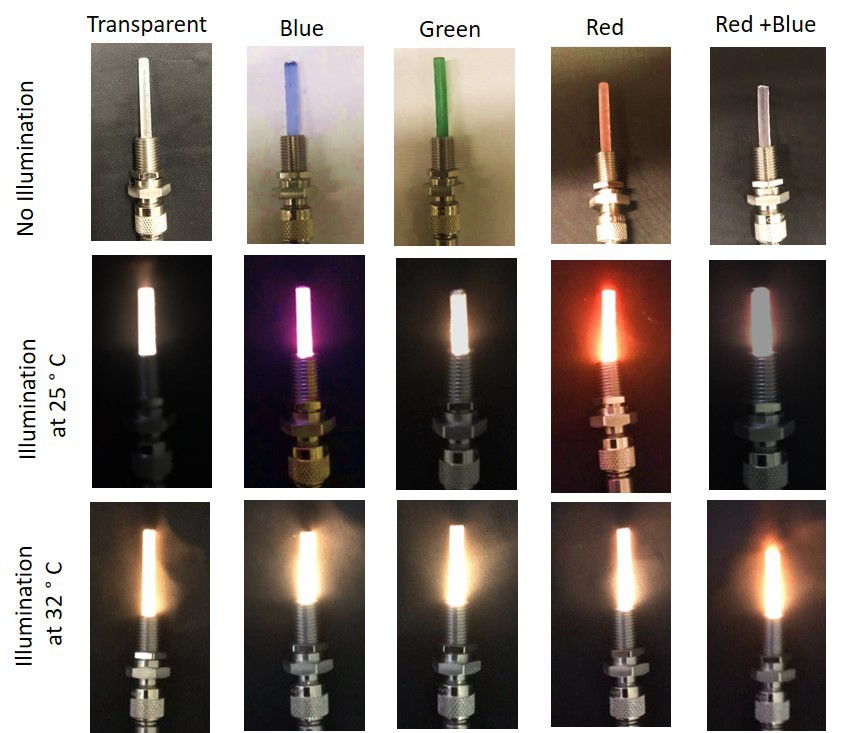 They can be operated in a wide temperature range, do not require electrical cables and are resistant to electrical and magnetic disturbances. Being made of thin strands of glass does place certain limits on how these components can be used however.
As well as offering higher durability than their glass counterparts, polymer-based fibers manufactured with 3D printing can be highly tuned and customized for specific purposes.
To achieve multi-functionality, stimuli-responsive materials can be added to the resin used to print the sensors. When external triggers interact with these materials, they induce changes in the physical or chemical properties of the sensor, which can be measured and quantified.
Thermochromic
In the case of the 3d printed optical fibers, the stimuli-responsive materials are thermochromic powders which change color when the temperature changes.
"We tested the temperature-sensing capabilities by comparing their color transformation with temperature in an open environment," said Dr. Butt.
"At room temperature, all the colors were distinguishable, but at 32 C, all samples turned transparent and were indistinguishable. This effect was reversible as the color came back when the optical fibers were cooled to room temperature again. We did this multiple times to ensure the repeatability and longevity of the thermochromic powders in the fibers."
Typical glass optical fibers have a much higher operating temperature range than what has been demonstrated with the printed fibers so far, but the team is currently working on improving the temperature range of the polymer fiber sensors to increase the diversity of applications.
In addition to being capable of detecting temperature changes, it was observed that there were optical losses detected when the fibers were bent at particular angles. This demonstrated the ability of strain sensing in the fibers, meaning that lightweight optical strain gauges are another possible application for the technology.
You can read the full paper, titled "3D printed polymer composite optical fiber for sensing applications", in the Additive Manufacturing journal, over at this link.