A research paper and associated video has been published demonstrating the freeform printing of extruded thermoset plastics. The video shows a thermoset composite being extruded and curing in mid air, and without support material.
It has been achieved with a process known as Frontal Polymerization, and the researchers from Colorado State University claim this is the first time that freeform printing thermoset composites with FP has been demonstrated.
You can see the FP printing in action in the video below.
Read on to know more about Frontal Polymerization.
Thermoset
The vast majority of extrusion-based carbon-fiber composite printer systems utilize feedstock consisting of short chopped fiber pieces encased within a thermoplastic matrix (the filament or pellet).
This is exactly how a heat-based plastic printer works. It melts a thermoplastic with its hotend, it extrudes it, the extruded plastic cools rapidly as it leaves the nozzle, and it sets into shape.
The problem with thermoplastics is that they can result when you heat them up again. It's great for recycling, but not so great for thermal stability. And some applications, such as aerospace or oil & gas, require components that retain their shape at all temperatures within their operational envelope.
Thermoset plastics (such as epoxies) on the other hand, do not require heat to form. They need heat to cure.
Thermoset plastics typically cure with an exothermic reaction, meaning they actually give off heat when curing. This reaction is accelerated with the application of heat, oxygen or other chemical accelerants (hardeners).
The problem is, they do not cure quickly enough for general 3D printing, and they sure don't cure quick enough for freeform printing in mid air. Not until now, anyway.
Frontal Polymerization
The researchers lead by Assistant Professor Mostafa Yourdkhani have found a solution to this slow cure-rate issue, and the answer lies in what is called FP (Forward Polymerization).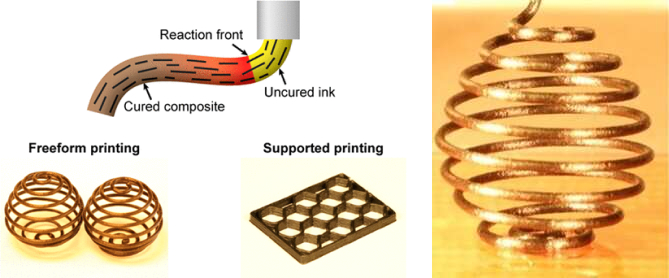 Frontal polymerization is a self-propagating exothermic reaction requiring a low frontal temperature and a self-sustained frontal propagation.
With this method, a monomer solution with a gel-like viscosity was cured in-situ following the extrusion from the printing nozzle by a self-sustaining reaction front (seen in the image above).
Short carbon fiber reinforcements of approximately 74 μm were added to the resin to enhance the mechanical properties of the printed specimens.
The addition of the short fibers improved the flexural strength of the printed part by around 50%, and the flexural modulus by a hefty 410%, when compared to molded samples.
This opens up a new realm of possibility for freeform 3D printing of thermoset composites, as opposed to the traditional layer-wise deposition of 2.5D printed thermoplastics that most of us are used to.
Of course with FP, you can still do your 2.5D layerwise printing, you just now have the option of mid-air curing now as well.
You can read the full paper, titled "3D Printing of Short-Carbon-Fiber-Reinforced Thermoset Polymer Composites via Frontal Polymerization" over at the ACS Applied Materials & Interfaces journal, over at this link.