SLA prints are oftentimes quite weak in comparison to various other additive manufacturing methods. This perception of weakness has often held them back from having applications in industrial environments. The mechanical properties of SLA prints can, however, be improved with certain methods, as a new study proves. Researchers at China's Zhejiang University have shown that cross-linking can allow for materials with long polymer chains, which exhibit better material attributes than their standard counterparts.
The practice of cross-linking actually originates from the material coating field. The use of cross-linking opens up a lot more potential uses for SLA materials such as Isophorone diisocyanate (IPDI), 2-hydroxyethyl methacrylate (HEMA) and polyethylene glycol (PEG)-based materials, which all have long pre-polymerisation chains. The researchers picked these materials and were able to form dense prints due to their molecular structure.
The Preparation Process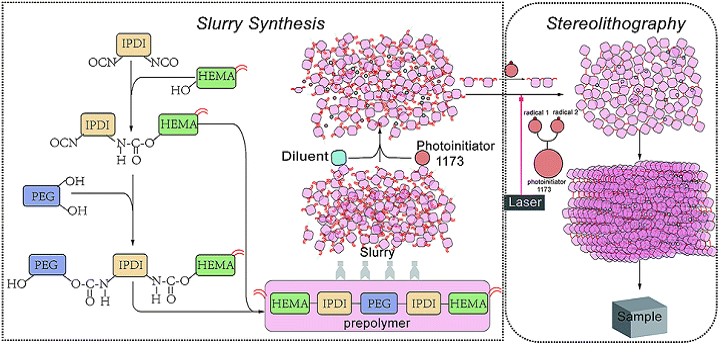 The pre-polymers didn't automatically come ready for the process though. The materials can actually be very viscous and stay in a solid state that's not ideal for SLA printing. To fix this issue, they added three kinds of adjuvants to dilute the prepolymer to make it suitable for processing. The addition of 2-hydroxyethyl acrylate into the prepolymer causes shrinkage of printed parts  lower than 1.3%. Similarly, with the diluent ethylene glycol monophenyl ether, the density range of printed parts is between 1.187 g cm−3 and 1.195 g cm−3, which is higher than that of commercial PVC and PET.
In total the researchers measured three resins at different laser powers and scanning speeds. They noticed that the resins vary in density and hardness within a small range when these properties change. The researchers note that a power of 195.5–350 mW can help achieve relatively flat surface, high density and hardness in the eventual print.
While SLA is a fantastic technology with numerous advantages, it is not in wide use at the current moment. However, this new method may allow for the printing of functional components with excellent performance. Perhaps in the future such improvements can help SLA overcome its reputation for only being good for prototyping.
The full study is available here. Featured image courtesy of Zhejiang University.