French researchers have just outlined a means for creating relatively hollow FDM parts with the aid of an algorithm. This mode of printing relies on internal support structures rather than external ones. The process isn't just for show either, as it allows for the reduction of material usage and weight while printing. This ribbed support algorithm can also achieve proper inner support without using up too much space or over-extending print times.
The research comes from the Université de Lorraine in France, where they were experimenting with hollowing prints. They wanted a method that took little space within the print cavity which led them to the concept of internal ribbing. Their method builds supports by analysing the slices of the incumbent print from top to bottom. It searches for any parts without support and adds the necessary material in the section below, i.e. in the next slice. Due to its placement, the material doesn't need to cover the entire area and can take on multiple shapes.
"We propose an algorithm to generate internal support structures that guarantee that deposited material is supported everywhere from below, are reliable to print, and require little extra material," wrote researchers Thibault Tricard, Frédéric Claux and Sylvain Lefebvre. "This is achieved by generating hierarchical rib-like wall structures, that quickly erode away into the internal walls of the object. Our algorithm produces structures offering a very high support density, while using little extra material. In addition, our supports print reliably as they are composed of continuous, wall-like structures that suffer less from stability issues."
The Tribulations of Hollow Printing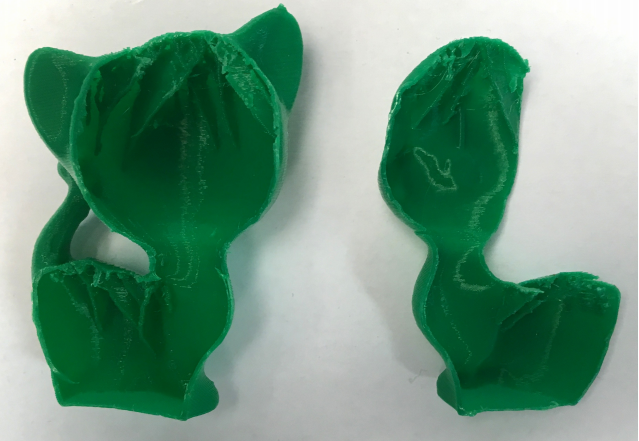 The researchers detail 3 function that the ribbed support algorithm performs. Firstly, it propagates and reduces supports from the above slice. Next, it detects areas that appear to have no support in the current slice. Finally, it adds the supports the area requires in the most efficient shape. As a result, it can analyse and appropriately designate internal structures.
Hollow prints have long been an important model of weight reduction, but standard FDM can find it difficult. The researchers took their inspiration from architecture, especially from arches and vaults. Many vault structures present hierarchical aspects and these hierarchies can accompany dense supports, while quickly simplifying the design into only a few elements. They liken this aspect to the structure of trees as well.
The team demonstrated these prints on an Ultimaker 2 and a CR-10. Clearly, these structures are possible with conventional, consumer-grade machines as well. They also showed them off on eMotion Tech MicroDelta Rework and the Flashforge Creator Pro. The algorithm is still not perfect, with the group noting that it isn't optimal for smaller support structures yet.
Featured image courtesy of the University of Lorraine.